2022 is going to be filled with various different kinds of merchandise for the JoJo's Bizarre Adventure: Stone Ocean anime and Bandai Spirits has just revealed even more that will be releasing as exclusive prizes in amusement centers during March.
Stone Ocean Acrylic Plates
Firstly, there are five acrylic plate stands. Each one features a "Chimi Character" illustration of Stone Ocean's main cast (Jolyne Cujoh, Ermes Costello, Foo Fighters, Weather Report, and Jotaro Kujo). "Chimi Characters" are drawn by the artist Yupon. Basically, they are chibi characters that Yupon draws with unique eyes in their own style.
Yupon has drawn several different Chimi Characters for other anime and video game characters as well, such as Attack on Titan, Naruto, and Persona 4. They have also drawn characters from the previous parts of JoJo for the Cutie Figure Mascot and Chimi Mega Buddy! series of merchandise. Additionally, the amusement center JOJO WORLD had Chimi Characters featured on some prizes.
The Stone Ocean acrylic plates are available as prizes at Namco's Shop and Torumo (not for sale).
Stone Ocean Fabric Posters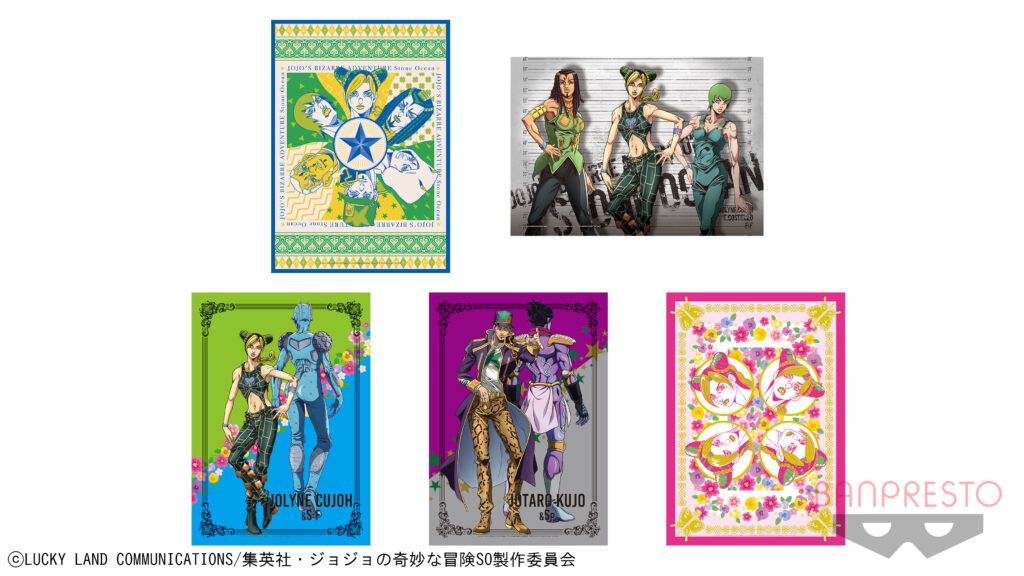 There are five types of collectable posters, made of cloth.
Jolyne, Ermes, and Foo Fighters with a jail lineup background
A star in the center of a circle with the heads of Jolyne, Ermes, Weather Report, Jotaro, Pucci, and F.F. all around it
A flowery design with four different heads of Jolyne making different expressions, with butterflies on each corner
Jotaro's key art with the back of Star Platinum
Jolyne's key art with the back of Stone Free
The Stone Ocean fabric posters are available as prizes at nationwide amusement facilities (not for sale).
Source: JoJo-Portal (Acrylic Plates, Cloth Posters)
Other merchandise that will be coming in 2022 include Ichiban Kuji figures, chibi plushes, and wafers packed with limited edition cards.