From Saturday, January 8 to Sunday, January 23, 2022, Medicos will be holding a pop-up event for the JoJo's Bizarre Adventure: Stone Ocean anime in 35 Loft stores throughout Japan. Loft is a Japanese chain store that sells everyday commodities. They will be selling new products featuring newly drawn illustrations of Jolyne Cujoh, Ermes Costello, Foo Fighters, and Jotaro Kujo, which can be seen in the image above.
Moreover, five of the stores (Sendai Loft, Shibuya Loft, Loft Nagoya, Umeda Loft, and Tenjin Loft) will have life-sized panels of the four characters.
Update (December 10, 2021): Added new images of the products being sold in the event.
"Fair in Loft" Products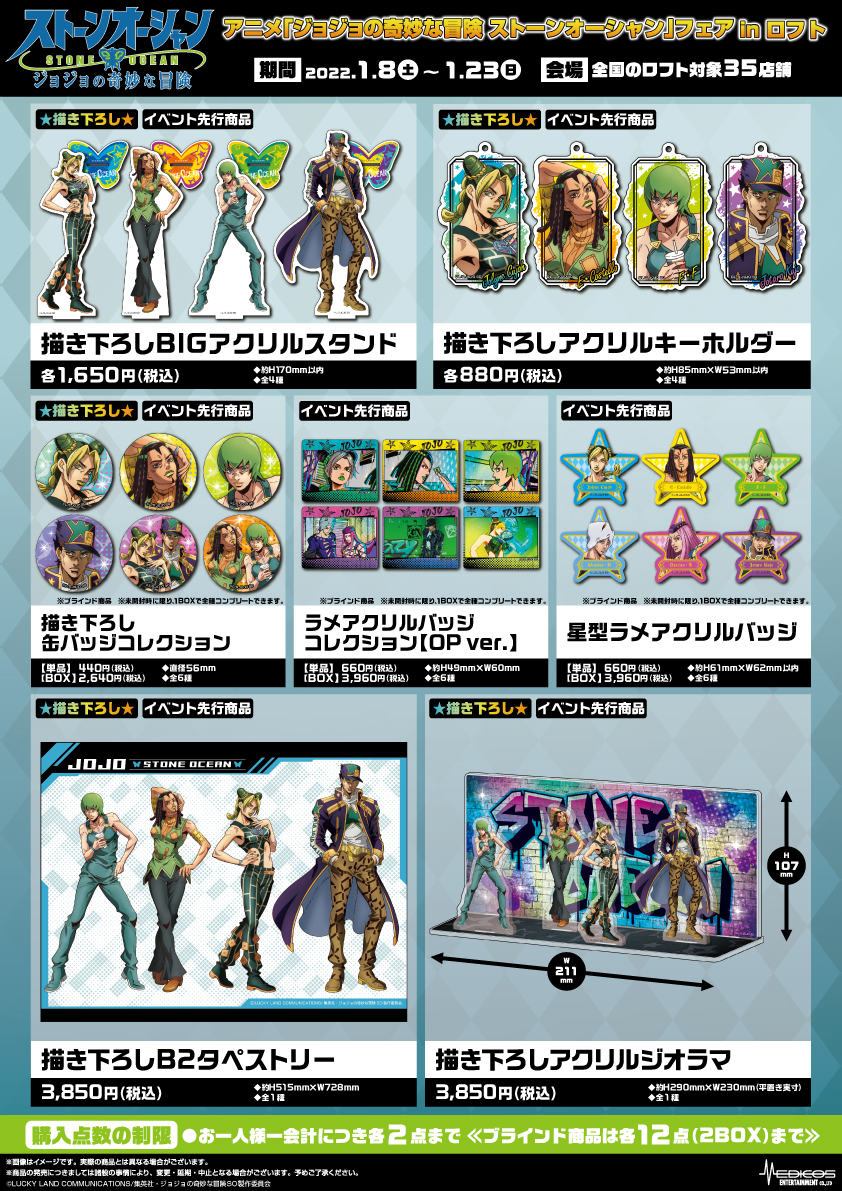 Stone Ocean "Fair in Loft" Venues
Sendai Loft
Ikebukuro Loft
Shibuya Loft
Umeda Loft
Sapporo Loft
Kichijoji Loft
Yokohama Loft
Kyoto Loft
Niigata Loft
Futako Tamagawa Loft
Omiya Loft
Machida Loft
Kawasaki Loft
Hiroshima Loft
Namba Loft
Utsunomiya Loft
Maebashi Loft
Ueda Loft
Shizuoka Parco Loft
Kurashiki Loft
Colorful Town Gifu Loft
Miyazaki Loft
Abeno Loft
Senri Banpaku Loft
Matsuyama Loft
YouMeTown Tokushima Loft
Loft Nagoya
Chiba Loft
Tenjin Loft
Ginza Loft
Shin Misato Loft
Toyama Loft
Fukui Loft
Isezaki Loft
Matsubara Loft
More information will be added to the official website.
Source: Medicos