The special JoJo's Bizarre Adventure: Stone Ocean program that streamed on Warner Bros. Japan's YouTube channel today announced the release date for the final batch of the anime's episodes. Episodes 25 to 38 will release on Netflix on December 1, 2022.
Along with the release date, Warner Bros. Japan revealed the new key visual for the final part.
Series director Kenichi Suzuki commented the following regarding the key visual:
The point of the key visual is that as it's the final part, it also hints at the ominous future that awaits them. The characters are poised to fit crucial scenes. To express the hardships in the second half, we adopted this texture, background, and grand style. Let your imagination run wild with what is in store.

Kenichi Suzuki
Episode 13 just started airing on TV in Japan today, although Netflix released up to Episode 24 on September 1. The TV broadcast of the final batch of episodes will begin in January 2023.
Source: Warner Bros. Japan Stream
About JoJo's Bizarre Adventure: Stone Ocean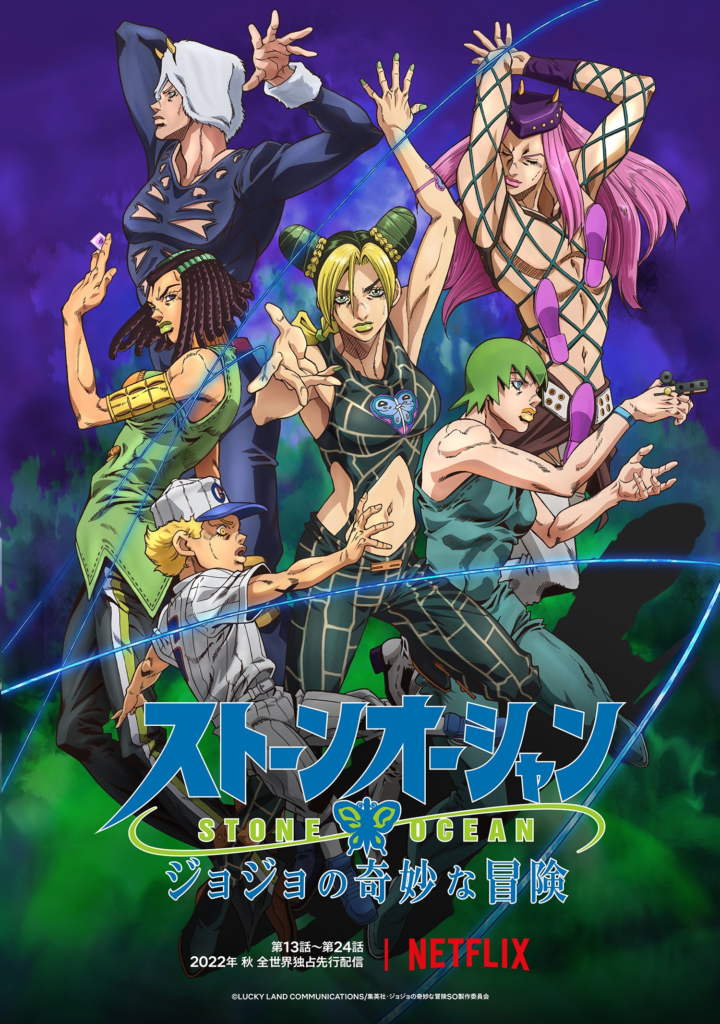 JoJo's Bizarre Adventure: Stone Ocean is the fifth season of the animated adaptation of Hirohiko Araki's JoJo's Bizarre Adventure manga. It adapts the sixth part of the series. Stone Ocean takes place in 2011, Florida. Jolyne Cujoh, daughter of Jotaro, is framed for murder and sentenced to a maximum security prison. In prison, Jolyne makes new allies but is targeted by DIO's followers and other Stand users.
The first 12 episodes released on December 1, 2021. Episodes 13 to 24 released on September 1, 2022.