The GODIVA chocolate brand is collaborating with the JoJo's Bizarre Adventure series in commemoration of GODIVA's 50th anniversary since they launched in Japan and the JoJo anime's 10th anniversary. They will be releasing a JJBA-themed Christmas collection of chocolates in limited quantities starting from November 1, 2022 until January 5, 2023. These will be sold at GODIVA shops and convenience stores throughout Japan.
GODIVA x JoJo's Bizarre Adventure
The chocolates are in the shape of iconic items that appear in the first six parts of the JoJo series. There are also chocolates depicting the faces of the protagonists from Parts 1-6. Each package has 12 pieces of chocolate.
Phantom Blood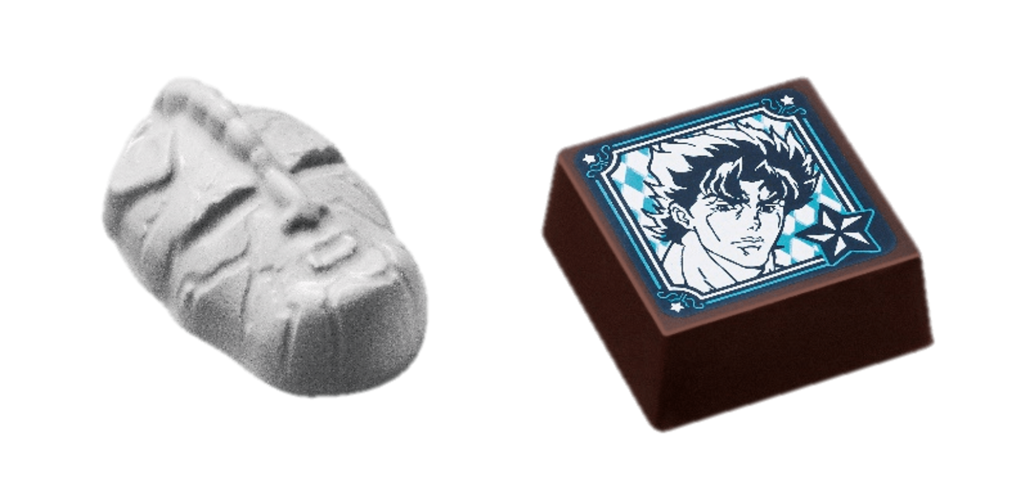 White chocolate in the shape of the Stone Mask from Phantom Blood.
Dark chocolate with dark chocolate filling based on Jonathan Joestar.
Battle Tendency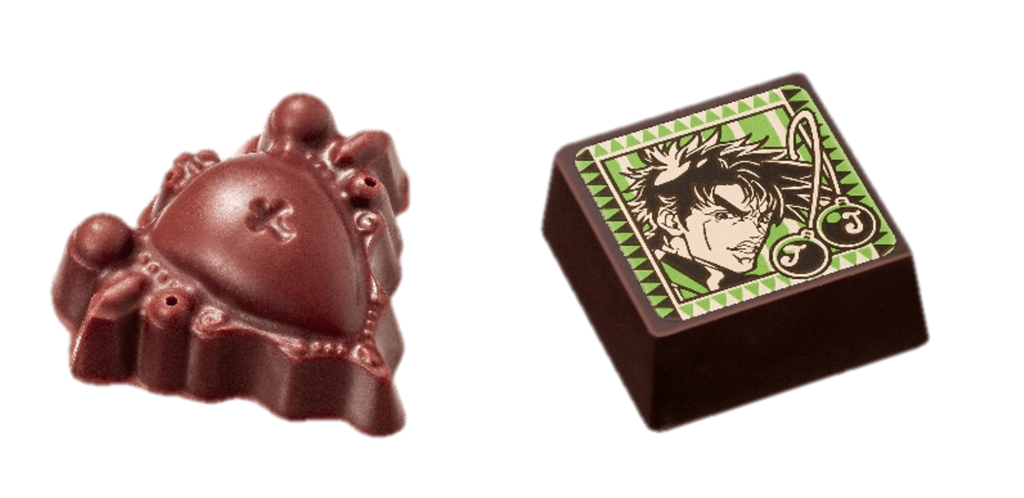 White chocolate in the shape of the Red Stone of Aja from Battle Tendency.
Dark chocolate with red cherry filling based on Joseph Joestar.
Stardust Crusaders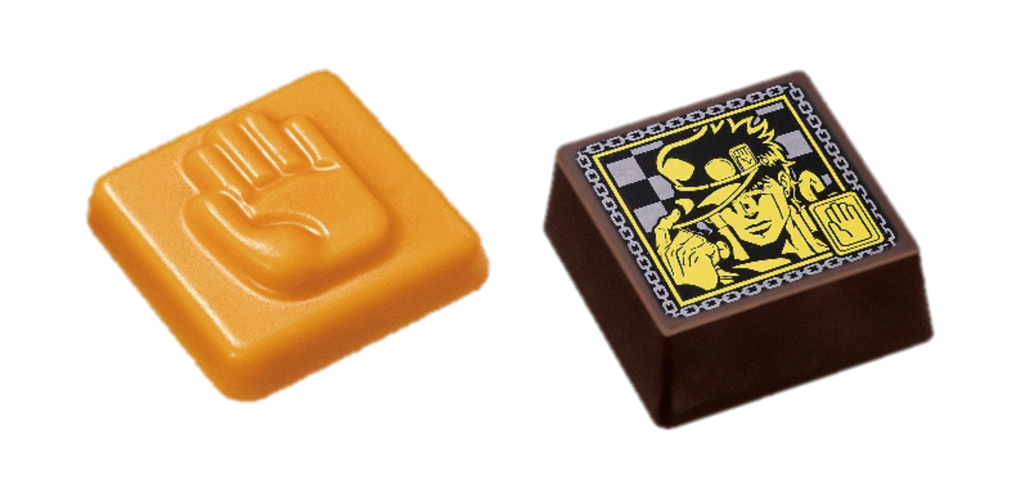 Blood orange-flavored white chocolate in the shape of the Lucky Land Communications logo on Jotaro's hat from Stardust Crusaders.
Dark chocolate with coffee filling based on Jotaro Kujo.
Diamond is Unbreakable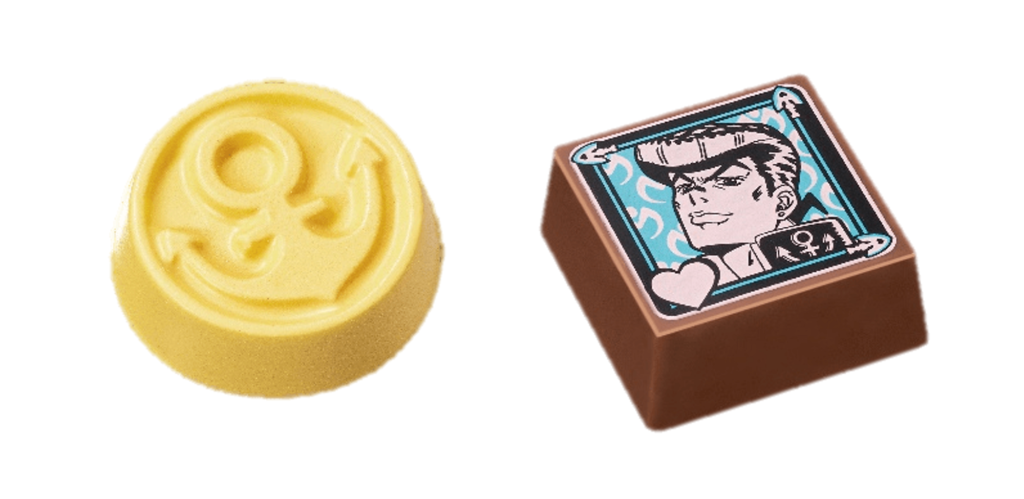 Lemon-flavored white chocolate in the shape of the anchor accessory Josuke wears from Diamond is Unbreakable.
Milk chocolate with custard filling based on Josuke Higashikata.
Golden Wind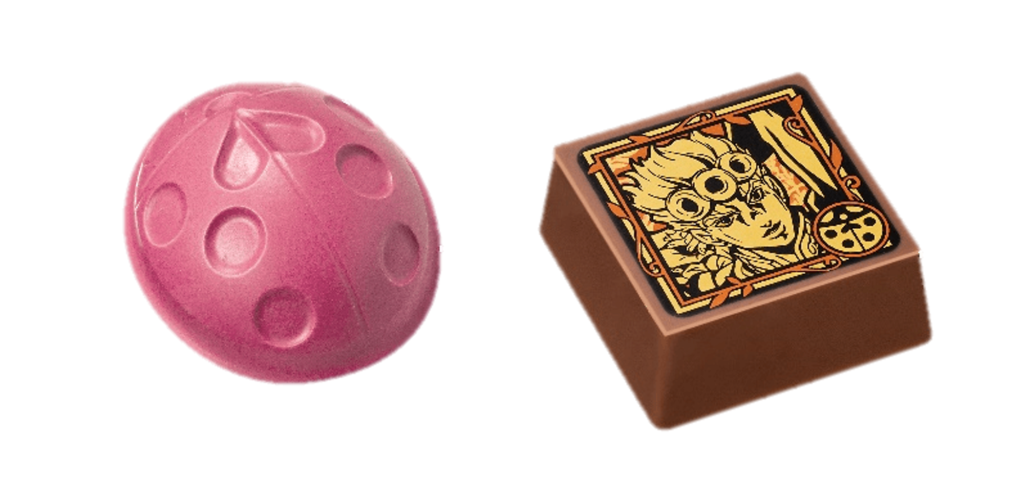 White chocolate in the shape of the ladybug brooch Giorno wears from Golden Wind.
Milk chocolate with caramel filling based on Giorno Giovanna.
Stone Ocean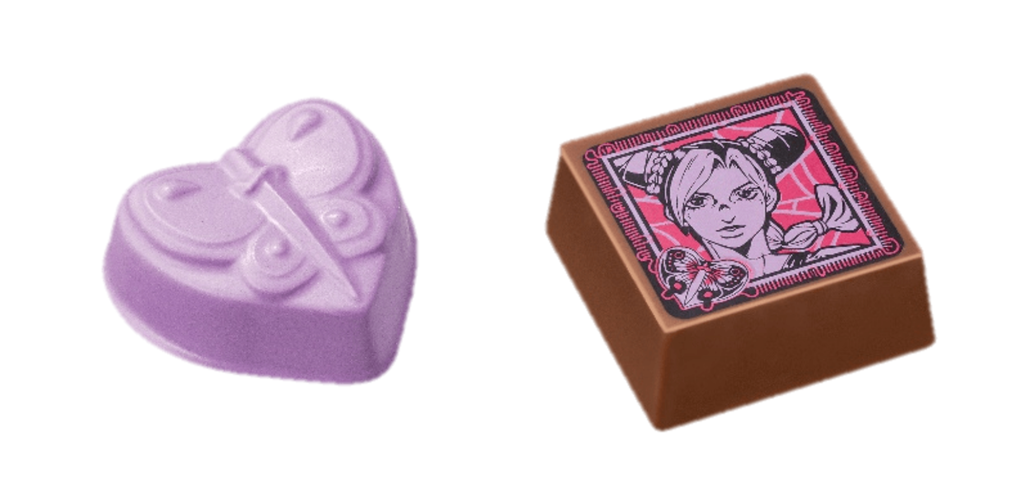 Taro-flavored white chocolate in the shape of the butterfly motif Jolyne wears from Stone Ocean.
Milk chocolate with milk chocolate filling based on Jolyne Cujoh.
GODIVA Carrés
Dark Chocolate
Jonathan, Joseph, and Jotaro have dark chocolate GODIVA Carrés.
Milk Chocolate

Josuke, Giorno, and Jolyne have milk chocolate GODIVA Carrés.
Packages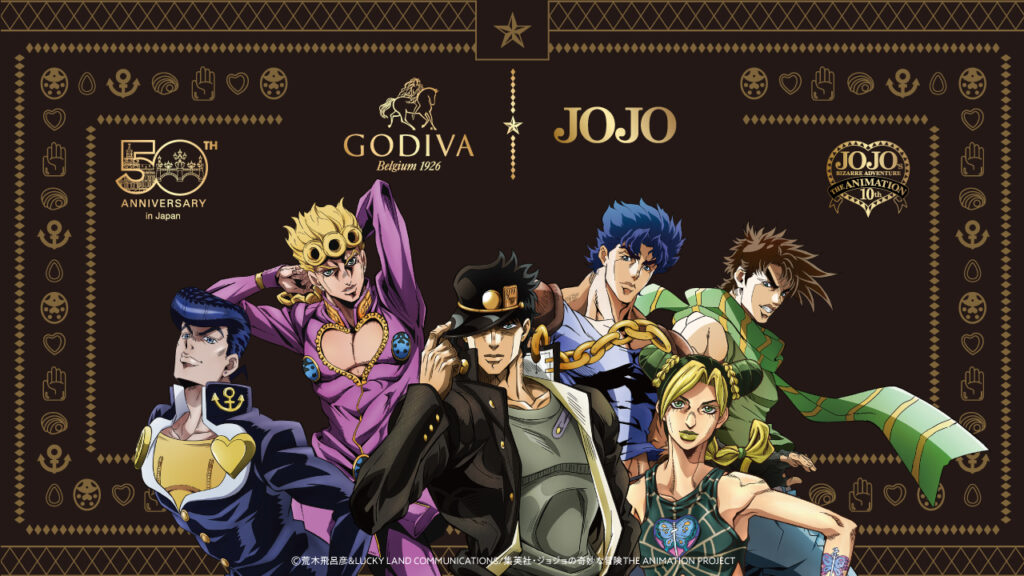 The package with 6 pieces of chocolate costs 1620 Japanese yen (~$15 USD). These chocolates have filling inside. The package with 12 pieces also have filling inside and costs 4320 yen (~29 USD). Lastly, the other package of 6 pieces doesn't have filling and will be sold in convenience stores for 864 yen (~$5.80).
Source: PR Times