The fashion brand glamb is collaborating with JoJo's Bizarre Adventure: Stone Ocean for a second time. They are selling ten new clothing items such as t-shirts and sweatshirts based on characters and Stands from the series.
Pre-orders began on Premium Bandai's shop on November 8, 2022 and will end on November 21, 2022. The products are scheduled to ship in February 2023. glamb's first collaboration with Stone Ocean began on December 23, 2021.
glamb x Stone Ocean Second Edition Products
Jolyne Pocket T
Styles: White/Black – XS / S / M / L / XL
Price: 11,000 yen
The Jolyne Pocket T expresses Jolyne Kujo, also known as "Chorokichi", whose body has shrunk after being attacked by an enemy. The Jolyne that peeks out from the left chest pocket is depicted like graffiti on the street resembling stencil prints. The gimmicky pattern arrangement that continues into the pocket and the printed message is reminiscent of the lively scene.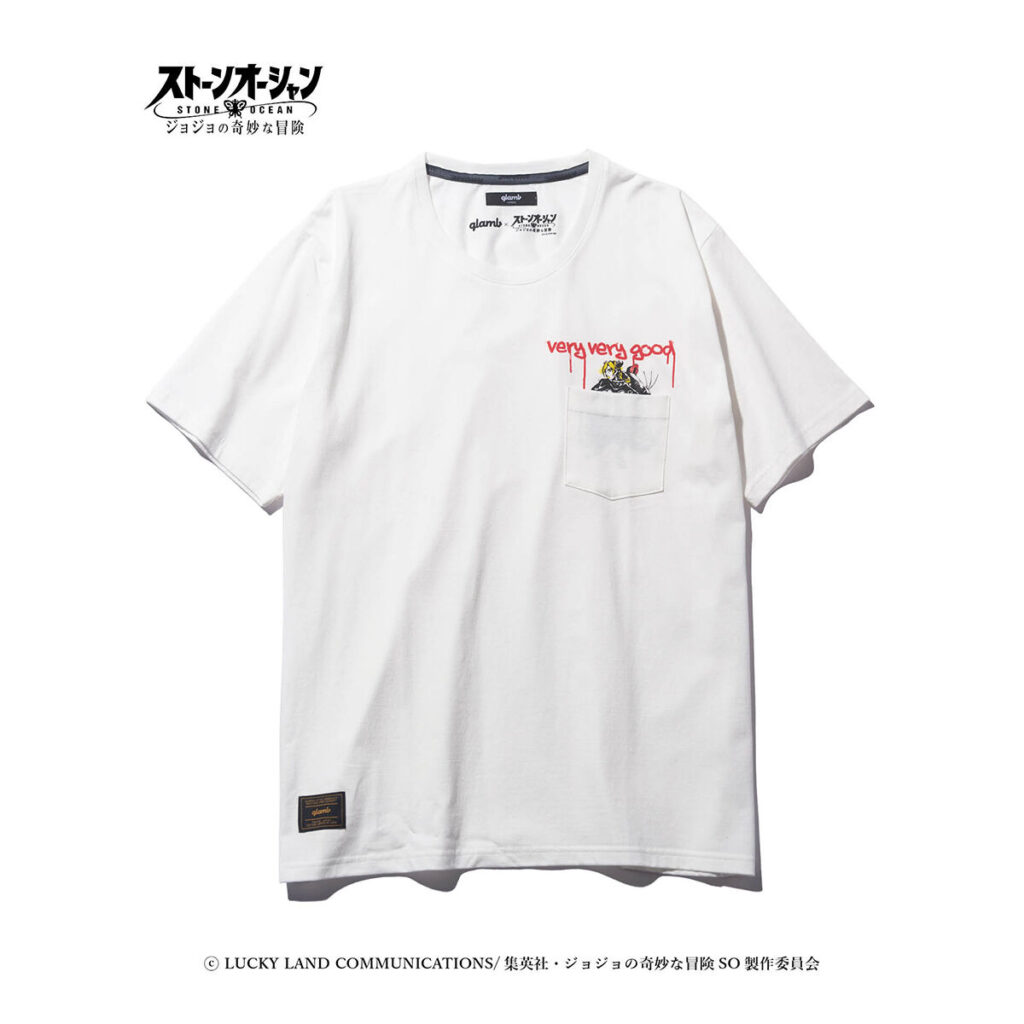 Jolyne Ska Jumper
Styles: Green/Black – XS / S / M / L / XL
Price: 38,500 yen
The Jolyne Ska Jumper features the appearance of the main character, Jolyne Cujoh, in reversible designs. It uses satin-like glossy fabric and is available in either black or green, which is the character's iconic color. The reverse side features an all-over pattern of Jolyne Cujoh with an "old American touch", graphically expressing the outlaw world of "Stone Ocean," which is set in a prison.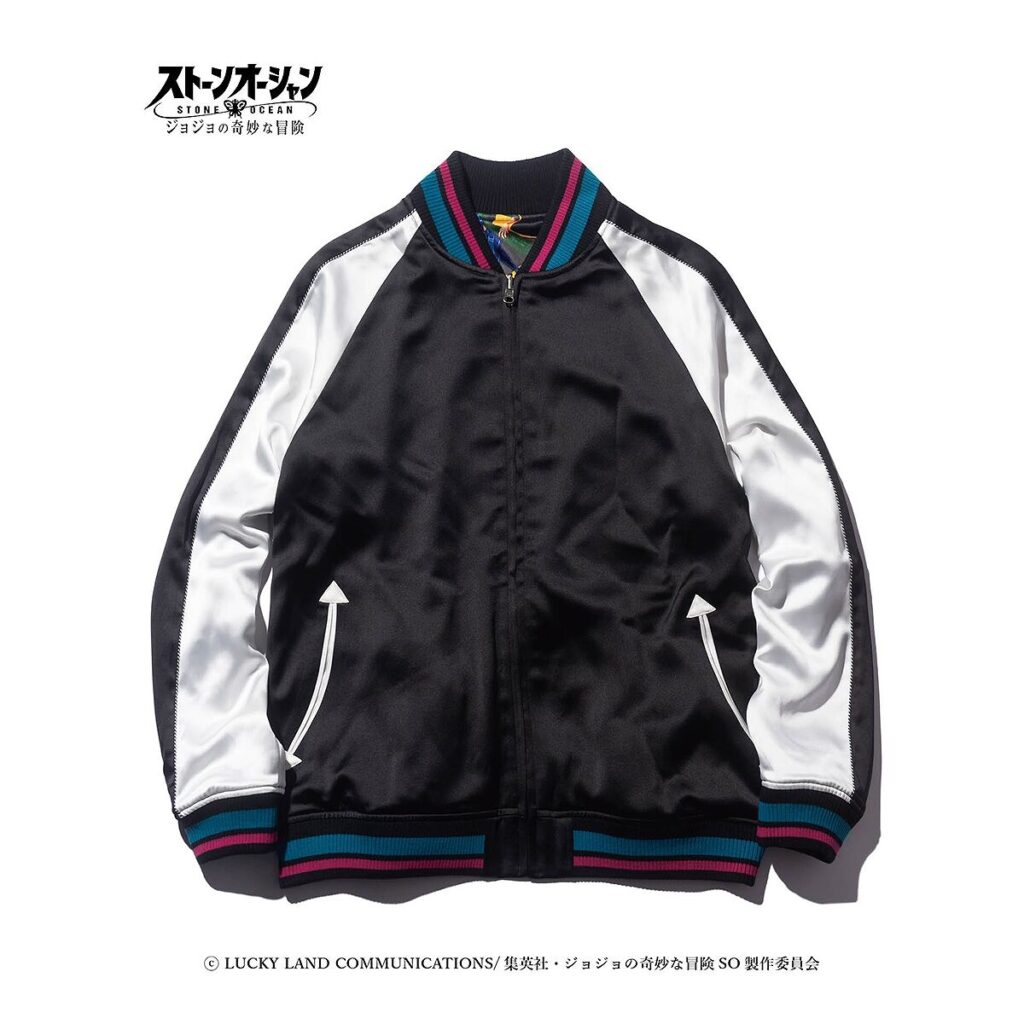 Sp Long Sleeves T
Styles: White/Black – S / M / L / XL
Price: 11,000 yen
Features Star Platinum depicted in extreme colors inspired by the cover art of a 90's grunge rock band. The graphic design is unique to glamb, combining the character's ability to stop time with a musical design.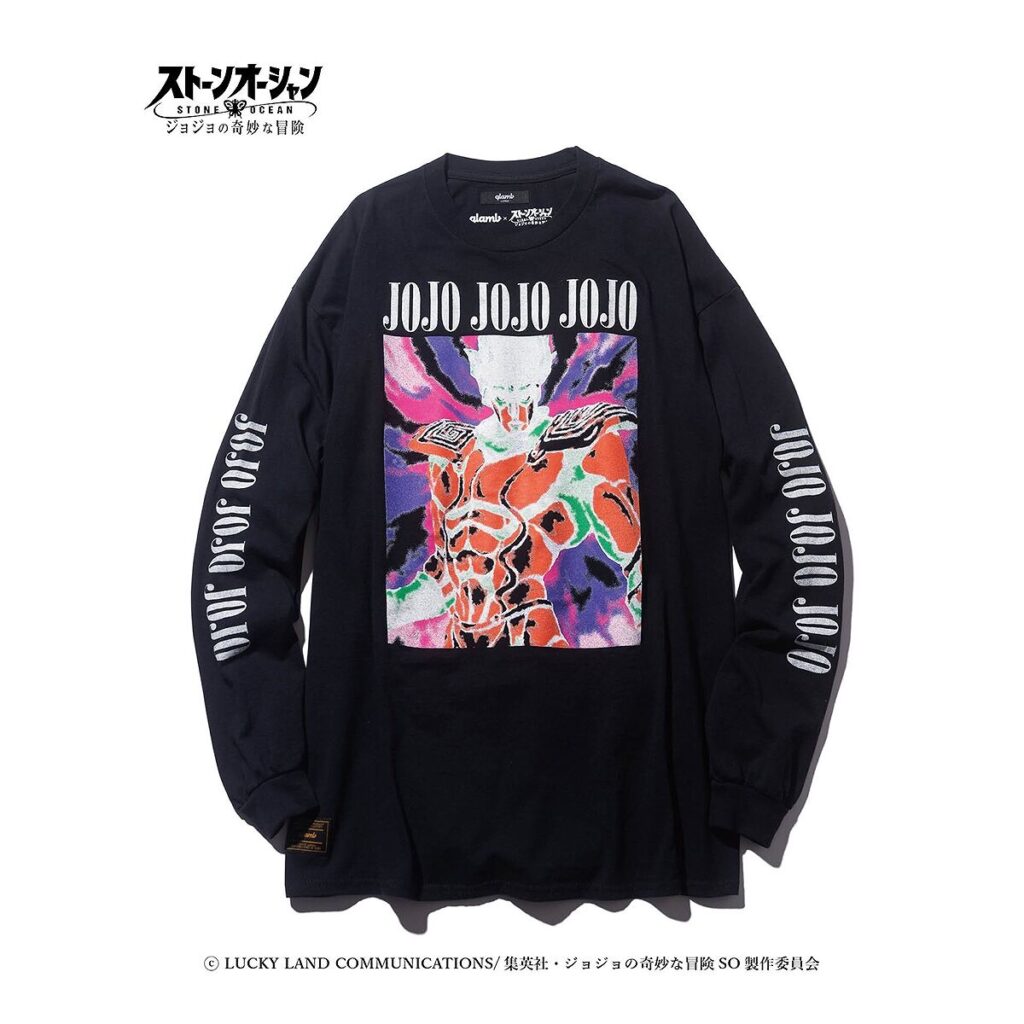 E. Costello Hoodie
Styles: Gray/Black – XS / S / M / L / XL
Price: 22,000 yen
Features Ermes Costello, the friend of Jolyne Cujoh. glamb reconstructed one of her popular scenes as a graphic with the idea of nose art drawn on many 20th century military aircraft. "Lucky Things" is embroidered on the front of the hoodie, giving it an old American feel with a 3D expression that can only be achieved with clothing.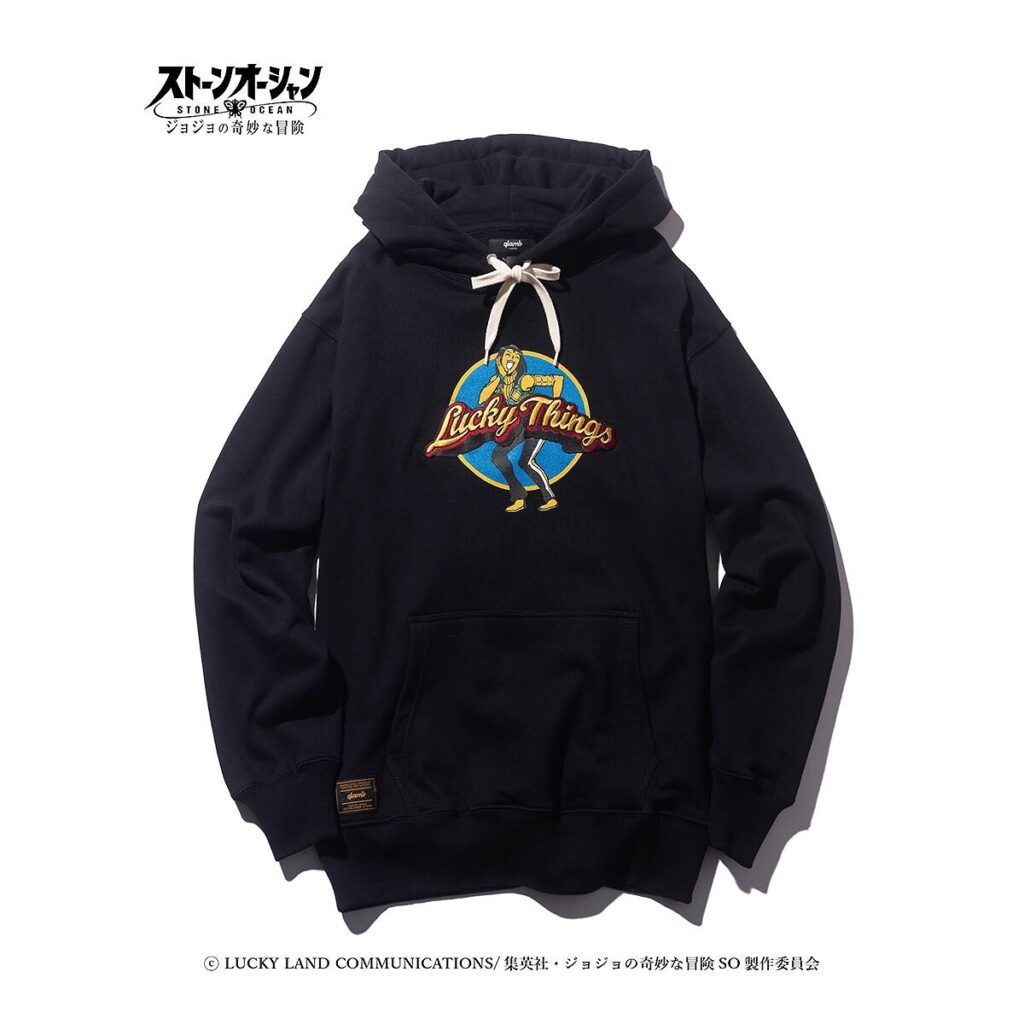 F.F. Sweat
Styles: Gray/Black – XS / S / M / L / XL
Price: 18,700 yen
Features a portrait of Foo Fighters, a character whose key word is "intelligence," on a college sweatshirt, an "intellectual" item. The portrait is surrounded by a logo in a vintage font. Foo Fighters is represented in a dignified manner with an authentic design that dares not to overdo it.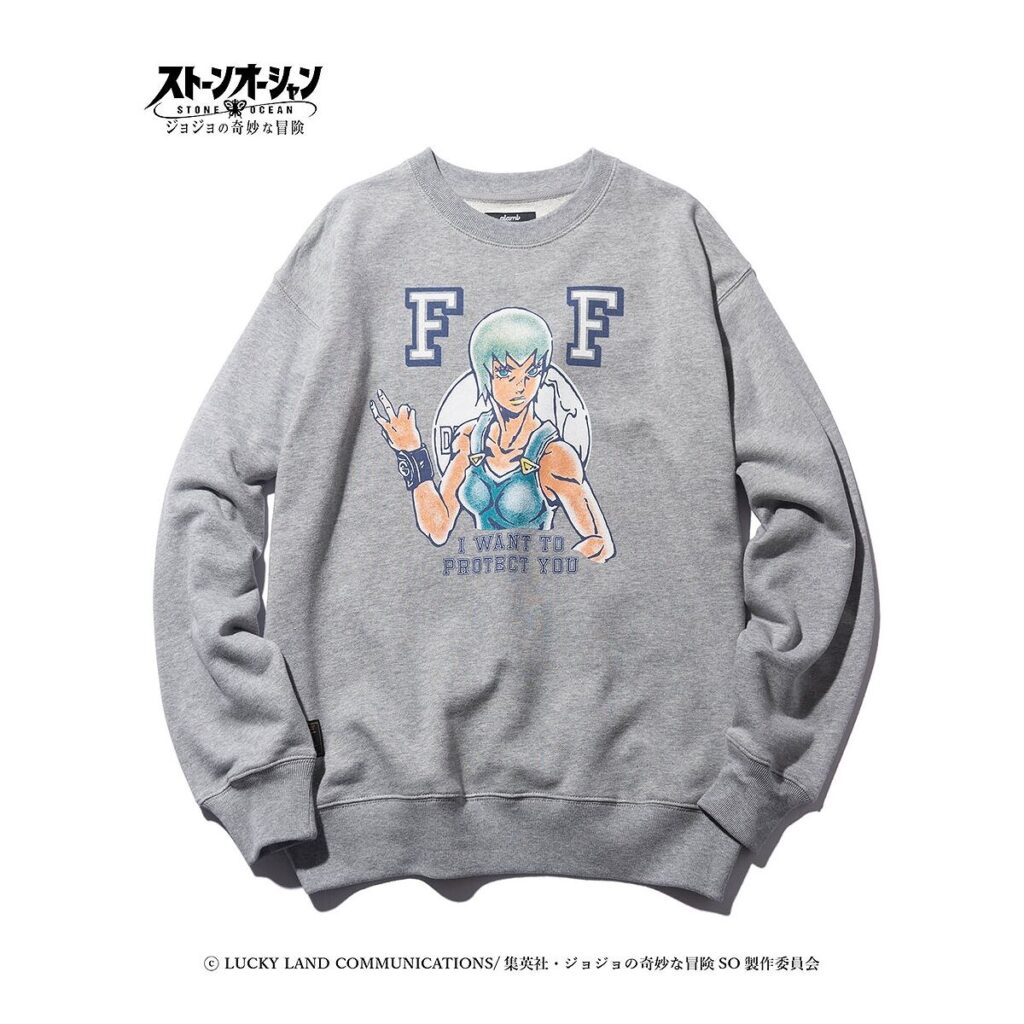 Weather. R T
Styles: White/Black – XS / S / M / L / XL
Price: 7,590 yen
A T-shirt depicting the Weather Report Stand. It is a brand-new watercolor depicting his manipulation of rain and clouds in a muted manner. Poison dart frogs surround him everywhere, representing a famous scene in the work.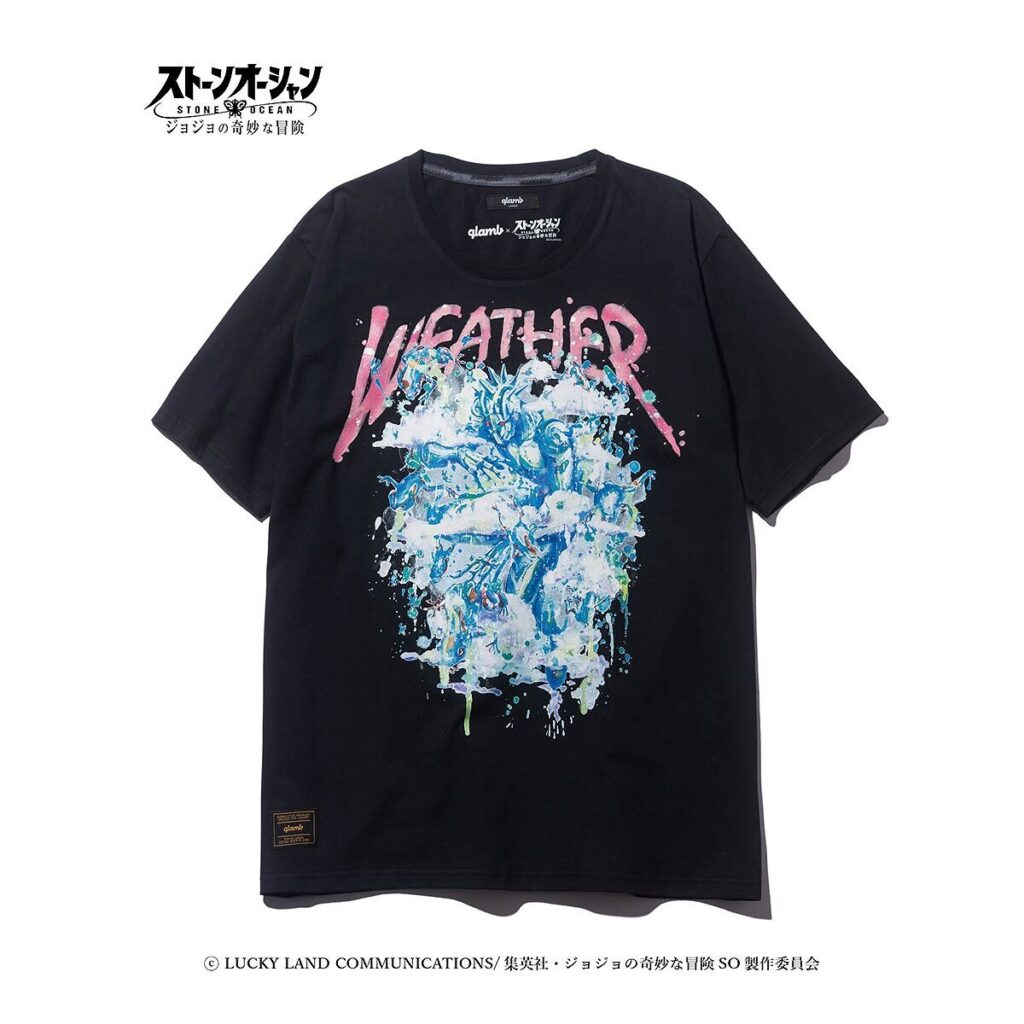 Narciso A. T
Styles: White/Black – XS / S / M / L / XL
Price: 7,590 yen
Features Narciso Anasui with a lyrical touch, using pencil and watercolor to depict his portrait as a mysterious and bizarre figure who has turned his attention to the main character, Jolyne Cujoh, with whom he is in love. The portrait delicately displays the letter "D", the initials of the name of the Stand he uses.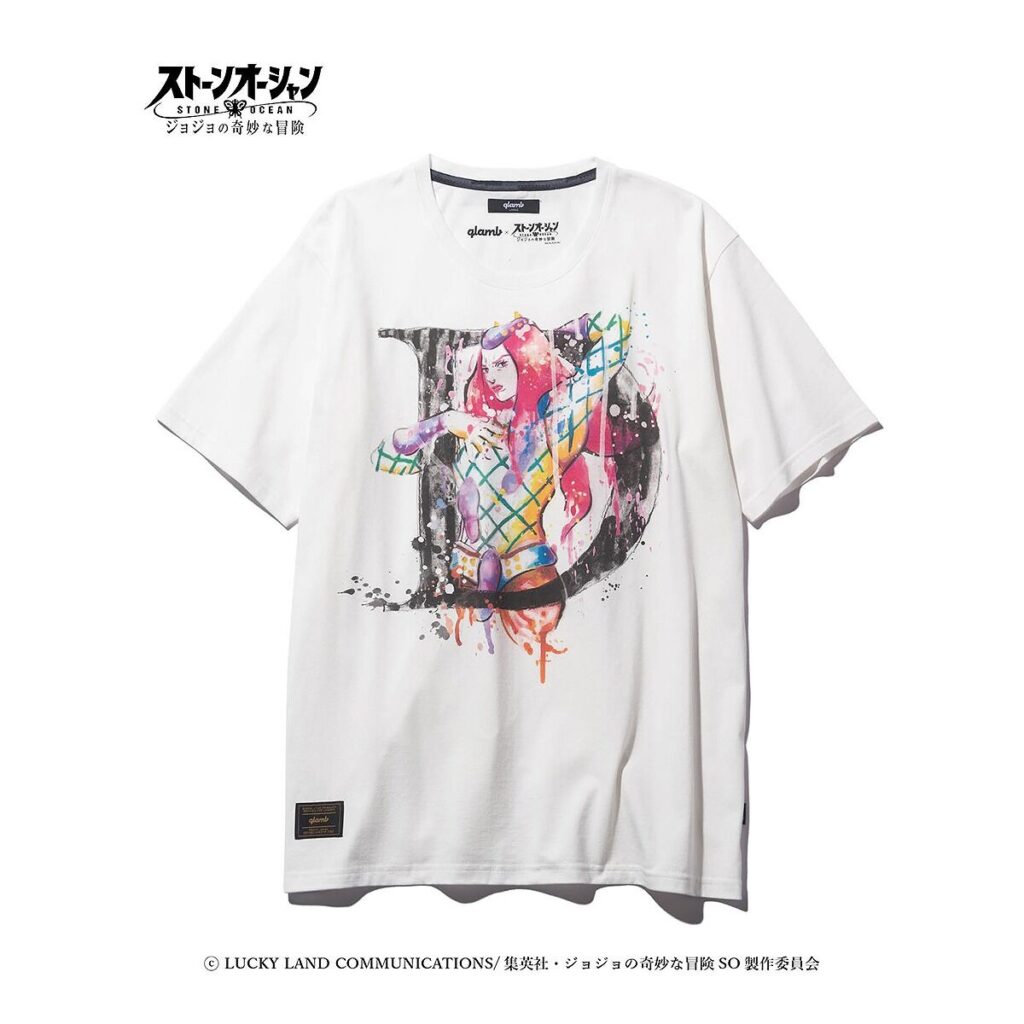 E. Alnino Knit
Styles: White/Black – XS / S / M / L / XL
Price: 24,200 yen
A knit shirt based on the mysterious boy who holds the key to the story, Emporio Alnino. The baseball-style body is a tribute to his clothes in the series.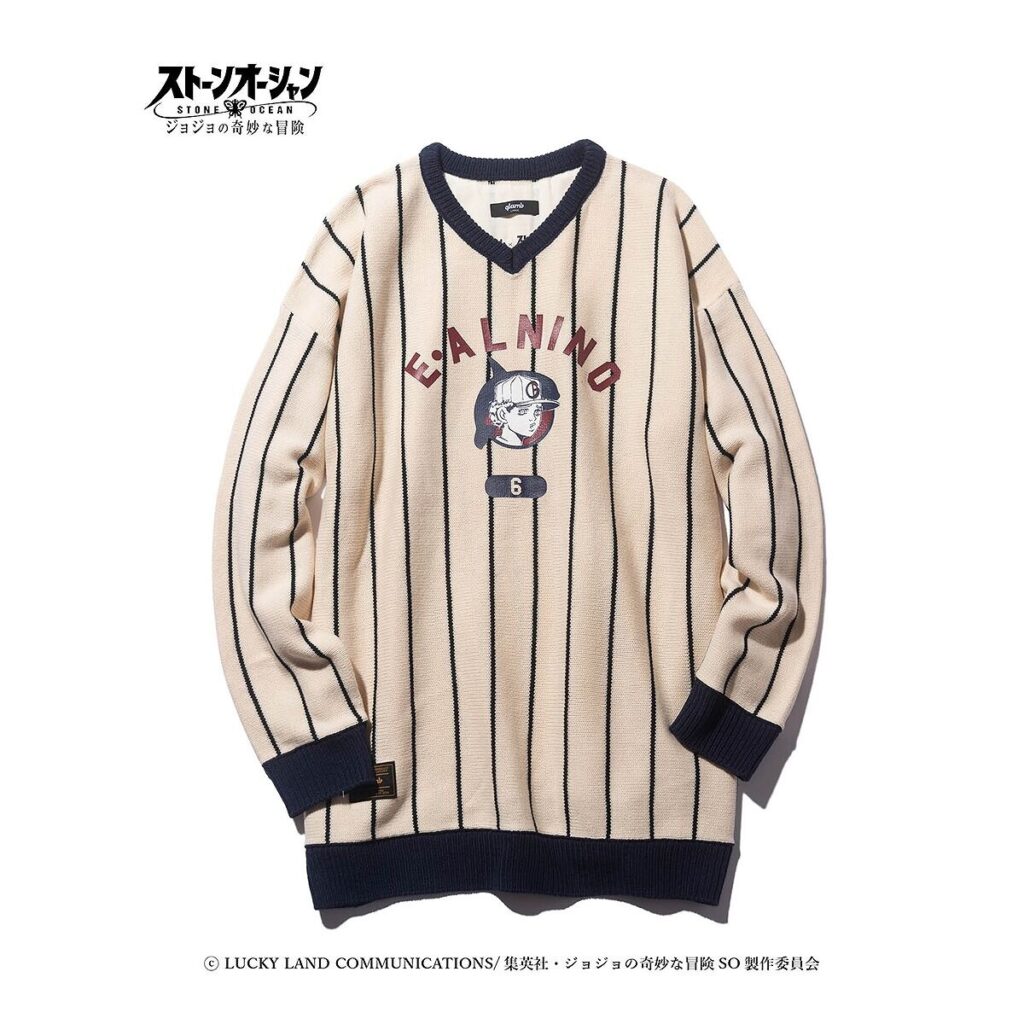 Loccobarocco Sweat
Styles: Pink/Blue – XS / S / M / L / XL
Price: 18,700 yen
The Loccobarocco Sweat features Chief Loccobarocco and Charlotte, drawn with an old American touch on the front of the ash-colored body. While at first glance it appears to be a soft piece, the message at the waist is written in a dubious font, expressing the character of the man whose gentle personality suddenly becomes enraged.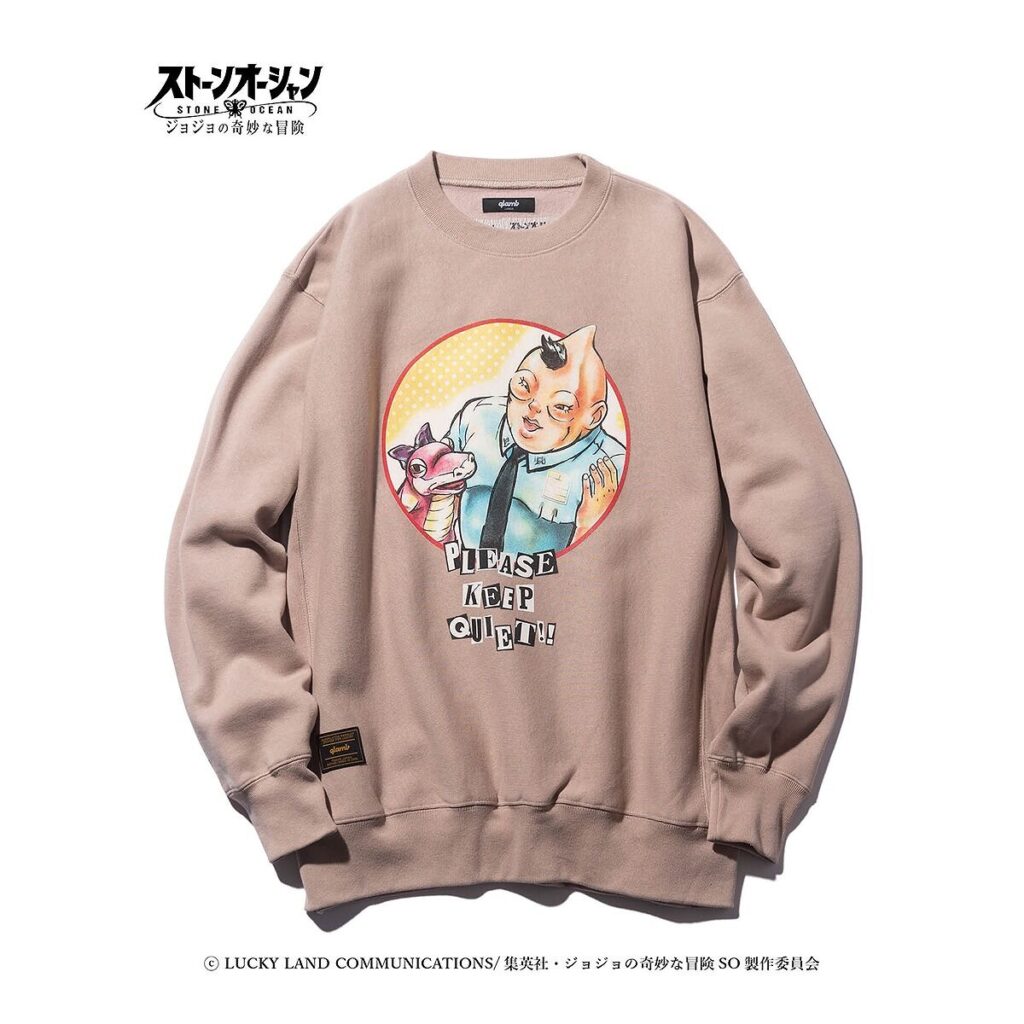 Enrico P. SH
Styles: Black – XS / S / M / L / XL
Price: 22,500 yen
The shirt solemnly depicts the appearance of Enrico Pucci, the arch-enemy of the season, with a graceful and decorative Art Nouveau style. The corners of the overall pattern depict inorganic motifs such as discs and strings of text. The somewhat unsettling balance of these motifs is reminiscent of the threat Pucci poses.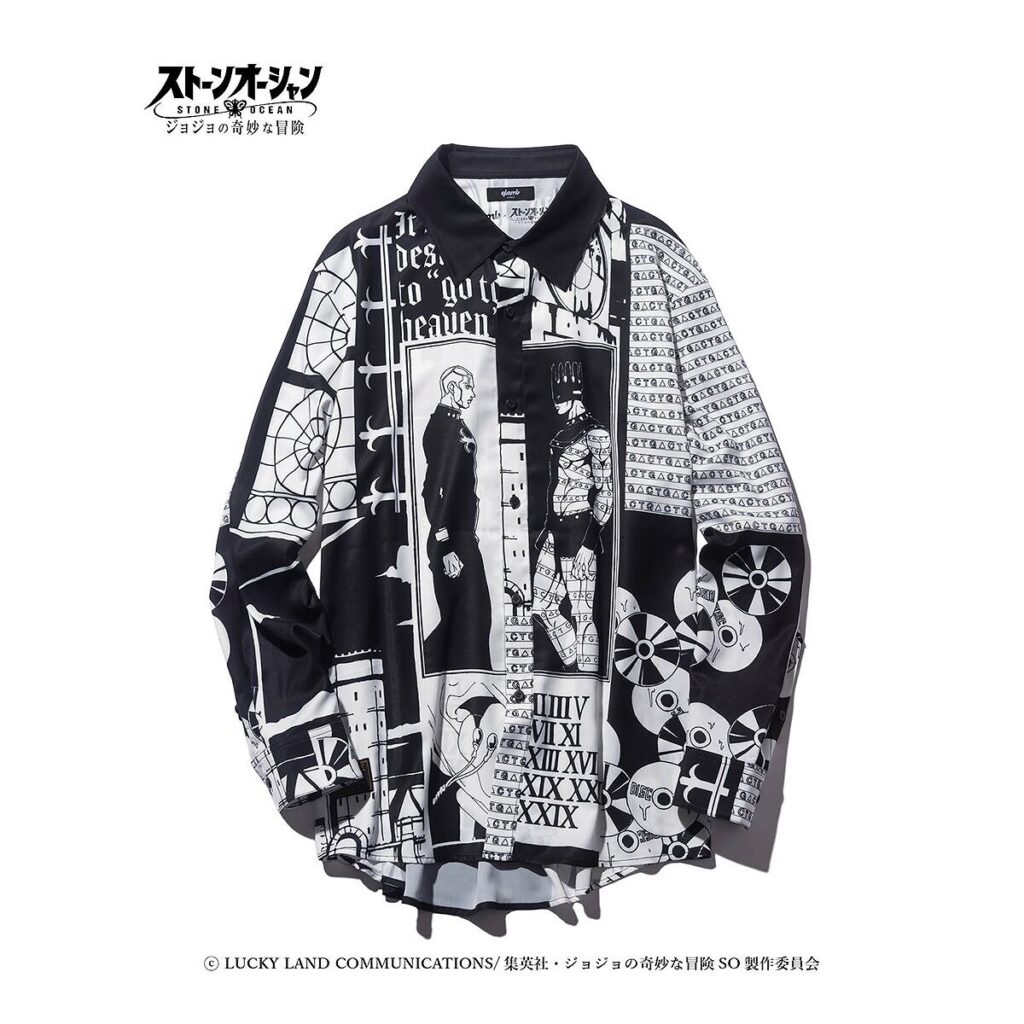 Sources: Glamb, Premium Bandai
About glamb
glamb was established in Tokyo in 2003 by designer Kan Furuya with the concept of "Grunge for Luxury". Through the pursuit of materials and craftsmanship, he reconstructs grunge fashion into his luxurious style. His style is a favorite among artists and talents, and has appeared in many videos such as music, movies, and dramas.
glamb's first collaboration with the JoJo's Bizarre Adventure series was in February 2017 with products related to JoJo's Bizarre Adventure: Diamond is Unbreakable. To see the clothing from the previous collaborations, check the wiki page.