The first volume of The JOJOLands, which is the ninth part of Hirohiko Araki's renowned manga series JoJo's Bizarre Adventure, released today on August 18 in Japan.
November 2023 – December 2024 Calendar
To commemorate the release of the first volume, Shueisha is offering a special promotion. They will select 999 lucky winners through a lottery to receive a B2-sized calendar. This unique calendar is designed as a wall-hanging type and spans from November 2023 to December 2024. When the visuals from each month are arranged together, they form a grand poster that provides an overview of the history of "JoJo". The calendar uses the same art from the mural that appeared in train stations at Japan in February before Part 9 released.

Details on how to participate in this offer are on the obi strip of the physical manga volume. In order to apply, buyers of the physical volume must attach the application ticket attached to the bottom right of the obi strip to a postcard. The ticket should include their postal code, address, name, age, grade or occupation, and phone number. The address they must send the ticket to is displayed on the obi. Prizes are scheduled to be shipped in mid-October 2023. The application deadline is September 18, 2023.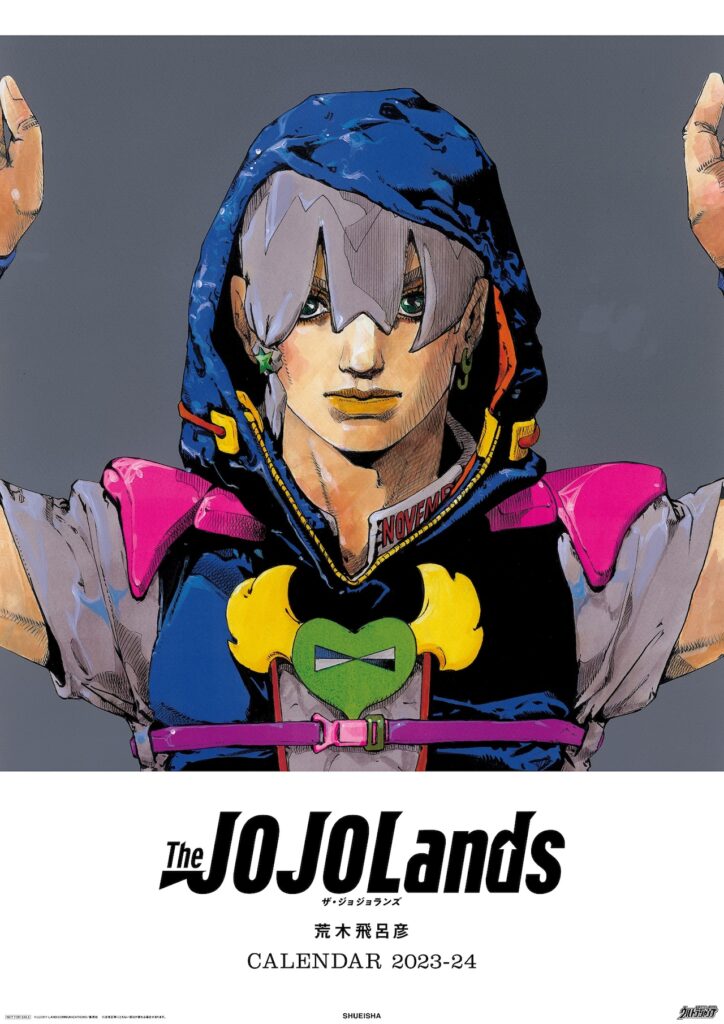 Unfortunately for international fans, the calendar can only be delivered to addresses in Japan.
The JOJOLands T-Shirts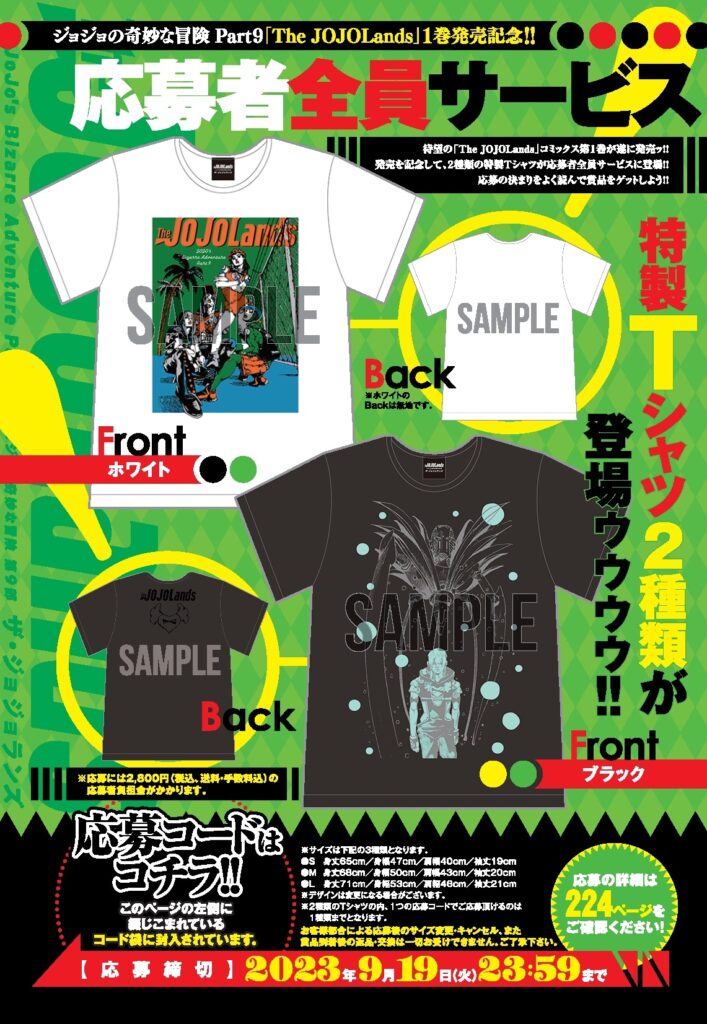 Furthermore, the Ultra Jump magazine's September issue, releasing tomorrow on August 19 in Japan, is offering "The JOJOLands" T-shirts. Two different T-shirt designs are available. One has the cover of the magazine with Jodio, Dragona, Paco, and Usagi, whereas the other only has Jodio and November Rain.
Customers who have the paper version of the September issue can apply for one design per application code enclosed. The cost for applicants, including shipping and handling fees, is set at 2800 yen (inclusive of tax).
About The JOJOLands
Set in Hawaii, The JOJOLands follows the story of Jodio Joestar, a young boy desiring to become rich. Shueisha's Ultra Jump magazine publishes the manga, which usually releases on the 19th of every month. Part 9 began on February 17, 2023.