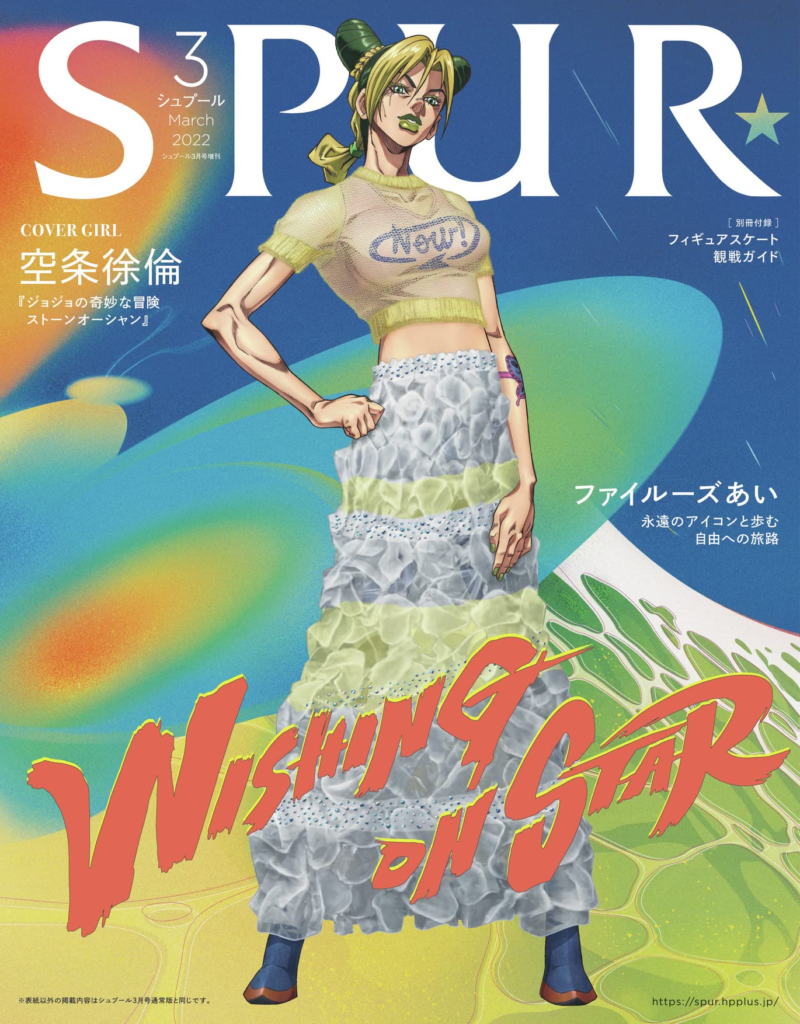 Jolyne Cujoh, the protagonist of JoJo's Bizarre Adventure: Stone Ocean, appears on the cover of the March 2022 issue of SPUR magazine releasing on January 21.
Jolyne was chosen as the cover girl to commemorate the start of the television broadcast of the Stone Ocean anime. The TV broadcast began in Japan last week on January 7. The magazine features a newly drawn illustration of Jolyne wearing an outfit from the fashion brand Diesel's Spring 2022 collection. This issue also features a fashion project by Fairouz Ai, the voice actress of Jolyne in the anime, titled "Fairouz Ai: Journey to Freedom".
Additionally, SPUR's YouTube channel, "SPUR TV," will upload a video interview between Fairouz Ai, Mutsumi Tamura (voice of Ermes Costello), and Mariya Ise (voice of Foo Fighters). The voice actresses will be wearing clothing inspired by their respective characters. They will be talking about the charm of the series in a roundtable discussion.
Amazon Japan has the issue available for pre-order.
Source: Natalie, @fairouzzzzzz
About SPUR Magazine
SPUR is a monthly women's fashion magazine that Shueisha publishes. The first issue of SPUR released in 1989. Since then, it had many collaborations with Hirohiko Araki and JoJo's Bizarre Adventure.
In 2011, SPUR released their first collaboration for the one-shot Kishibe Rohan Meets Gucci, and in 2012 they released the art book JOJOmenon for the 25th anniversary of the series.
Their second collaboration, Jolyne, Fly High with GUCCI, released in 2013 and featured many iconic characters from the series, including Jolyne and Bucciarati.
The October issue of the magazine which released on August 23, 2018 featured an interview between SPUR and Hirohiko Araki. It discusses femininity and fashion within JoJo, as well as taking a look at four of the most iconic heroines in the series.