This month's February 2022 issue of Ultra Jump revealed new details of JOJO magazine's contents, releasing on March 19, 2022.
Short Stories
JOJO magazine includes two new short story spin-offs of JoJo's Bizarre Adventure, starring characters from Parts 2 and 3.
The King of Infinity: Written by Junjo Shindo. Set between Battle Tendency and Stardust Crusaders, it features Lisa Lisa and a mysterious Stand occurrence.
Iggy the Stray Dog: Written by Otsuichi. It takes place before Stardust Crusaders in 1980's Downtown New York City and features the battle between Iggy and Muhammad Avdol. In 2007, Otsuichi wrote the novel The Book: JoJo's Bizarre Adventure 4th Another Day, a sequel to Diamond is Unbreakable.
As these are short stories, they do not have illustrations.
One-Shot
Thus Spoke Kishibe Rohan – Episode 10: Hot Summer Martha: A 71-page one-shot written and illustrated by Hirohiko Araki.
Anime Special Feature
Fairouz Ai x Daisuke Ono: A special "parent and child" cast dialogue between the voice actors of Jolyne Cujoh and Jotaro Kujo.
Back to the JOJO Animation: The cast from Parts 1-5 will discuss the highlights of each part.
Issey Takahashi Interview
The lead actor of the Thus Spoke Kishibe Rohan TV drama, Issey Takahashi, discusses the JoJo's Bizarre Adventure series.
About JOJO magazine
Announced on December 27, 2021, JOJO magazine was created in commemoration of the franchise's 35th anniversary this year.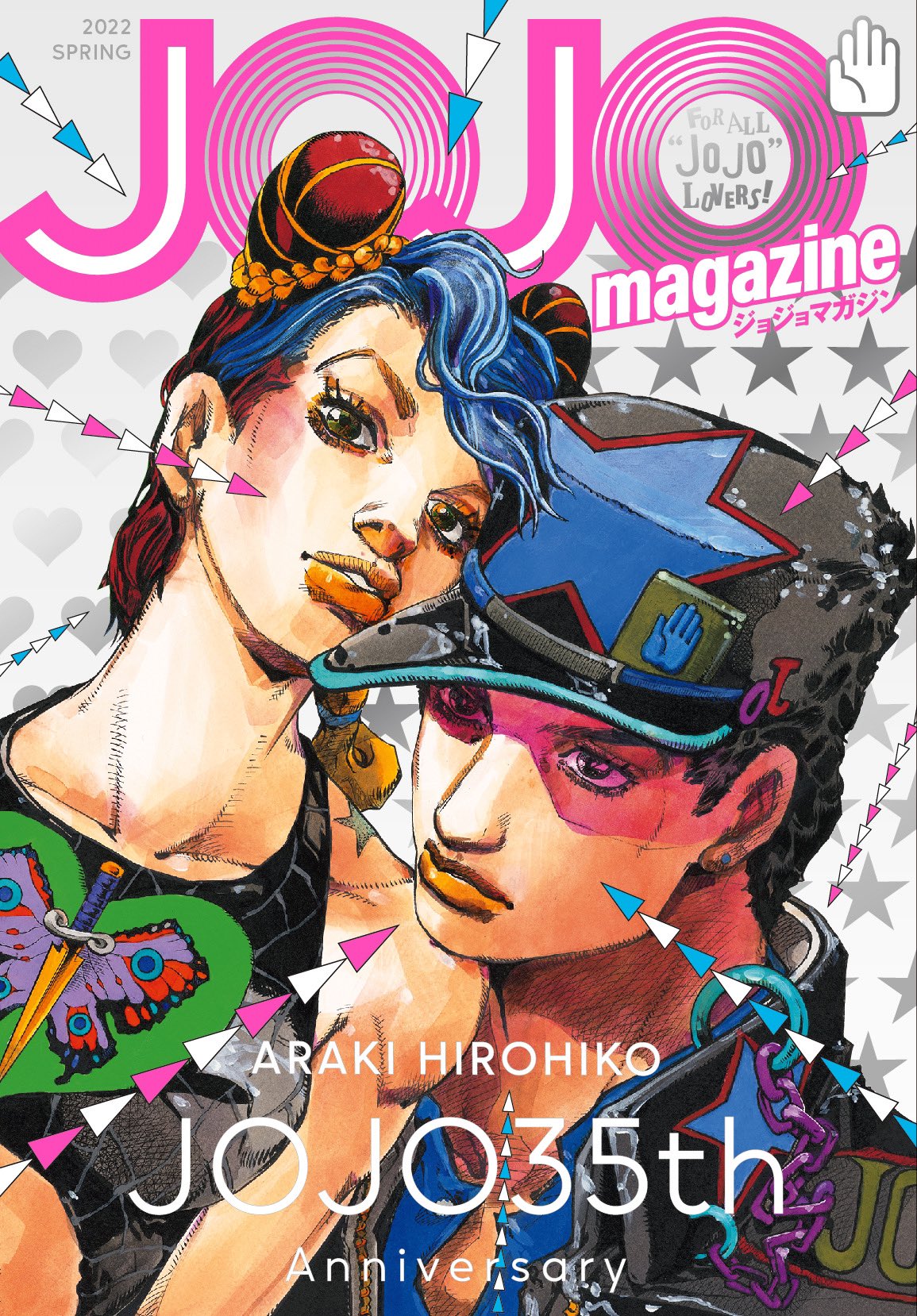 Cover: Jolyne Cujoh and Jotaro Kujo drawn by Hirohiko Araki
Price: ¥1,650 (including tax)
B5 Size / Soft Cover / Digital Version
Extra: JOJO Special Stickers 2-Pack
Pre-order: CDJapan