A special interview with Fairouz Ai and Rio Uchida published on January 28, 2022, in the March 2022 issue of MORE magazine. Fairouz Ai is the Japanese voice actress of Jolyne Cujoh from the JoJo's Bizarre Adventure: Stone Ocean anime. Rio Uchida is a model and the live action actress of Naoko Osato in the sixth episode of the Thus Spoke Kishibe Rohan live action TV drama. Fairouz also had a voice cameo in all three episodes of the Rohan TV drama's second season.
In this interview, Fairouz and Rio meet for the first time. Both of them strongly love JoJo and immediately hit it off, talking about their passion for the series.
About MORE Magazine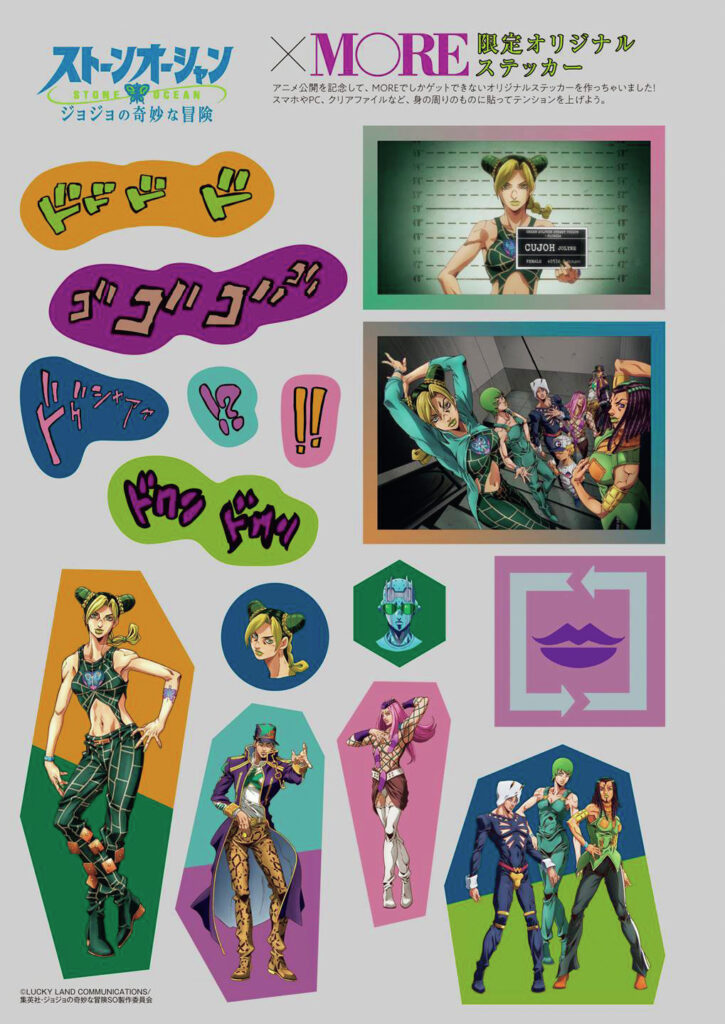 MORE is a Japanese women's magazine published by Shueisha releasing on the 28th of every month. It features fashion, beauty tips, cooking recipes, lifestyle and romance information, and model news.
In addition, the latest physical issue of MORE bundled a pack of JoJo's Bizarre Adventure: Stone Ocean stickers.
Interview
What made you like "JoJo"?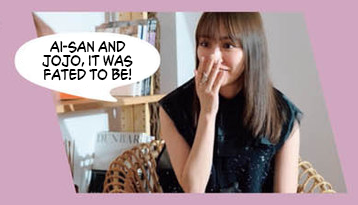 Fairouz: I first encountered JoJo back in junior high school. I saw a lot of JoJo quotes being used on the internet, so I was curious and bought the manga. That was the sixth part, JoJo's Bizarre Adventure: Stone Ocean.
Rio: So then you started reading from Part 6, right?!
Fairouz: Yes (laughs). In JoJo, the volume numbers are connected from Part 1 to Part 5, but in Part 6, it's reset and starts from volume 1. That's why I mistakenly thought that the first volume of Stone Ocean was the first volume of the series (laughs).
Rio: I see! Did you get hooked right away?
Fairouz: Well, at the time, I couldn't understand the story of Part 6 at all (laughs). But even though I didn't understand it, I was really shocked by the immense coolness of the main character, Jolyne!
Rio: So Ai-san's love for JoJo began with Jolyne, huh? To think such a person is now the voice actress of Jolyne! It's wonderful.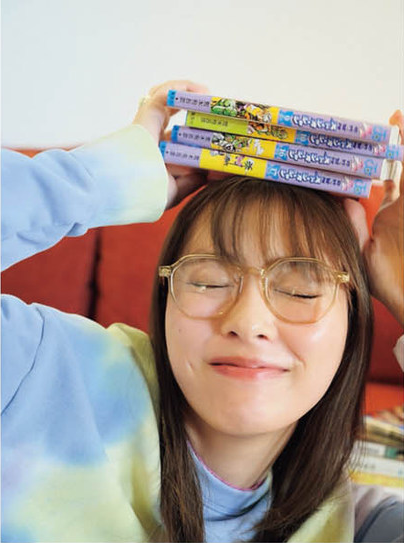 Fairouz: How did you encounter JoJo, Rio-san?
Rio: It was a little later in my case, I think when I was in college? There was a guy in my class who brought the whole manga from Part 1 to Part 6 to school and presented them to me, saying, "Read it!". That was the start of it. By the time I started the second part of the series, I had bought all the volumes myself. It's been my favorite work ever since.
Fairouz: I've loved JoJo ever since I started it. There are times when I get addicted to other manga, but JoJo is the only one that I never get tired of, and I've always loved it with the same passion. It's meant everything to me since my teenage years.
Rio: You encountering JoJo was definitely fate! How did you get the role of Jolyne?
Fairouz: I found out that there was an audition and I took it. I was surprised when I was informed that I passed! When I went to the venue for the final screening, I was told "We've decided that you will play the role of Jolyne". I cried a lot at that moment.
Rio: That's going to make me cry!
What do you recommend about "JoJo's Bizarre Adventure: Stone Ocean"?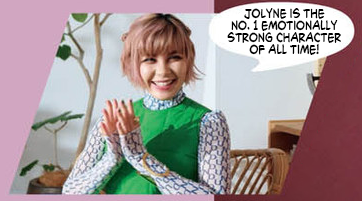 Rio: JoJo's Bizarre Adventure: Stone Ocean is the only part in the series with a female protagonist. It's appealing in that you can really experience powerful women. It matches the current era, and considering that the serialization began in 2000, it's like "the times have caught up" with JoJo.
Fairouz: I think so too! It's my own opinion, but I think Jolyne is by far the most resilient and emotionally strong character of all time.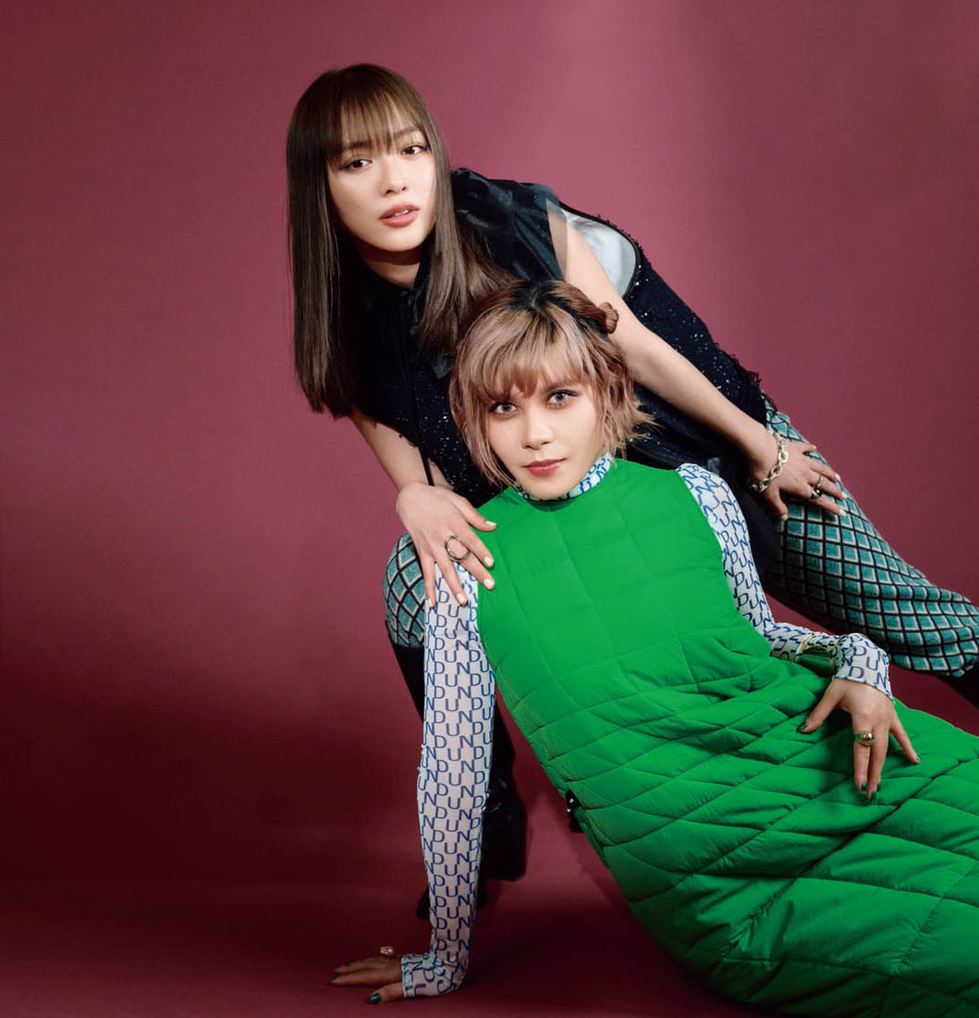 Rio: No matter how tough the situation is, she never loses heart, right? I watched the anime right away. It's already truly the best!!
Fairouz: Wow~ Thank you!
Rio: I thought it would be difficult to express Jolyne's toughness with a voice. I was so impressed at how wonderful Ai-san's voice for Jolyne was that I thought "so this is what it means to have soul"!
Fairouz: I don't think I could have arrived at that level of performance by myself. It's thanks to the staff's direction and being pulled along by my co-stars!
Rio: I'm touched that you think that way about your performance. One of the beauties of JoJo is that "everyone succeeds together", isn't it? As a fan, I can't help but be grateful that the spirit of "everyone working together" is also present in the anime production field!
Fairouz Ai & Rio Uchida's Favorite "Stone Ocean" Characters and Scenes
Favorite Characters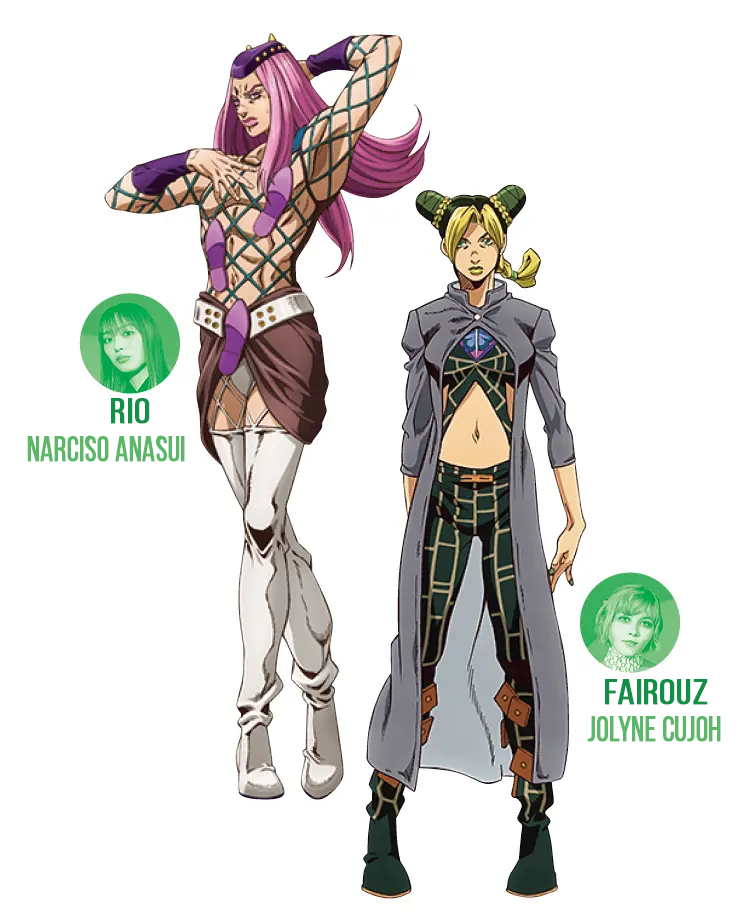 Fairouz (Jolyne Cujoh): I really admire Jolyne's strong will and caring nature.
Rio (Narciso Anasui): He's someone that Jolyne meets in a secret room in prison. I like how he's obsessed with one person.
Favorite Scenes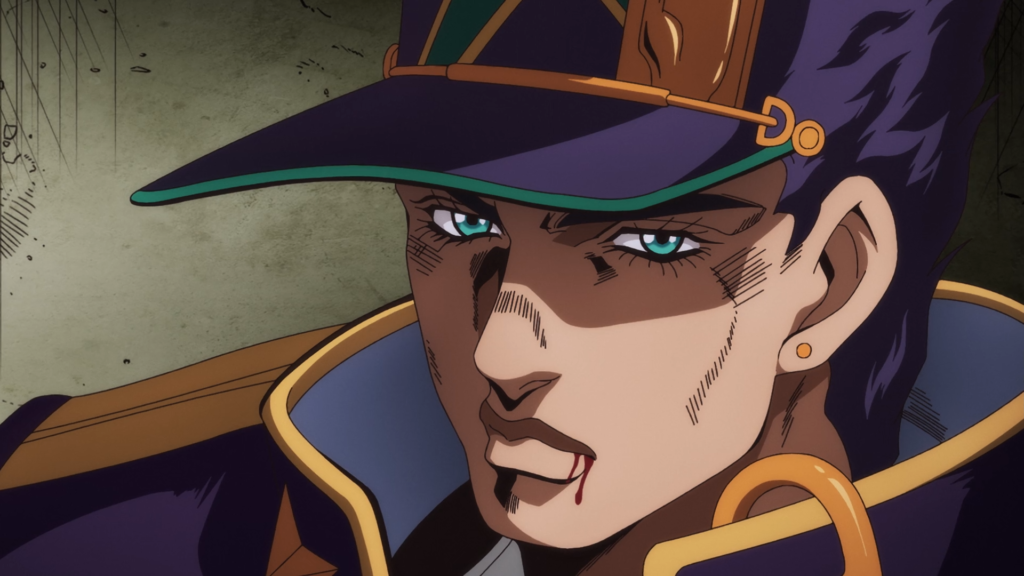 "I've always… cared about you." (Stone Ocean Episode 5)
Fairouz: Jotaro's words to his daughter, Jolyne. There was a time when even I didn't get along with my father, but these words helped me a lot.
"People die because of shame." (Stone Ocean Chapter 91)
Rio: Father Pucci's words from the second half of Part 6. I'm the kind of person where shame tends to drag me down, so this really resonated with me.
The scene where Jolyne is involved in a traffic accident while driving with her boyfriend, Romeo (Stone Ocean Episode 1)
Fairouz: Romeo's reaction when those glasses got stuck in the windshield was on point!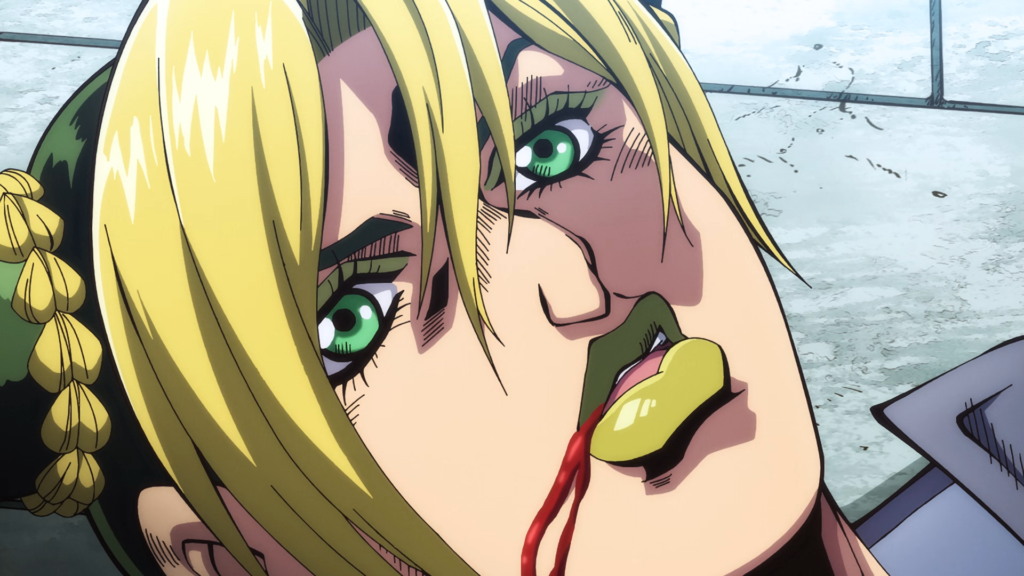 "I won." (Stone Ocean Episode 12)
Rio: Ai-san is such a talented voice actor! Her performance really skyrocketed Jolyne's character to life.
Why do you recommend "JoJo" to MORE readers?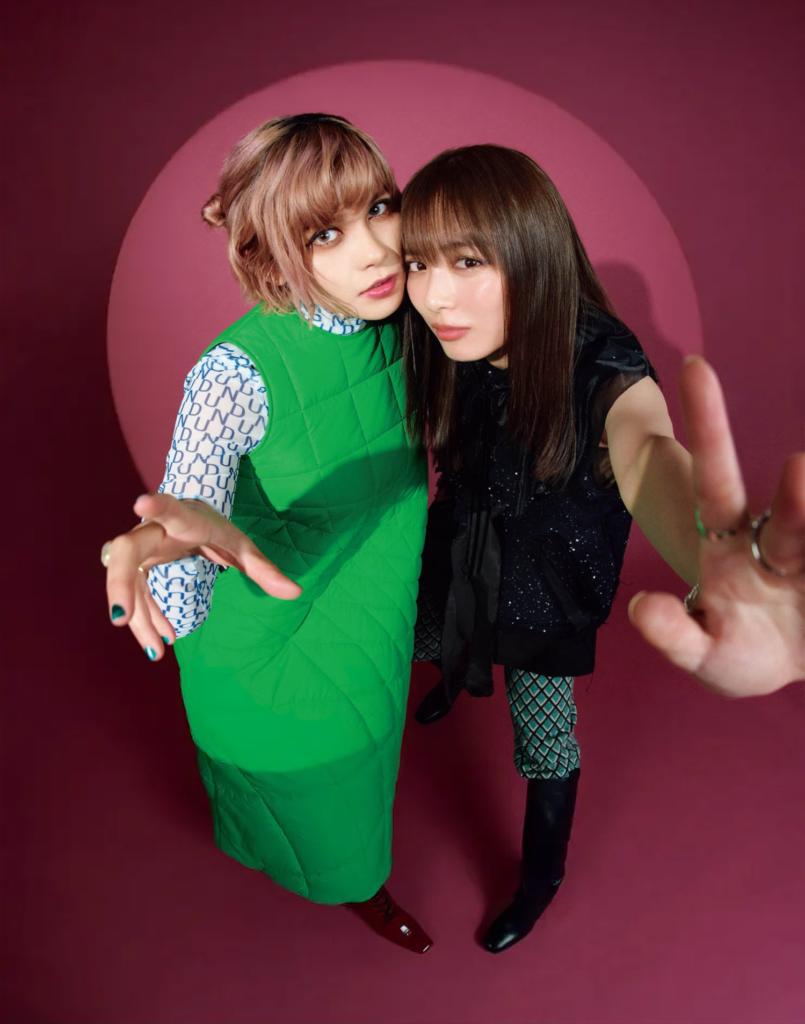 Rio: Although it's a story that has special abilities and is far from everyday life, JoJo is full of phrases and expressions that support us.
Fairouz: Exactly! Giorno Giovanna's words in Part 5 saved me many times: "People often learn more from their failures than from their success and victories". Whenever I make a mistake at work, I remember these words and think, "It's okay. It might feel painful now, but I'll surely grow from this failure."
Rio: I see. For me it's Zeppeli's "Human anthems…" quote from Part 1.
Fairouz: Ah~ That one's great! "Human anthems are a hymn to courage!!"
Fairouz & Rio: "Our greatness is born of that courage!!"
Rio: It's the best! (laughs). During my student days, there were times when I thought, "I hate people," but that quote made me feel more positive.
Fairouz: We always have JoJo in our hearts, don't we? Another reason why I recommend JoJo is that besides Jolyne, all of the female characters appearing in the series are strong and each have their own will.
Rio: Yes! I know a lot of people have the image that it's a "battle manga with male characters", but I want you to pay attention to the female characters too!
[Translated by
Vish
(JoJo's Bizarre Encyclopedia)]
About Fairouz Ai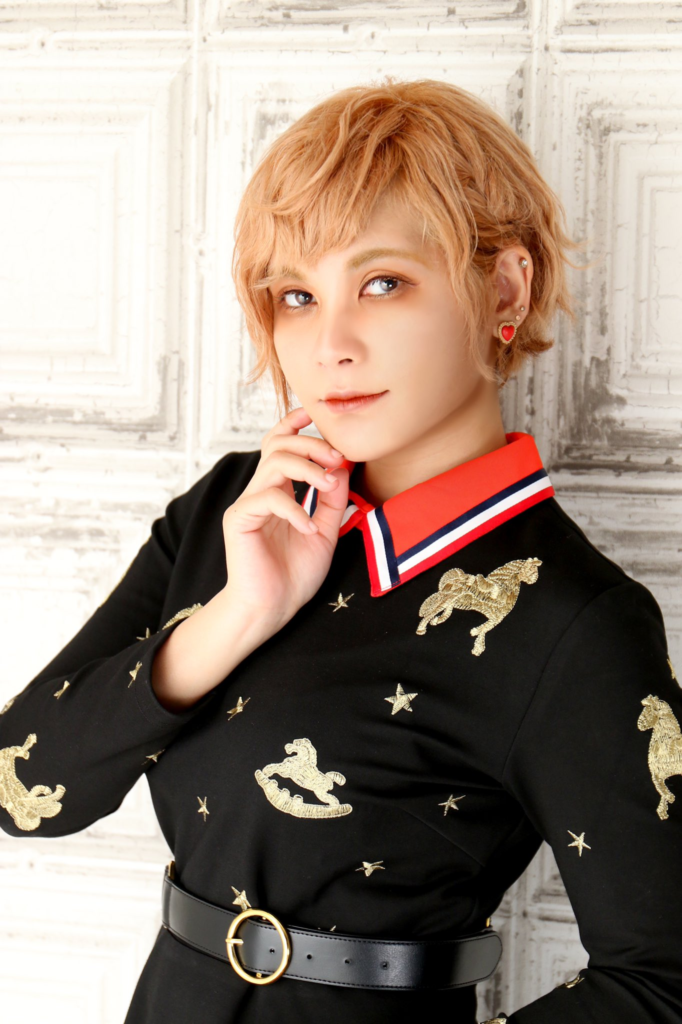 Fairouz Ai (ファイルーズあい) was born on July 6, 1993 in Tokyo to a Japanese mother and Egyptian father. She is a voice actress and singer affiliated with Pro-Fit. In 2020, at the 14th Seiyu Awards, Fairouz won an award in the "New Actress" category for her role as Hibiki Sakura in How Heavy Are the Dumbbells You Lift?. She eventually became the lead role in the JoJo's Bizarre Adventure: Stone Ocean anime as the voice actress of Jolyne Cujoh.
Fairouz Ai is also known for her roles in other anime such as Manatsu Natsumi in Tropical-Rouge! Pretty Cure, Emily Orange in Kandagawa Jet Girls, Eripiyo in If My Favorite Pop Idol Made It to the Budokan, I Would Die, and Takechiyo in Yashahime: Princess Half-Demon.
About Rio Uchida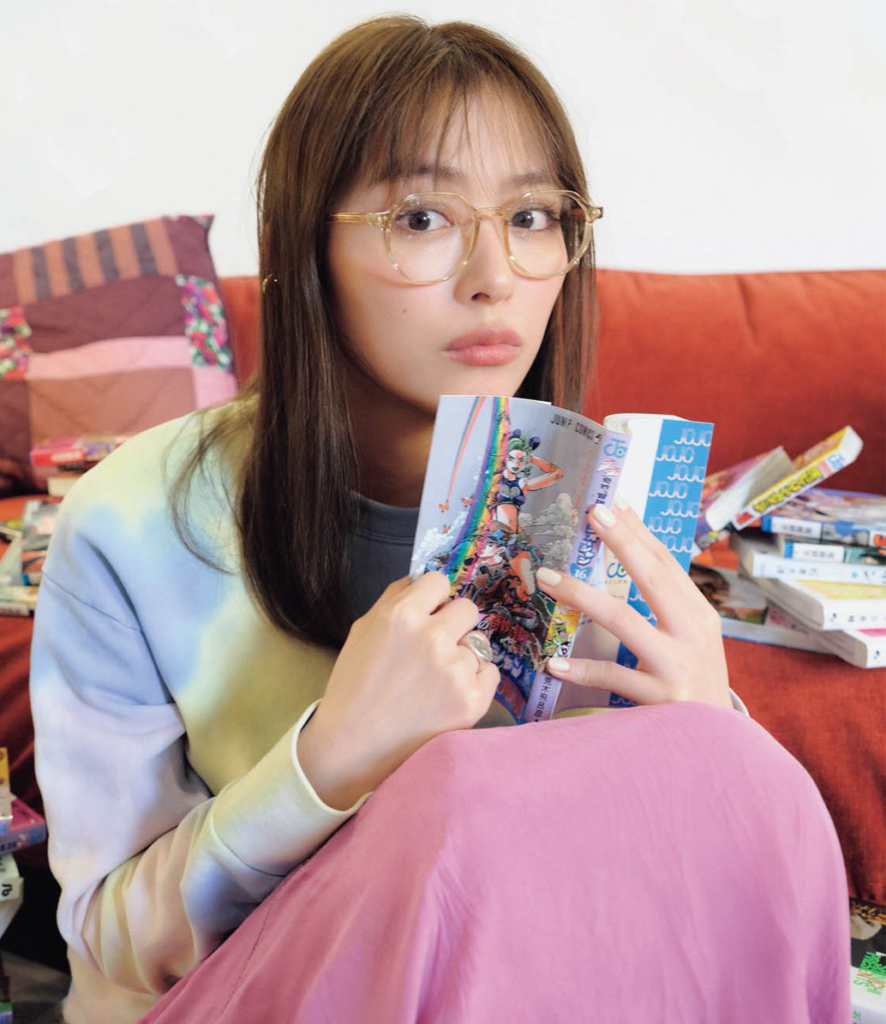 Rio Uchida (内田 理央) was born on September 27, 1991 in Tokyo, Japan. She is a model and Japanese actress who made her debut in April 2010 on Nippon TV's Idol's Opening – Search for the Nittelegenic program, which was a survival audition where viewers voted for their favorite idols.
Starting from October 2014, she debuted as an actress by starring in the TV Asahi tokusatsu series, Kamen Rider Drive as the main heroine, Kiriko Shijima. In 2019, Rio won the 22nd Nikkan Sports Drama Grand Prix Supporting Actress Award for her performance in Ossan's Love.
In this magazine issue, Rio also revealed her top 5 manga.
JoJo's Bizarre Adventure: Stone Ocean
Ms. Shirakawa, a Beautiful Woman with Strong Mentality (メンタル強め美女白川さん)
Ping Pong
Blue Giant
My Hero Academia
For more info about Rio Uchida, see her wiki page.