On July 10, 2022, XFLAG announced a collaboration between the anime JoJo's Bizarre Adventure: Stone Ocean and their mobile game Monster Strike that will begin on Friday, July 15, 2022, for a limited time.
Monster Strike is a mobile game where players must collect and enhance monsters/characters to place them in battles. The game was first launched in 2013 for iOS and Android and features puzzle gameplay and online multiplayer. The game is known for releasing crossover content with famous franchises, including Final Fantasy and Star Wars. This year they previously announced collaborations with the anime series Spy x Family, Detective Conan, and Demon Slayer.
In August 2017, Monster Strike shut down the servers for the English version of their game. Players in Japan will be able to acquire the Stone Ocean characters until August 2, 2022.
Limited Gacha Characters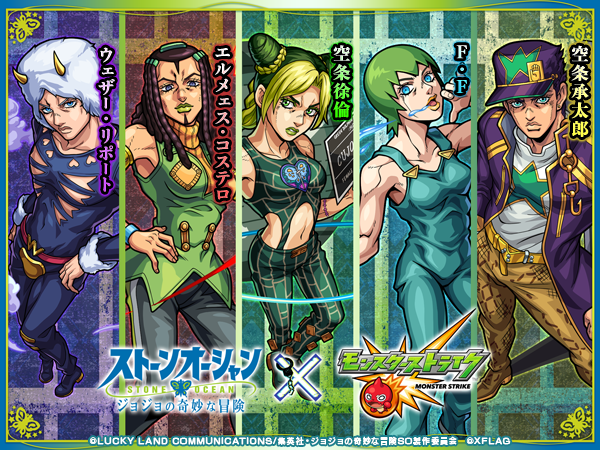 Five collaboration characters from the Stone Ocean anime (including Jolyne Cujoh, Ermes Costello, Foo Fighters, Weather Report and Jotaro Kujo) will be available as limited gacha pool from July 15, 2022 to August 2, 2022. The chances of unlocking these collaboration characters as team members will be greatly increased starting from July 17.
| Character | Rarity | Affinity |
| --- | --- | --- |
| Ermes Costello | ★4 | Fire |
| F.F. | ★4 | Water |
| Jolyne Cujoh | ★6 | Wood |
| Jotaro Kujo | ★6 | Light |
| Weather Report | ★6 | Dark |
6-Star Character Introduction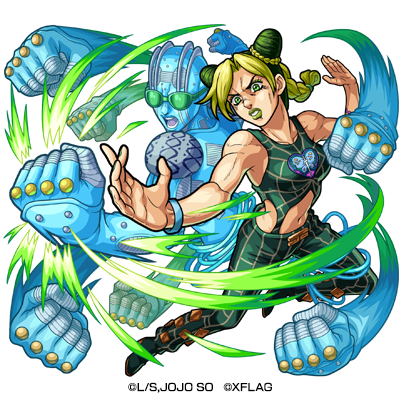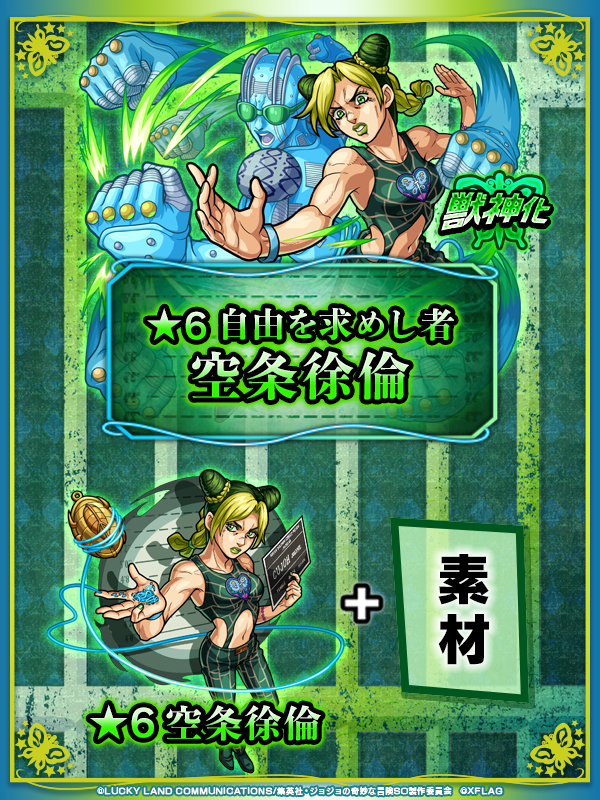 4-Star Character Introduction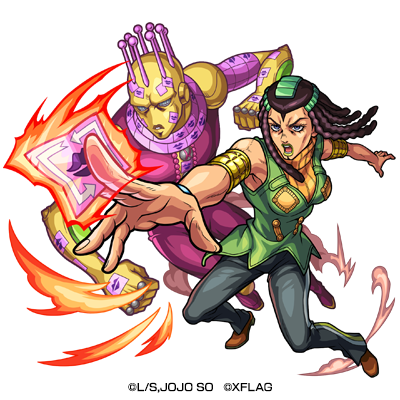 Limited Starter Pack
By purchasing the JoJo's Bizarre Adventure: Stone Ocean Collaboration Starter Pack you can also get an exclusive "Joestar Family – Jolyne and Jotaro" (★6 Transcension). This character is limited to one per person and will also only be available from July 15, 2022, to August 2, 2022.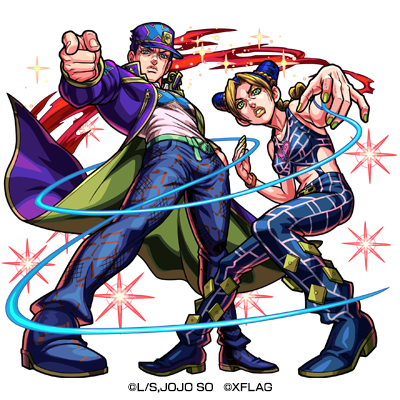 Limited Quest Events
The collaboration will also feature five limited quest events against minor villains from the anime. These include Lang Rangler, Thunder McQueen, Gwess, Johngalli A., and Miraschon.
| Character | Rarity | Affinity |
| --- | --- | --- |
| Lang Rangler | ★5 | Fire |
| Thunder McQueen | ★4 | Water |
| Gwess | ★4 | Wood |
| Johngalli A. | ★5 | Light |
| Miraschon | ★5 | Dark |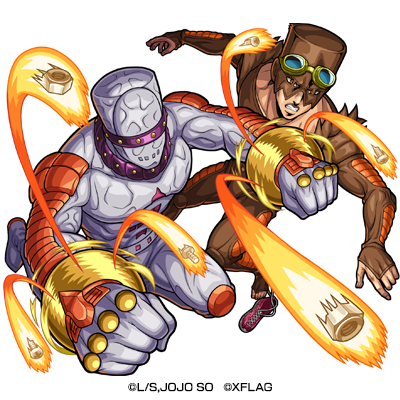 Source: Monster Strike