JoJo's Bizarre Encyclopedia member Lou conducted an interview with Satoshi Kurusu, a Japanese manga artist who worked as an assistant on JoJo's Bizarre Adventure for Hirohiko Araki from 2001 to 2004. At the time, JoJo was on its sixth and seventh parts, Stone Ocean and Steel Ball Run, respectively.
About Satoshi Kurusu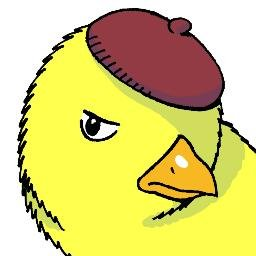 Satoshi Kurusu (来栖さとし) is currently serializing the manga Everyone Except Me's a Zombie?! (俺以外全員ゾンビ!?), published on Yahoo's ebookjapan service.
He read JoJo since he was a child, encountering it when Stardust Crusaders was in the Empress arc. After seeing an advertisement in Weekly Shonen Jump, he applied to work for Araki when he was 23 years old.
He often posts tutorials of art techniques he learned from Araki on his Twitter and pixivFANBOX accounts. He also drew a short series titled Hirohiko Araki Does Not Move (荒木飛呂彦先生は動かない), an autobiographical depiction of how Kurusu started working for Araki.
Full Interview with Satoshi Kurusu
Which Araki works were you involved in?
Mid-JoJo Part 6 to the first half of Part 7.
What were the biggest challenges working as an assistant?
The background of one panel with food in it didn't match Araki-sensei's vision, so I had to keep redrawing it for 3 days.
Did you have fun working with Araki?
Since the drawings had to be so top notch, I was frantic. That being the case, I can't really say I had fun. However, there was a sort of "pride" in drawing JoJo. I now think it was absolutely a gold experience.
Who's your favorite JoJo character?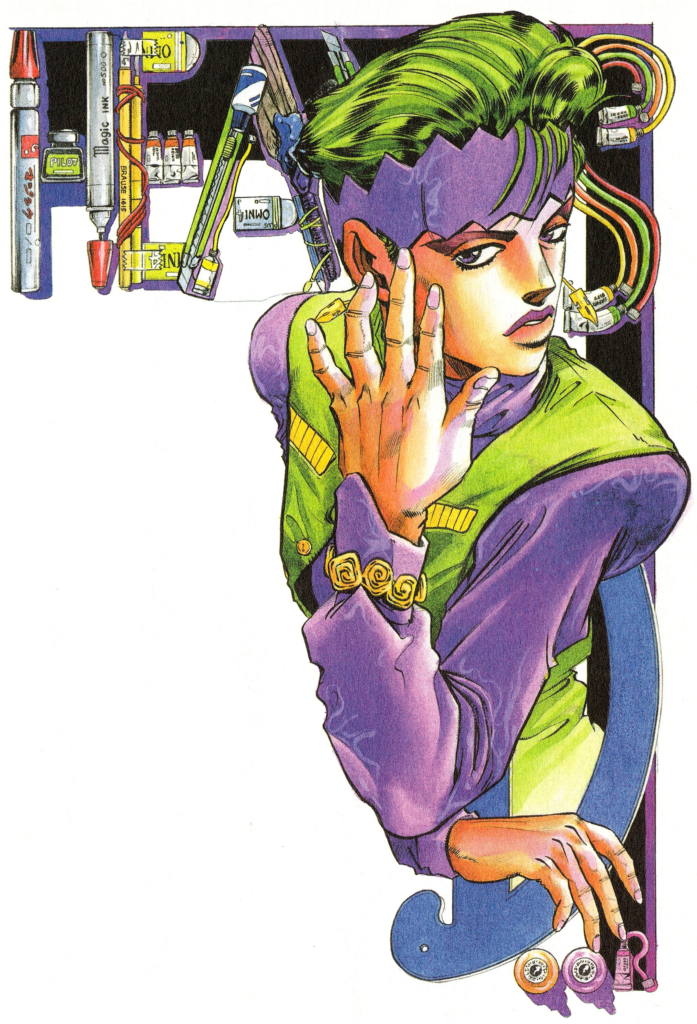 Rohan Kishibe. As expected, I have an admiration for him as a manga artist now.
What is your favorite JoJo Part?
If given the chance, would you want to work with Araki again?
Yes. Not as an assistant, but as a manga author. When I draw manga, Araki-sensei is always in my heart, encouraging me, and teaching me.
What kind of work did you do as Araki's assistant?
Drawing backgrounds and character's clothing designs.
Picking up the food everyday (bento).
Managing art supplies.
Which Stand battle that you drew was your favorite?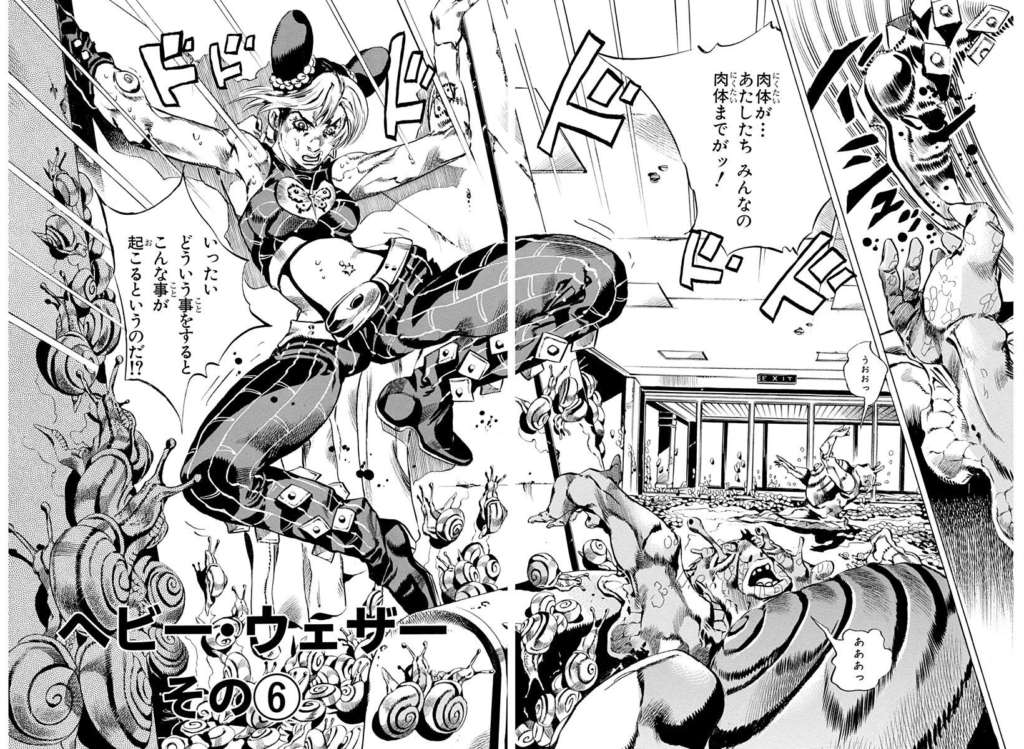 In Part 6, I enjoyed drawing the battle where the massive number of snails appear, during Weather Report's Heavy Weather. The assistants had to draw it without any detailed explanation from Araki-sensei about why a large number of snails appeared. As such, we would only understand the story after the manuscripts were completed. It was definitely a "bizarre" job.
荒木先生のどの作品に携わりましたか?
JOJO第6部途中~第7部前半
アシスタントの仕事で一番大変だったことは何ですか?
たった1コマの料理を描く背景が、荒木先生のイメージに合わず、3日間も描き直しをしたこと
荒木先生と一緒に働いて、楽しかったですか?
絵は、高いレベルが必要だったため、必死でした。 ですので、楽しかったということは、ありません。 ただ、JOJOを描いているという「誇り」はありました。 今思うと、まさにgold experienceでした。
一番好きなジョジョのキャラクターは誰ですか?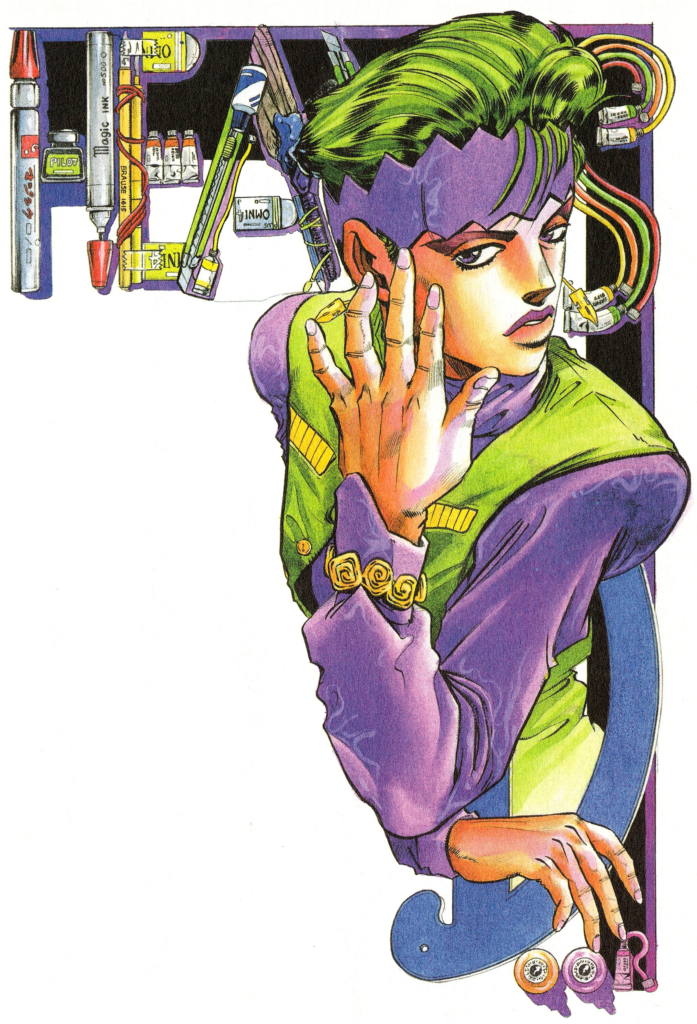 岸部露伴。やはり漫画家として憧れの存在です。
ジョジョの何部が一番好きですか?
第4部
機会があれば、また荒木先生と一緒に働きたいですか?
はい。アシスタントとしてではなく、漫画家として。 ただ、私は漫画を描く時、いつも心の中に荒木先生がいて、励ましてくれたり、教えてくれたりしています。
荒木先生のアシスタントとして、どのような仕事をしましたか?
背景や、キャラクターの服装のデザインを描く事。
毎日の食事の調達(弁当)。
画材などの管理。
どのスタンドバトルを描くのが一番楽しかったですか?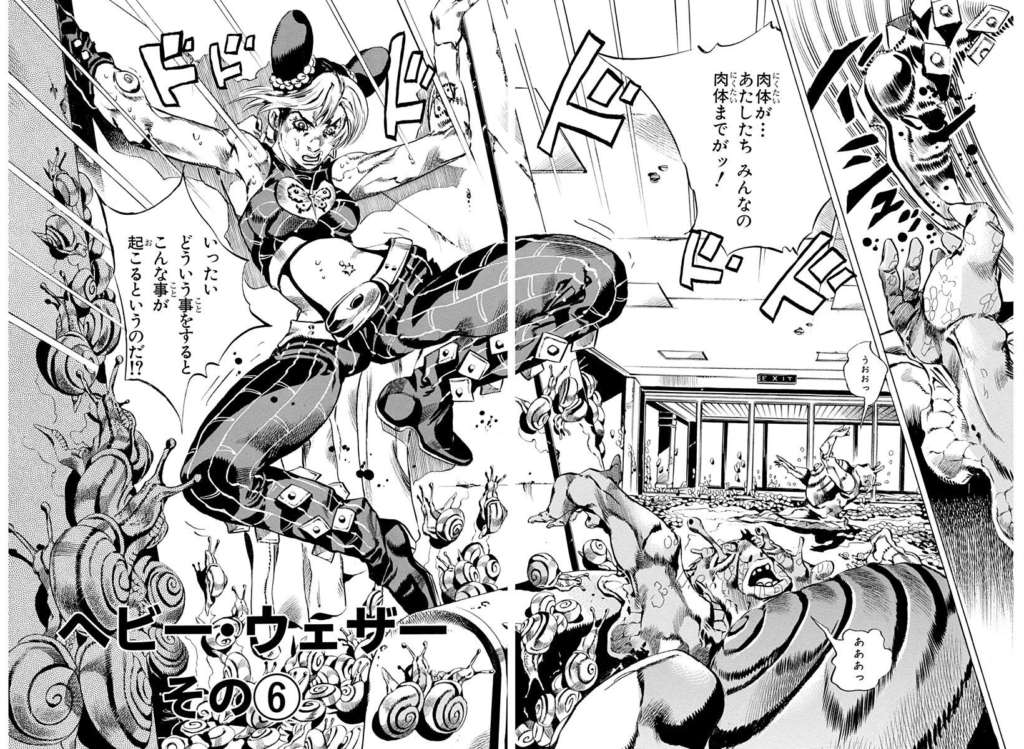 第6部で、ウェザーリポートのヘヴィーウェザーで、大量のカタツムリが出現したバトルは、描いていて楽しかった。 アシスタントのメンバーは、先生から詳しい説明はないため、なぜ大量のカタツムリが出たのか知らないまま描く。そして、原稿が完成してからストーリーが分かる。 まさに、「奇妙な」仕事でした。
---
Kurusu's answers were translated to English by Irene and proofread by Vish. This interview is also available in Italian on the Italian Instagram page JoJoFeedback which Lou runs.
For more information about Kurusu, see his wiki page or check his Twitter!