JoJo-Portal has revealed the cover and tracklist of the JoJo's Bizarre Adventure: Stone Ocean O.S.T. The amount of tracks totals at 60 (instead of the originally announced 40), spread over 2 discs, which are stylized to resemble Whitesnake's memory and Stand DISC's.
Composed by Yugo Kanno, the OST includes all of the tracks used in the season, including the main "Theme of Stone Ocean", which plays during several battles.
Cover and Discs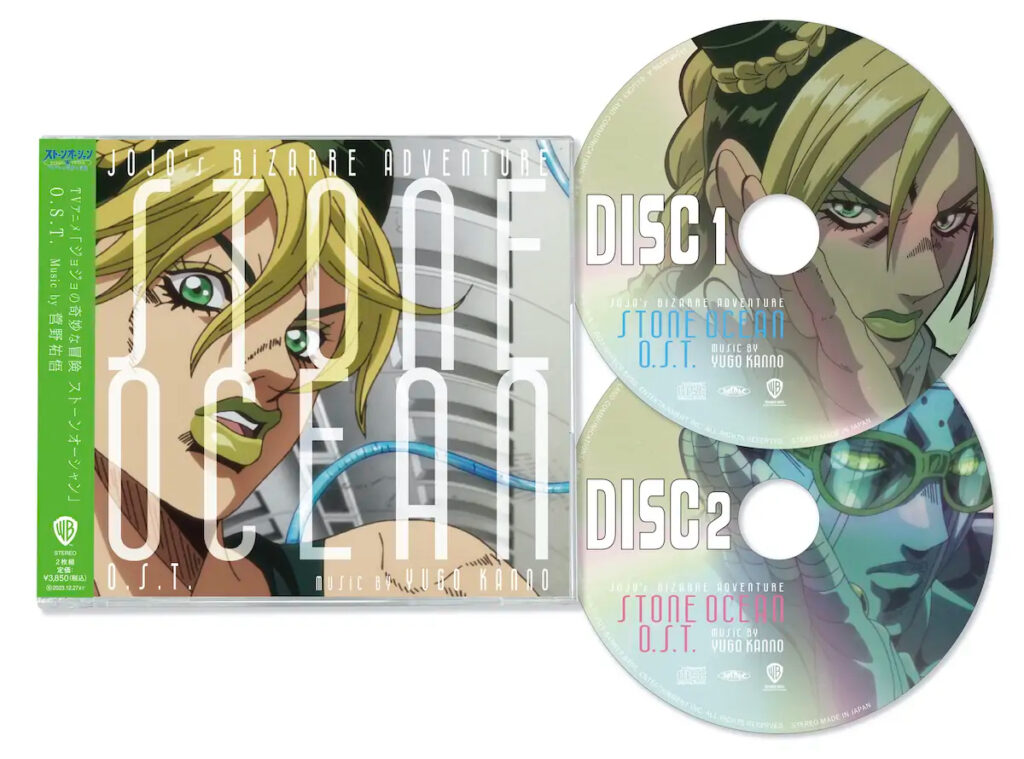 The cover is a reused frame from Stone Ocean Episode 28.
Tracklist
DISC 1
Theme of Stone Ocean
Desperate Situation
Tense Air
Priest
Surrounded
Hurry Up!
Creep on
Something is Wrong
Pale Snake
Determination
Impending Crisis
Fate
Suspenseful
High Tension
Quietness
Strings
Discomfort
From Darkness
Daily Conversation
The End Of The Universe
Microorganism
Green Dolphin Street Prison
Memories
Dive
Disc
Hesitation
Oh My God!
Tiny Stone
Hopelessness
Execution
Eye Catching Inst Ver.
DISC 2
Desperate Struggle
Hatred
Sticker
Collector
Clock Works
Invisible Corpse
Ghost Room
Sniper
Weightlessness
a Little Bird
Pass Away
C-Moon
FENG SHUI
The Green Baby
New Moon Gravity
Disciplinary Wing
Get Excited
Weather
Submission
Ally
Electric Potential
Under the Ground
Anger
Surviver
Fairy Tale
Eyelids
What a Wonderful World
Eye Catching Voice Ver.
To Be Continued…
Details
Title: JoJo's Bizarre Adventure: Stone Ocean O.S.T. (ジョジョの奇妙な冒険 ストーンオーシャン O.S.T)
Release date: June 28, 2023 (Wednesday)
Product number: 1000828596
Price: ¥3,850 (tax included)
Number of sets: 2 CDs
Track count: 60, (31 on DISC 1, 29 on DISC 2)
Source: JoJo-Portal