Bandai Namco's arcade game JoJo's Bizarre Adventure: Last Survivor is adding Pannacotta Fugo from the fifth part of the JoJo's Bizarre Adventure series, Golden Wind, as a playable character.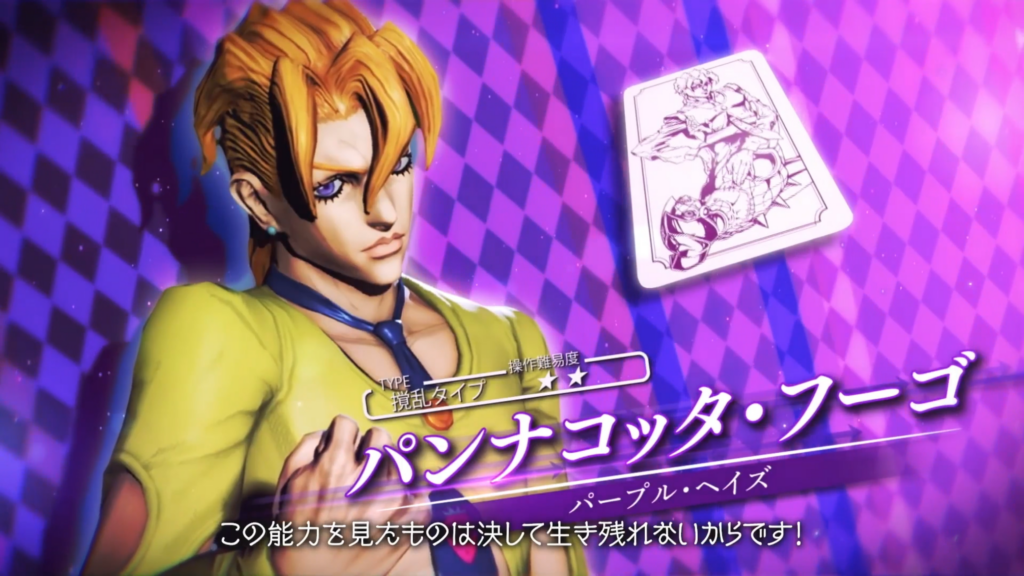 The official Last Survivor YouTube channel announced Pannacotta Fugo in a live stream on May 31, 2023, during the "6th Online Fan Meeting". The update that will make him playable releases on June 7, 2023.
Previously, Bandai Namco held a live stream event on February 19, 2023 with the voice actors of several cast members playing the game: Yuki Ono (Josuke Higashikata), Kensho Ono (Giorno Giovanna), Kosuke Toriumi (Guido Mista), Daiki Yamashita (Narancia Ghirga), Junya Enoki (Pannacotta Fugo), and Katsuyuki Konishi (Diavolo). In the trailer for the event, Enoki angrily pointed out how he was the only cast member whose character wasn't in the game.
Before Fugo, Narciso Anasui joined the roster on March 8, 2023. Fans assumed Fugo would be added at that time due to the voice actor event.
Moveset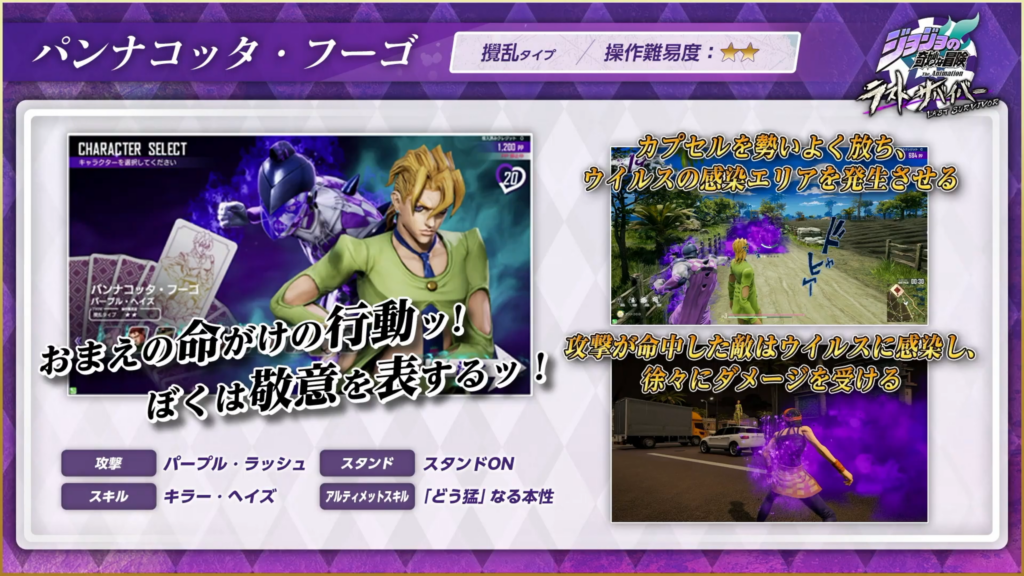 Fugo has six capsules that generate poison. Virus damage ignores shields and defense, directly reducing health gradually. The virus can infect Fugo himself, but not his allies. Purple Haze's viruses are weak against sunlight, so the effect lasts longer in the Cairo stage where it is always night.
His skills are "Purple Rush" and "Killer Haze". When Purple Rush is used, Purple Haze continuously unleashes punches. If the attack hits, a capsule breaks, generating a virus. Killer Haze allows him to shoot poisonous capsules with a time-based reload mechanic.
Fugo's ultimate skill is "'Ferocious' Nature" where Purple Haze becomes enraged. It greatly increases capsule regeneration speed, stamina recovery speed, rush speed, virus area range, and movement speed for a certain period of time.
Trailer
6th Online Fan Meeting Stream
The reveal trailer and information about Pannacotta Fugo begins at 1:11:31 in the stream below.
Gallery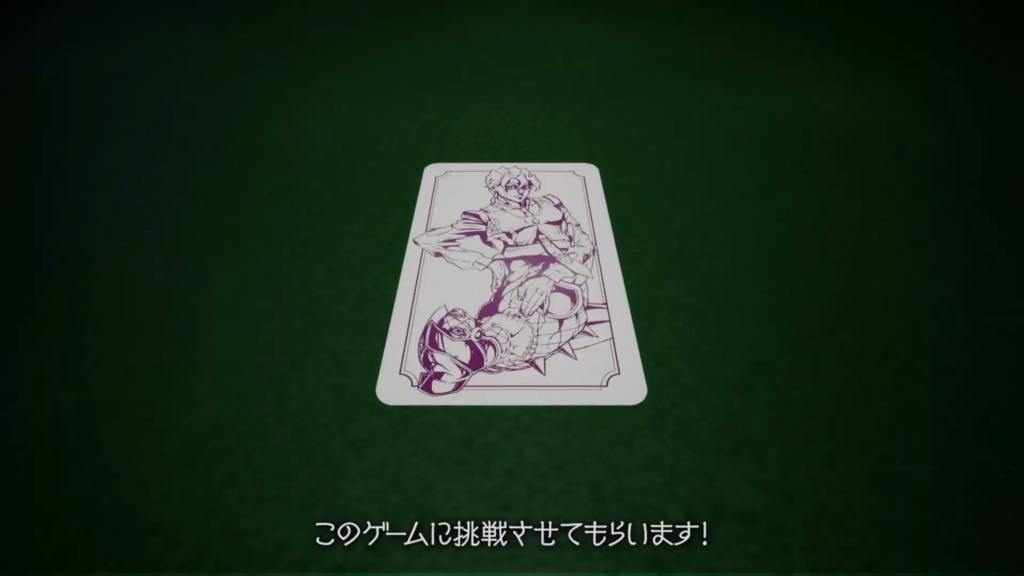 Challenge Events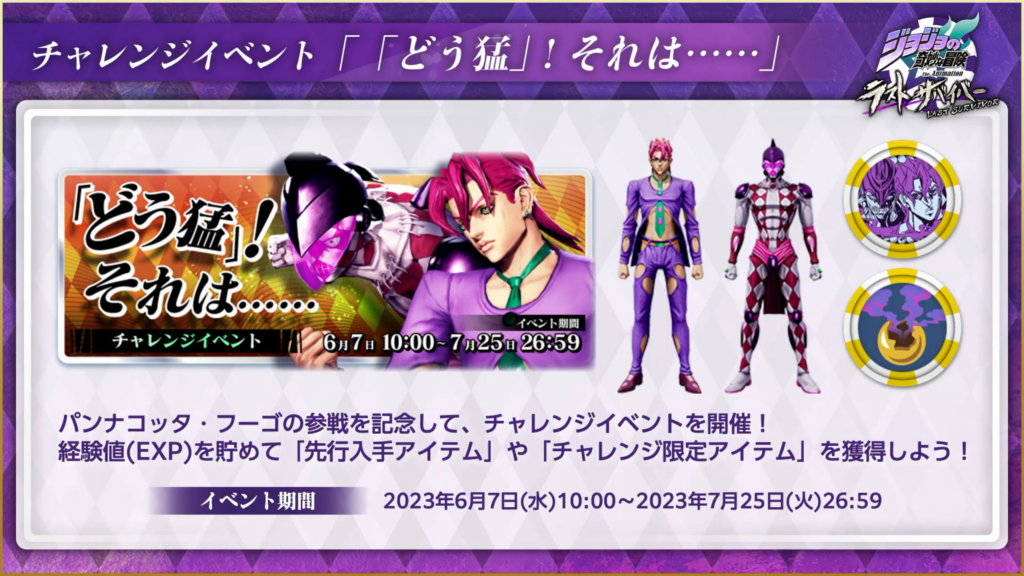 The "How Ferocious!" challenge event begins on June 7, 2023 and lasts until July 25, 2023. It unlocks a purple costume for Fugo.
Details of the "Rohan Kishibe's Adventure" challenge event will be announced in mid-July, featuring new outfits for Rohan Kishibe and Yoshikage Kira.
About Last Survivor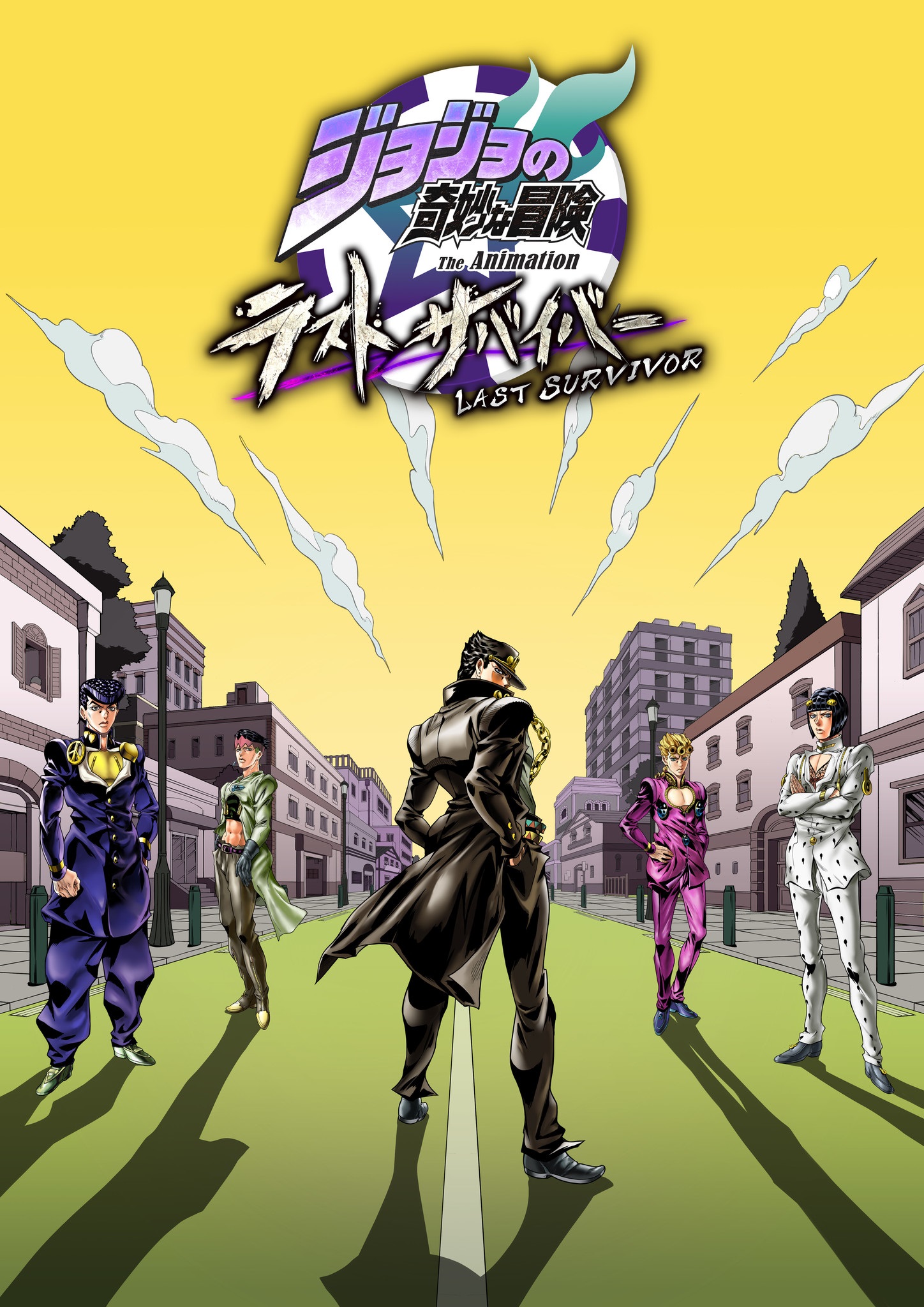 JoJo's Bizarre Adventure: Last Survivor is a multiplayer battle royale game based on the JoJo's Bizarre Adventure franchise for arcades in Japan. It was first announced on December 18, 2018, and launched a year after its announcement. The game supports up to 20 players in a single match and features characters from Parts 3 to 6 of the series. For more info, see the official website or the wiki page.