TOHO has revealed visuals of the cast wearing their costumes in their JoJo's Bizarre Adventure: Phantom Blood stage musical set to premiere from February to April 2024 in Japan.
Yuya Matsushita and Shotaro Arisawa will play Jonathan Joestar, the only son of the British aristocratic Joestar family. Mamoru Miyano will play Dio Brando, the main antagonist and adopted son of the Joestar family. Miisha Shimizu plays the role of Erina Pendleton, Jonathan's lover. YOUNG DAIS plays Robert E. O. Speedwagon, a former criminal who is touched by Jonathan's pure spirit and becomes his ally. Yoshihisa Higashiyama and Yusuke Hirose play Will A. Zeppeli, who becomes Jonathan's mentor by teaching him the Ripple technique. Yamato Kochi plays Jack the Ripper, a serial killer who becomes Dio's subordinate. Jumpei Shimada plays Wang Chan, a poison seller who becomes Dio's subordinate. Lastly, Kong Kuwata and Tetsuya Bessho play Dario Brando and George Joestar I, who are the fathers of Dio and Jonathan respectively.
The official website for the musical has also updated with a summary of the story, comments from the cast, and the showtimes.
Phantom Blood Story
This story revolves around the mysterious Stone Mask excavated from Mexico and follows the adventurous tale of the fateful destinies of two young men!
In the 19th century, England – Jonathan Joestar (Yuya Matsushita / Shotaro Arisawa), the only son of the noble Joestar family, has the nickname "JoJo". His father, Sir Joestar (Tetsuya Bessho), raises him under strict yet warm guidance to become a "true gentleman". The Joestar household adopts Dio Brando (Mamoru Miyano), who was born and raised in the slums. They take him in because they believe Dio's deceased father, Dario Brando (Kong Kuwata), had saved Sir Joestar's life. Sir Joestar raises the two as equals, and they grow up strong.
However, Dio schemes to take everything from JoJo; his beloved dog Danny, his friends, his first love Erina Pendleton (Miisha Shimizu), and even the Joestar family's wealth. Realizing Dio's evil intentions, JoJo heads to the slums of London, Ogre Street. With the help of his new ally Speedwagon (YOUNG DAIS), they drag Wang Chan (Jumpei Shimada) back to the Joestar mansion because of his involvement in Dio's conspiracy. In a desperate situation, Dio harnesses the power of the mysterious Stone Mask, displayed in the Joestar house, to gain immense strength.
To counter the overpowering Dio, JoJo endures the rigorous training of Will A. Zeppeli (Yoshihisa Higashiyama / Yusuke Hirose) to master the "Ripple Technique". Both of them set out on a journey with Speedwagon to settle the score with Dio. Meanwhile, Dio, with the likes of Jack the Ripper (Yamato Kochi) and legendary knights under his command, builds an evil empire and awaits JoJo's arrival. The long-standing feud between JoJo and Dio, their bizarre adventure, is about to begin—.
Cast Comments
Yuya Matsushita (Jonathan Joestar)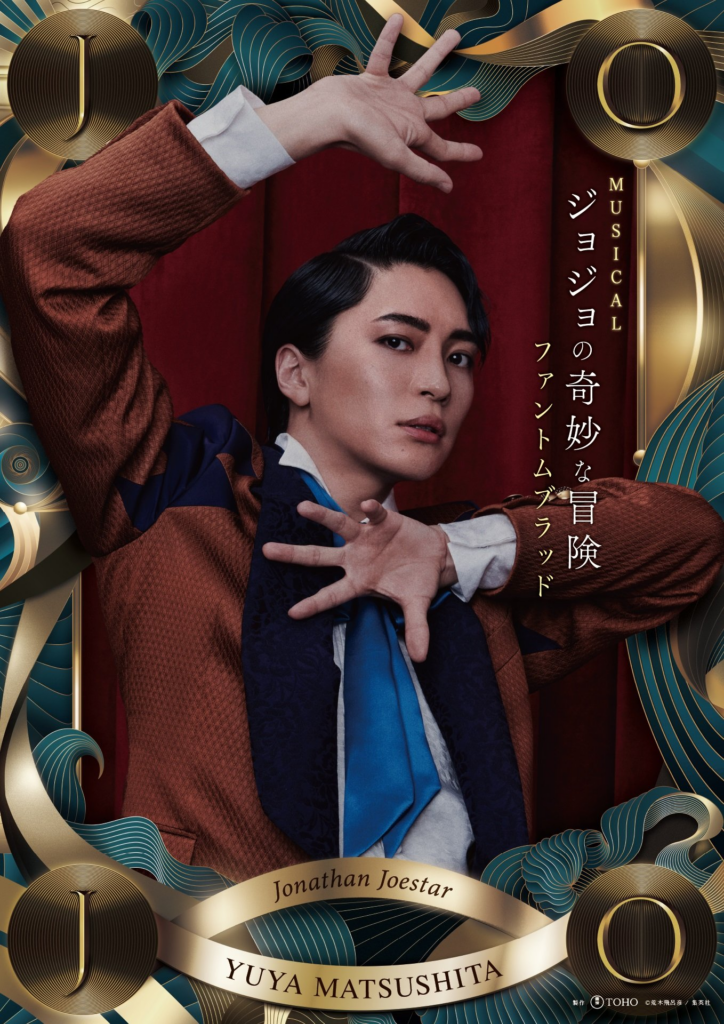 I'm truly honored to have been given the opportunity to play the role of Jonathan Joestar in the globally renowned and historic work JoJo's Bizarre Adventure, which marks the beginning of the story.
I'm really looking forward to being part of the significant challenge of turning JoJo into a musical, alongside a wonderful cast and creators. It's also my first time performing at the Imperial Theatre, so I'm fired up! I hope you will look forward to it.
Profile
Born on May 24, 1990, in Hyogo Prefecture. Debuted as a solo artist in 2008. Since then, he has been active in both acting and music. Recent stage performances include "Sunset Boulevard," "How to Succeed in Business Without Really Trying," "Black Butler: Jack the Ripper," "Rurouni Kenshin: Kyoto Arc," "Pacific Overtures," and "Asakusa Kid." TV drama appearances include "Beppin-san" and "Ashi Girl" (NHK). From 2020, he started his music activities under the name "YOUYA" and is actively working as an artist.
Shotaro Arisawa (Jonathan Joestar)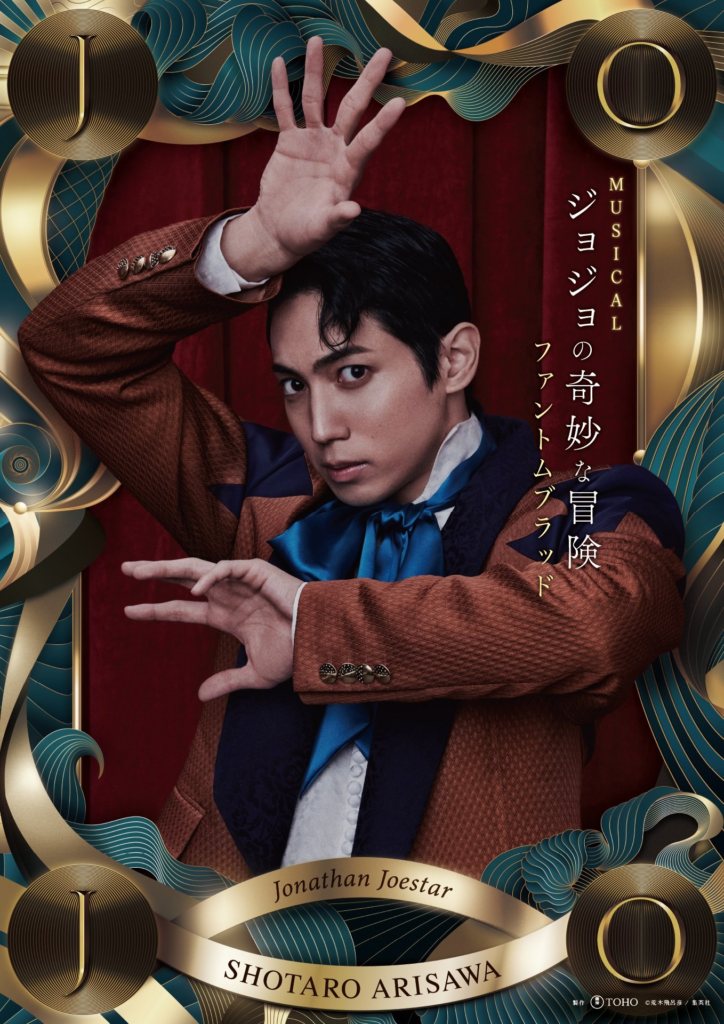 Nice to meet you. I'm Shotaro Arisawa, playing the role of Jonathan Joestar. Just saying the name gives me chills. I truly feel the weight of taking on such a historic role.
As this is the premiere, I can't help but look forward to working with the strong team of creators, led by director Ney Hasegawa, and the cast members to bring this world to life. I hope we can fully harness the potential of JoJo and create a production that surpasses everyone's expectations. Let's meet at the Imperial Theatre in February.
Profile
Born in 1995, from Hyogo Prefecture. Started his acting career in 2015. The following year, he gained popularity for his role as Izuminokami Kanesada in the musical "Touken Ranbu" series. Since then, he has been actively performing in various stage plays and international musicals. Recent main performances include the musical "Jersey Boys" and the play "Kingdom." He is also set to appear in the musical "Nodame Cantabile" in October.
Mamoru Miyano (Dio Brando)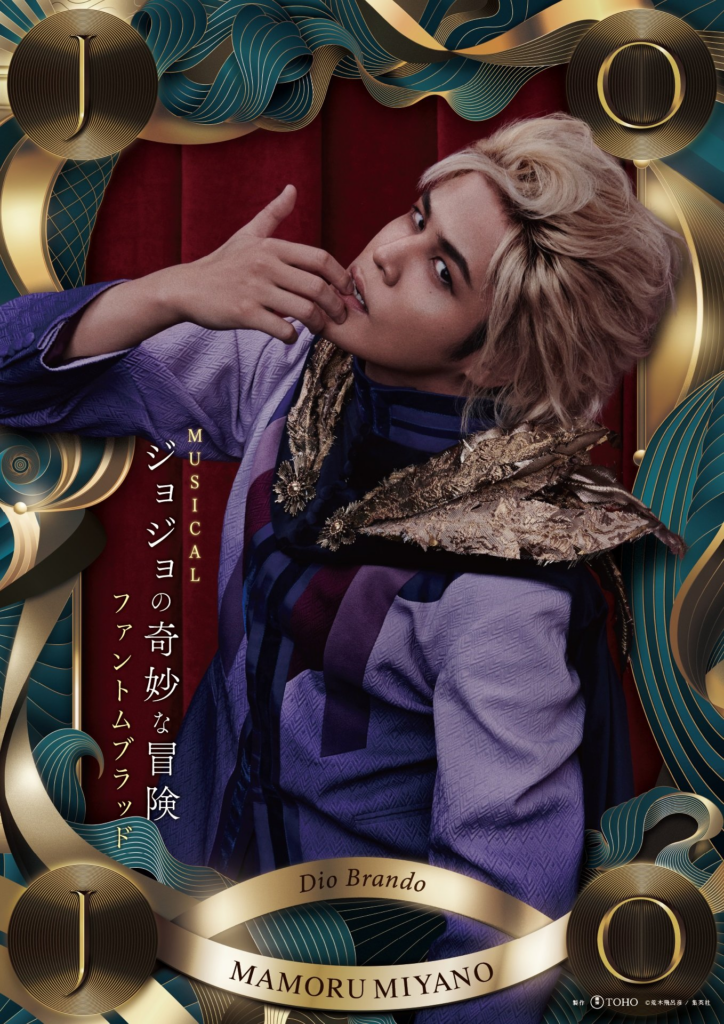 I never dreamed I'd be involved with JoJo's Bizarre Adventure in this way, and I can't hide my surprise and joy. Moreover, I'm truly honored to play the charismatic Dio Brando from the JoJo series. I've always loved Part 1 and revisited the original work countless times. I aim to capture Dio's overwhelming presence, his terrifying nature, and the delicate emotions that lie deep within his madness. With the unique possibilities of a musical, we'll unfold a JoJo world like no one has ever seen before. Please look forward to it!
Profile
Born in 1983, from Saitama Prefecture. Voice actor, actor, singer. Joined the Himawari Theatre Group at the age of 7 and started his career as a child actor. Made his artist debut with the single "Discovery" in 2008. In recent years, he has also been active as an actor. Main roles include playing Light Yagami in "DEATH NOTE" and voicing Mario in "The Super Mario Brothers Movie" (Japanese dub). Also well known for several other voice acting roles such as Chrollo Lucilfer in "Hunter × Hunter", Rintaro Okabe in "Steins;Gate", Osamu Dazai in "Bungo Stray Dogs", and Ryuji Sakamoto in "Persona 5".
Miisha Shimizu (Erina Pendleton)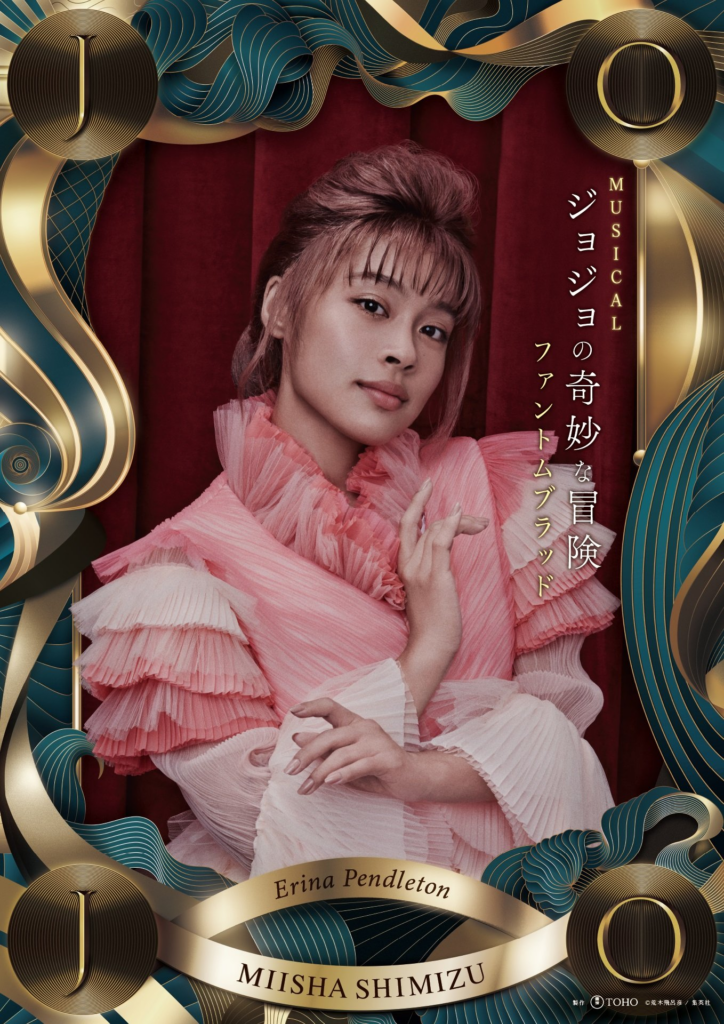 I am honored to play the role of Erina Pendleton. My name is Miisha Shimizu. I never dreamed I'd be performing in the globally popular JoJo as Erina. I grew up watching the anime with my older brother, so it's a series very close to my heart. I'm committed to giving it my all in my portrayal. Thank you for your support.
Profile
Born on March 10, 2000, in Mie Prefecture. In June 2021, she was chosen as the singing artist for the Japanese version of the Disney princess anthem "Starting Now." In April 2022, she made her major debut with the release of "High Five." This summer, she will be performing as Lydia in the Broadway musical "Beetlejuice."
YOUNG DAIS (Robert E. O. Speedwagon)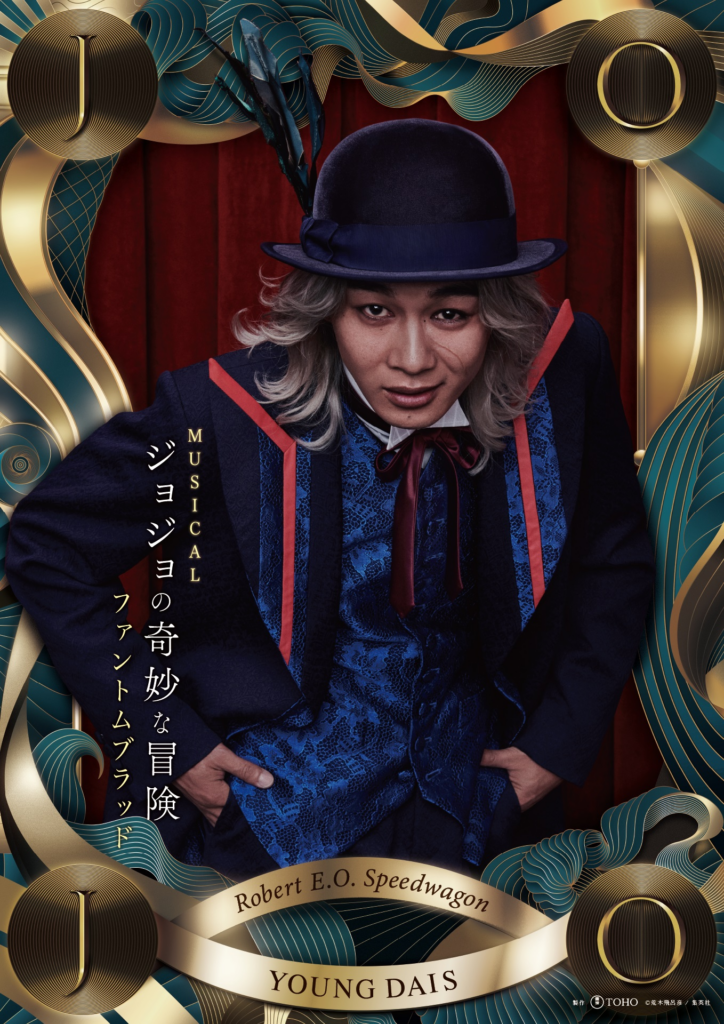 JoJo's Bizarre Adventure, beloved by fans worldwide across generations, is being adapted into a musical, and it's none other than the indispensable Part, Phantom Blood. At this point, you can sense the anticipation, right? Alongside Mr. Ney Hasegawa and the production team, I'll passionately perform as Speedwagon, aiming to surpass all your expectations and concerns. Don't miss it!
Profile
From Asahikawa City. While being an active member of the rap group N.C.B.B and energetically pursuing a solo artist career, he also works as an actor, appearing in movies, dramas, and on stage. His stance of working in Hokkaido has made YOUNG DAIS who he is today. Notable works include appearances in the movie "TOKYO TRIBE," "Twisted Justice," and the stage play "Love saves the World (however, he farts)."
Yoshihisa Higashiyama (Will A. Zeppeli)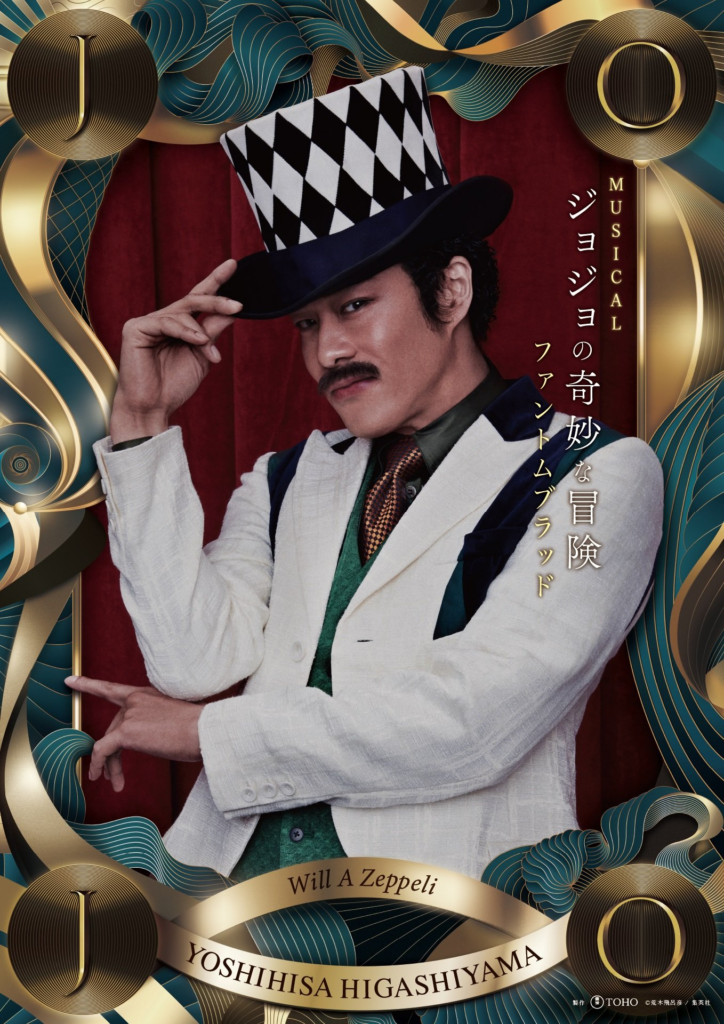 From the time of its initial serialization, I've been one of those captivated by the charm of the characters and its unique world. I had always thought that if it were ever adapted to the stage, I'd definitely go see it, and if allowed, I'd love to be a part of it. Now, I'm honored to be performing as Zeppeli, and I feel a deep sense of gratitude and responsibility. While staying true to the original as a fan, I hope to bring my unique charm to this production and contribute in every way I can.
Profile
Born in Osaka Prefecture. Gained attention as a Death Dancer in "Elisabeth" from 2000-2001. In the spring of 2003, he launched "DIAMOND☆DOGS" and, as its leader, not only performed but also handled its composition and overall direction. From 2005-09, he played the role of Enjolras in Toho Musical's "Les Misérables" and took on the role of the Engineer in "Miss Saigon" in 2022. He has expanded his activities mainly in musicals. Notable performances include "Flowers for Algernon" (2023), the "CLUB SEVEN" series (2004-2023), "The View UpStairs" (22), and "ALTAR BOYZ" (2009-2021), among others.
Yusuke Hirose (Will A. Zeppeli)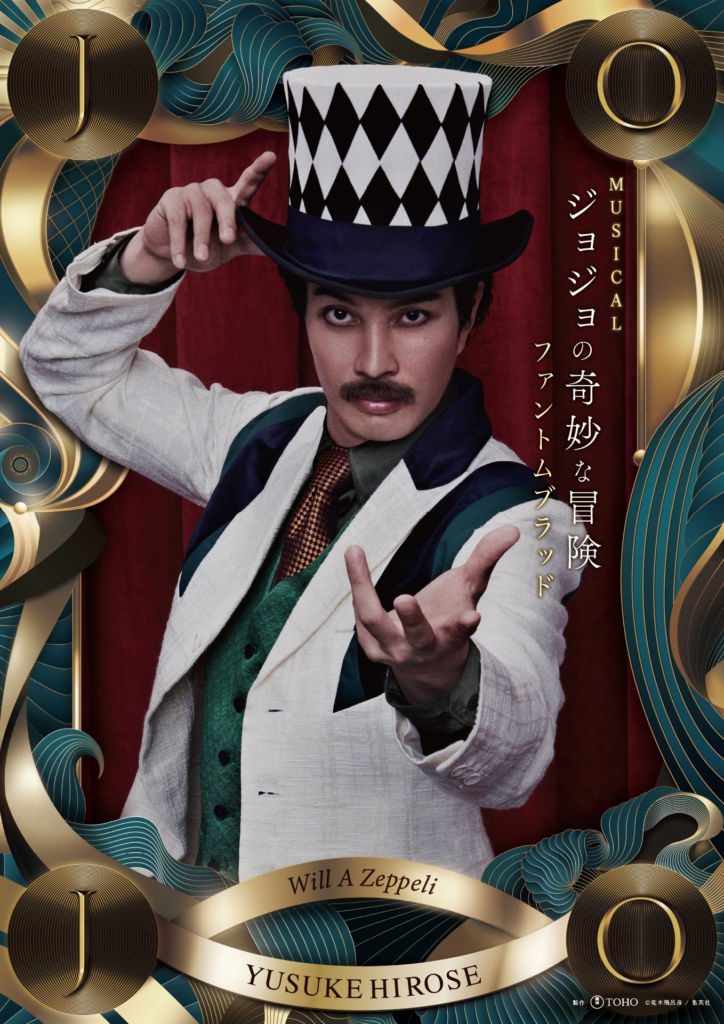 I'm honored to be taking on the role of Will A. Zeppeli. My name is Yusuke Hirose. The origin story of JoJo's Bizarre Adventure, a series loved across generations, is being turned into a musical for the first time. I'm truly honored to be part of this beginning and to take on this challenge alongside a wonderful cast and creative team. I'm already nervous, but I'll approach this role with gratitude and responsibility, giving it my all.
Profile
Born in Tokyo and raised in Kobuchizawa, Yamanashi Prefecture. Recent notable performances include musicals like "Pacific Overture," "Tokyo Love Story," and "Claudia." In 2023, he won the Outstanding Actor Award at the 30th Yomiuri Theater Awards for "Thoroughly Modern Millie." He's also active as a singer, releasing the album "refresH" in June 2023 and embarking on a tour across three venues in Osaka, Nagoya, and Tokyo. He is scheduled to appear in "Thrill Me" starting September 2023.
Yamato Kochi (Jack the Ripper)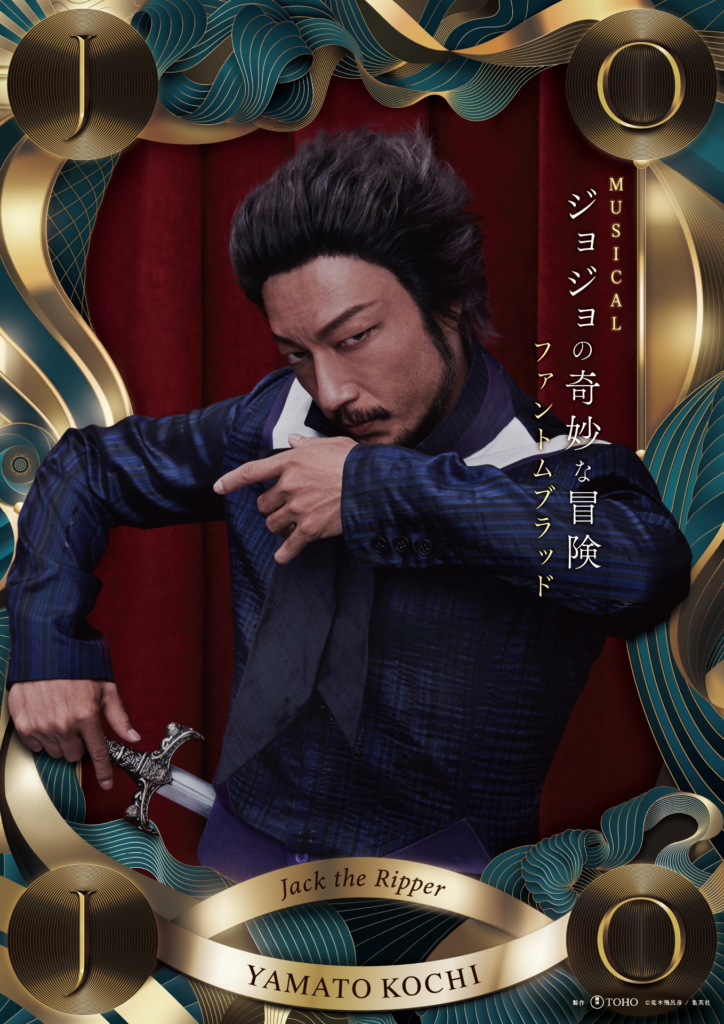 I've enjoyed JoJo's Bizarre Adventure since my middle school days. Standing on its stage is beyond a dream come true, and it still hasn't fully sunk in. I can't even count how many times I've been encouraged and inspired by quotes emanating from the characters' philosophies. With an extraordinary sense of excitement and fear, I'll give my all to fully dive into the incredibly beautiful, dangerous, and mysterious world of adventure that Araki-sensei has created.
Profile
Born in 1978 in Yamaguchi Prefecture. Since 2000, he's played leading roles in numerous Shakespeare works like "Hamlet" and "Macbeth." In 2013, he founded "G.Garage/// (G.Garage Shakespeare Road)" and also took on directing. Recently, he's been making significant strides, including main cast roles in the Sai-no-Kuni Shakespeare Series and NODA MAP, as well as appearing in the TBS Sunday Drama "VIVANT."
Jumpei Shimada (Wang Chan)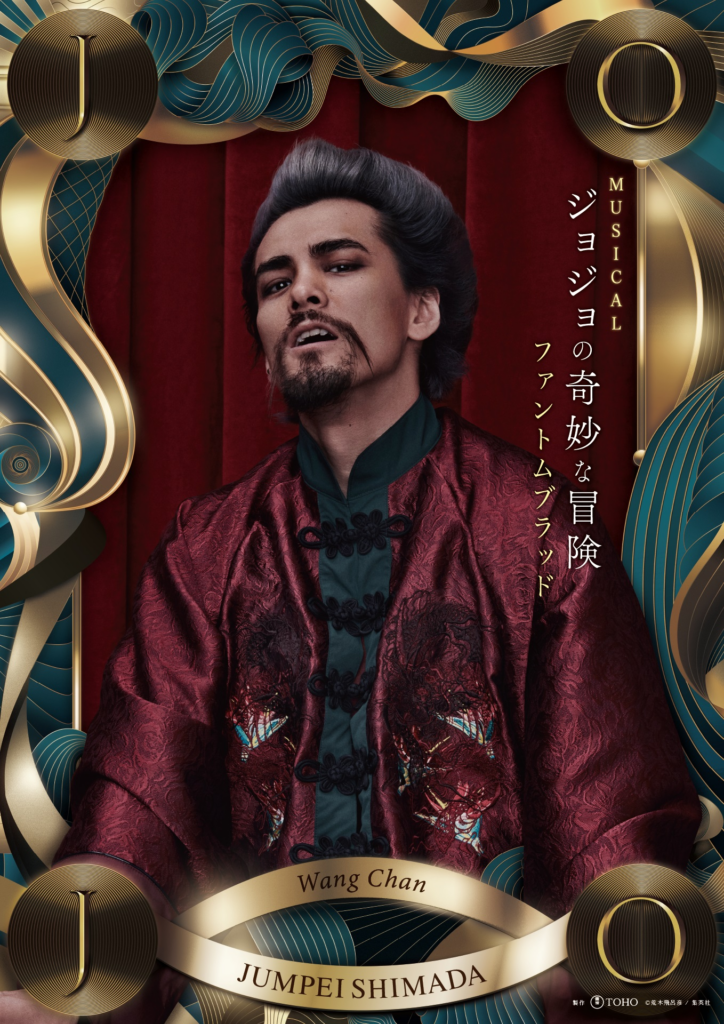 I believed that one day there would be a stage adaptation and have been eagerly waiting for this day for nearly 10 years since I started acting. JoJo is that much a part of my blood and oxygen. It has been both a mental and physical sustenance in all my artistic endeavors! I'm convinced that the reason I can participate in this work is due to a very bizarre yet somewhat inevitable form of gravity. If I hadn't made that choice back then, if I had continued doing this, or if I had no choice but to give up on that… all those things are what led me here today. I want to take pride in the life I've lived.
Profile
While working as an actor, he focused on physical expressions in both acting and dance. He has mainly been active on stage, including THEATRE COCOON's "Metropolis" and "The Public Enemy," Nissay Theatre's "One Stormy Night," the musical "FONS ~ Fist of the North Star ~," Office Shika Produce's "Dali and Gala," and "The Shoulder Pads: With This Body Alone."
Kong Kuwata (Dario Brando)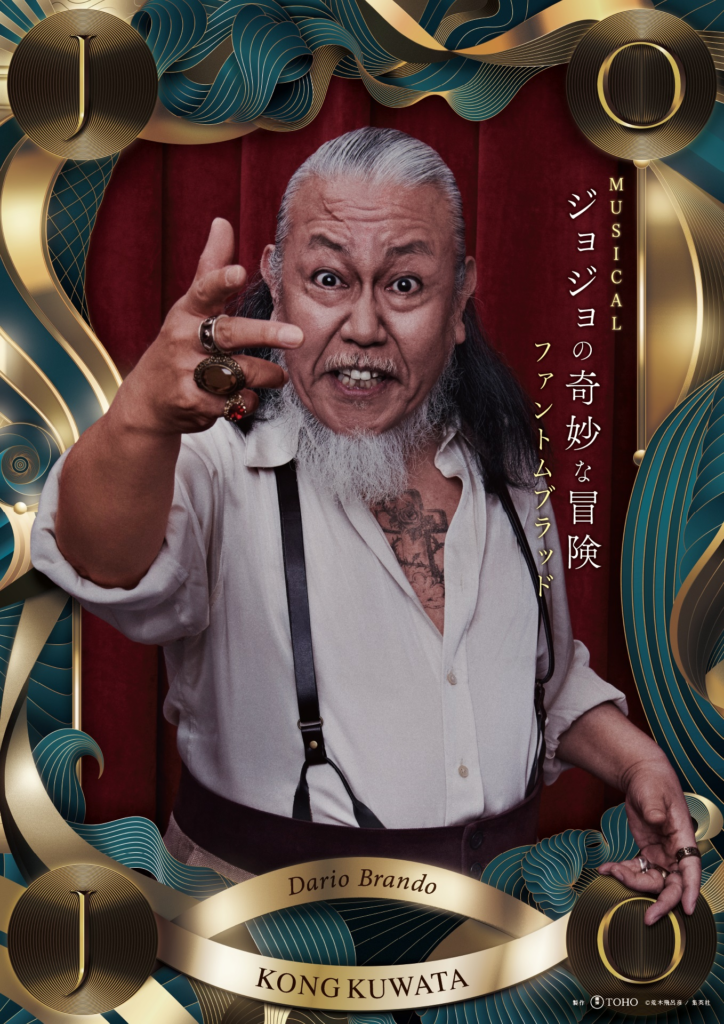 In 1987, when the serialization started, I was 26 years old. I'm an impatient person who can't wait a week, so I was never hooked on weekly manga. After being cast, I read from the first chapter onward and felt, "As Dio's father, I apologize to the entire Joestar family for raising such a son." It made me realize how crucial one's upbringing environment is. However, I'll wholeheartedly portray the worst and most foolish father, keeping the belief that "one person's misfortune makes another person happy" close to my heart. Wahahahaha!
Profile
Born in Osaka Prefecture. He joined the comedy troupe Lilly Boat Army (now Lilly Boat Army II) in 1991 while also working as a soul singer, DJ personality, and talent. In addition to that, he has appeared in numerous external stage productions. Since his role as Thénardier in "Les Misérables" in 2005, he has been active in many musical works. His recent stage appearances include "Osaka Loop Line: Tenma-bashi Edition," "Little Zombie Girl," "Mary Poppins," "Oliver!," "Kappa," "ELF – The Musical," "Boys," "Magical Night Song," and "The Great Gatsby," among others.
Tetsuya Bessho (George Joestar I)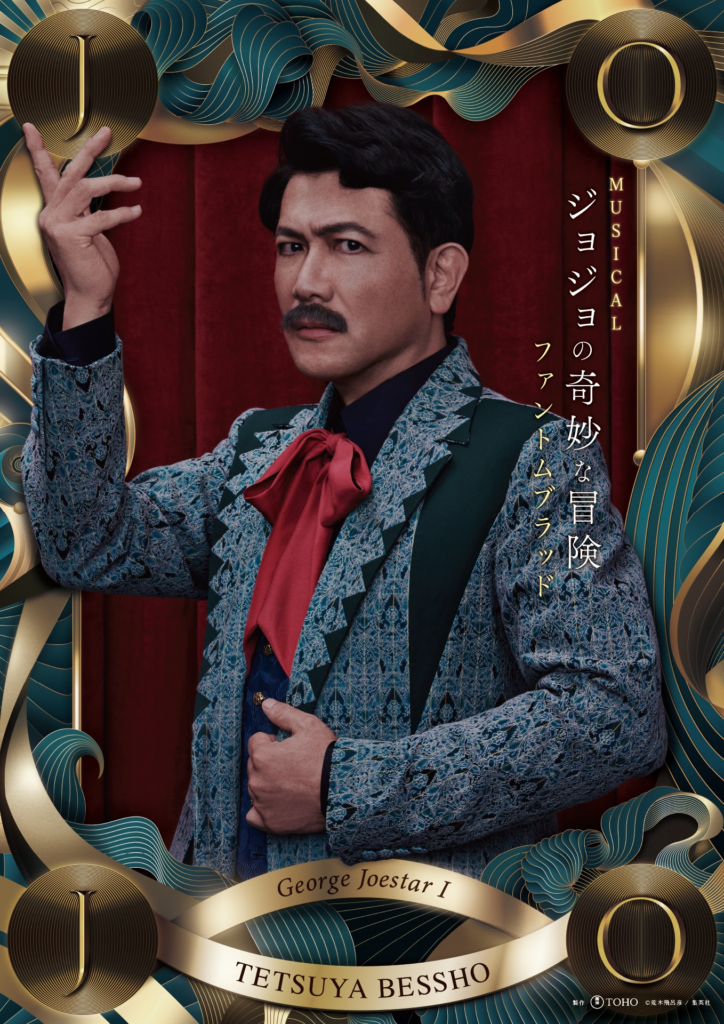 Being a gentleman, having the dignity and culture of a Joestar! What is chivalry?! Love for my son! The whims of fate! I'm thrilled to be a part of this! And I was even more excited during the costume shoot! I want to build up the dynamism of creating an original musical with my creative colleagues, feeling the passionate gaze and expectations of both the enthusiastic original fans and those who love musicals. I can't sleep from the excitement already!
Profile
Made his Hollywood debut in the 1990 Japan-U.S. co-produced film "Solar Crisis." He is a member of the Screen Actors Guild (SAG) and has been active in a wide range of fields including films, dramas, stage, and radio. He has appeared in stage productions like "Les Misérables" and "Miss Saigon." Since 1999, he has been hosting the international short film festival "Short Shorts Film Festival & Asia," for which he received an award from the Commissioner of the Agency for Cultural Affairs.
"JoJo's Bizarre Adventure: Phantom Blood" Musical
Date: February 6, 2024 – February 28, 2024
Location: Imperial Theatre, Tokyo
Date: March 26, 2024 – March 30, 2024
Location: Hokkaido Sapporo Cultural Arts Theater Hitaru
Date: April 9, 2024 – April 14, 2024
Location: Hyogo Prefecture Hyogo Performing Arts Center KOBELCO Large Hall
Original Work: Hirohiko Araki "JoJo's Bizarre Adventure" (Shueisha Jump Comics)
Script: Tsuneyasu Motoyoshi
Direction: Ney Hasegawa
Music: Dove Attia
Source: TOHO Website / Official Twitter
About Phantom Blood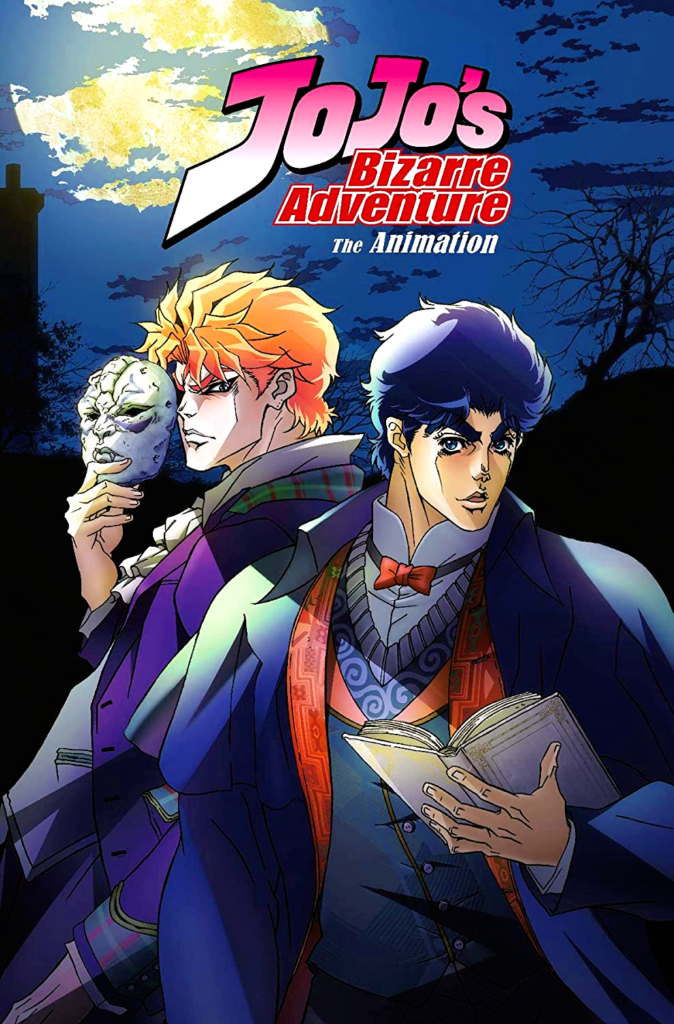 Phantom Blood is the first part of the JoJo's Bizarre Adventure series. Shueisha serialized the manga in Weekly Shonen Jump from December 1986 to October 1987.
The story follows Jonathan Joestar as he matures with and eventually battles his adoptive brother, the cunning and merciless Dio Brando.
An anime adaptation of JoJo's Bizarre Adventure released starting from October 2012. Phantom Blood is covered in the first 9 episodes of Season 1.