On November 25, 2021, Japan's Iwate Prefecture announced that they have selected manga artist Hirohiko Araki (61) as the 6th winner of the "Iwate Hometown Special Manga Award" for his artwork contributions to the prefecture. This award is given to individuals or groups that promoted Iwate prefecture's appeal, helped publicize culture and art, and contributed with the recovery from the 2011 Great East Japan Earthquake and tsunami through their manga or illustrations.
The award will be presented to Araki on December 19 at Aina (Iwate Prefectural Citizens' Information Exchange Center) in Morioka City. Araki is planning to attend remotely.
Hirohiko Araki's Contributions to Iwate
Iwate Prefecture World Heritage Hiraizumi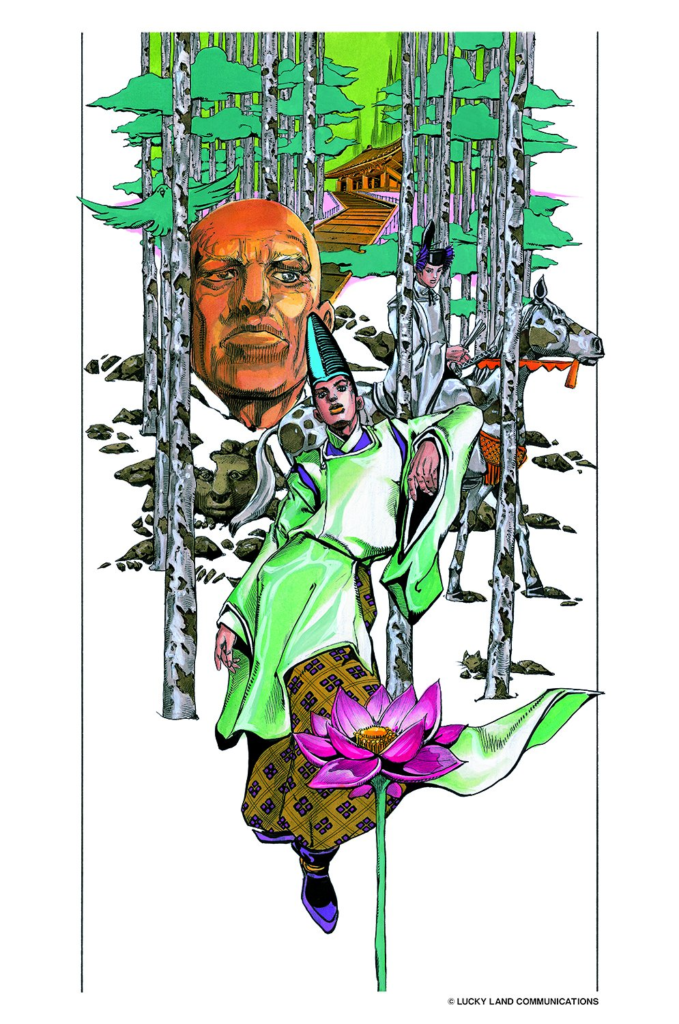 In 2011, officials of Iwate Prefecture had asked Araki to create an illustration to raise awareness of the historical Hiraizumi ruins which were affected by the disaster. Hiraizumi is over 900 years old, having a well-preserved group of various temples and gardens that were created based on Buddhism. The ruins were registered as a UNESCO World Heritage site and Araki's artwork helped inform people of its international recognition and the local reconstruction efforts in the region. Araki's "Tohoku Reconstruction Hiraizumi Declaration" illustration was unveiled by the prefecture on November 4, 2011.
71st National Sports Festival of Japan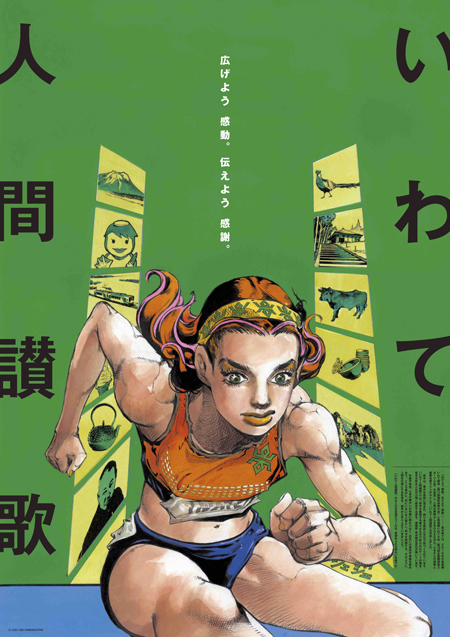 Araki's "Iwate Human Hymn" artwork was drawn for the 71st National Sports Festival of Japan that was hosted in Iwate in 2016.
Previous Winners
1st (2016): Leiji Matsumoto (Space Battleship Yamato, Galaxy Express 999, etc.)
2nd (2017): Takao Saito (Golgo 13)
3rd (2018): Moto Hagio (The Poe Clan, The Heart of Thomas, A Cruel God Reigns, etc.)
4th (2019): Kenshi Hirokane (Hello Harinezumi, Division Chief Kosaku Shima, etc.)
5th (2020): Machiko Satonaka (Ashita Kagayaku, Karyūdo no Seiza, etc.)
Video
Update: December 24, 2021
The video of Araki accepting his award has been uploaded.
About Hirohiko Araki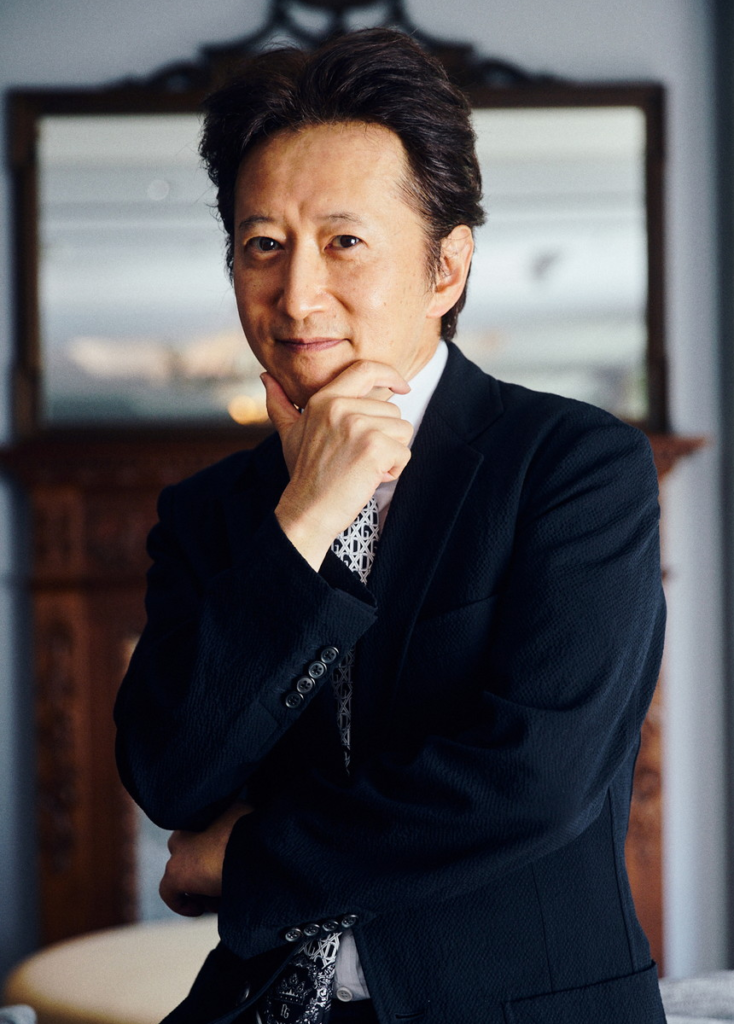 Araki is a manga artist from Sendai, the capital city of Miyagi Prefecture, Japan. JoJo's Bizarre Adventure, his most successful series, has been serialized for nearly 35 years and is highly regarded internationally.
The seventh part of the series, Steel Ball Run, concluded a month after the earthquake hit Japan. The eighth part, JoJolion, began serialization immediately after and is set in a fictional city with a similar catastrophe occurring. It concluded in August this year, with the ninth part currently being planned.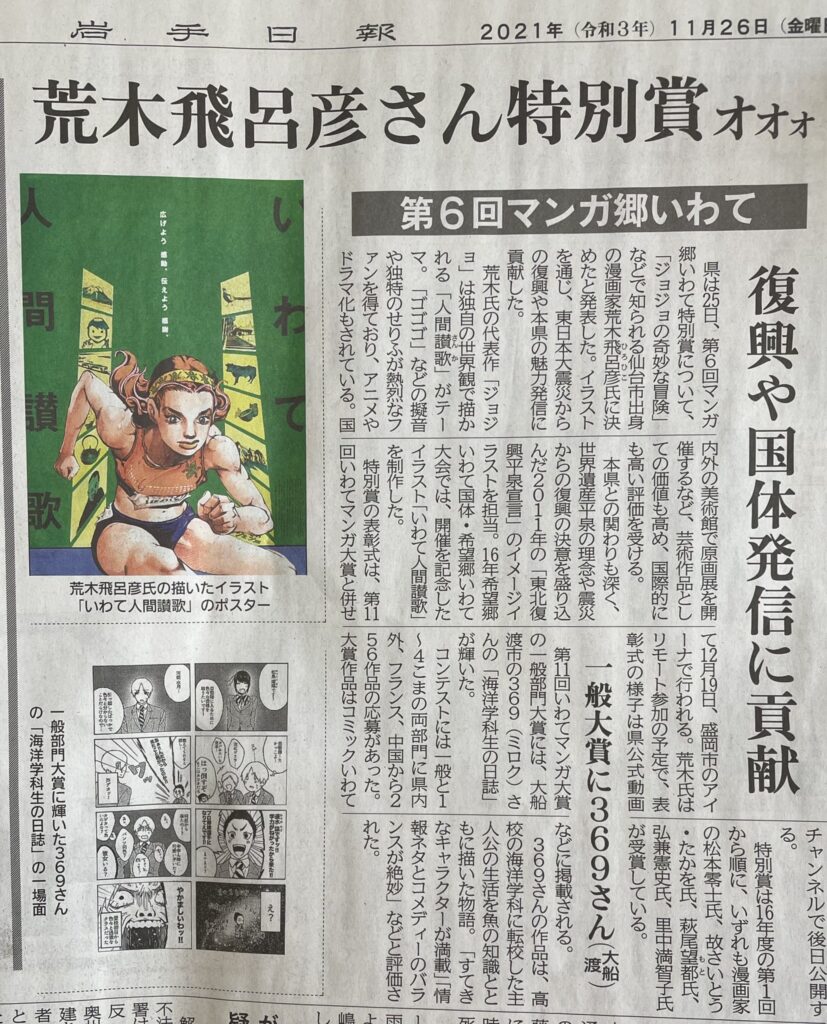 JoJo has the theme of being a "celebration of humanity". Its onomatopoeia such as "GoGoGo (ゴゴゴ)" and unique lines have garnered enthusiastic fans. Additionally, JoJo and its spinoff series, Thus Spoke Kishibe Rohan, have been adapted into anime and live action dramas. The fifth season of the anime will be available on Netflix on December 1.
The governor of Iwate Prefecture, Takuya Tatsumasu, stated, "Since the earthquake, there has been a succession of works with the theme of how to confront inevitable disasters. This manga depicts the determination to face and overcome calamities, and it was a suitable manga to mark a turning point (the 10th anniversary of the earthquake)".
Source: Kahoku News, Iwate Nippo