On November 25th, South African fashion model Georgina Grenville posted on Instagram that she just found out that the design of the character Prosciutto from the fifth part of JoJo's Bizarre Adventure, Vento Aureo (Golden Wind), was based on a photo shoot of her. The two photos in particular were photographed by Mario Testino for Gucci as a Fall/Winter 1996 advertisement.
Prosciutto's design was first revealed in chapter 491 of JoJo, which is the 52nd chapter of the fifth part. The chapter was published in Weekly Shonen Jump Issue #8 in 1997. Prosciutto is an assassin who battles against the protagonists using his ability called The Grateful Dead. His power allows him to rapidly age any living organism, with the rate of aging being proportional to the organism's body temperature.
Georgina Grenville – Prosciutto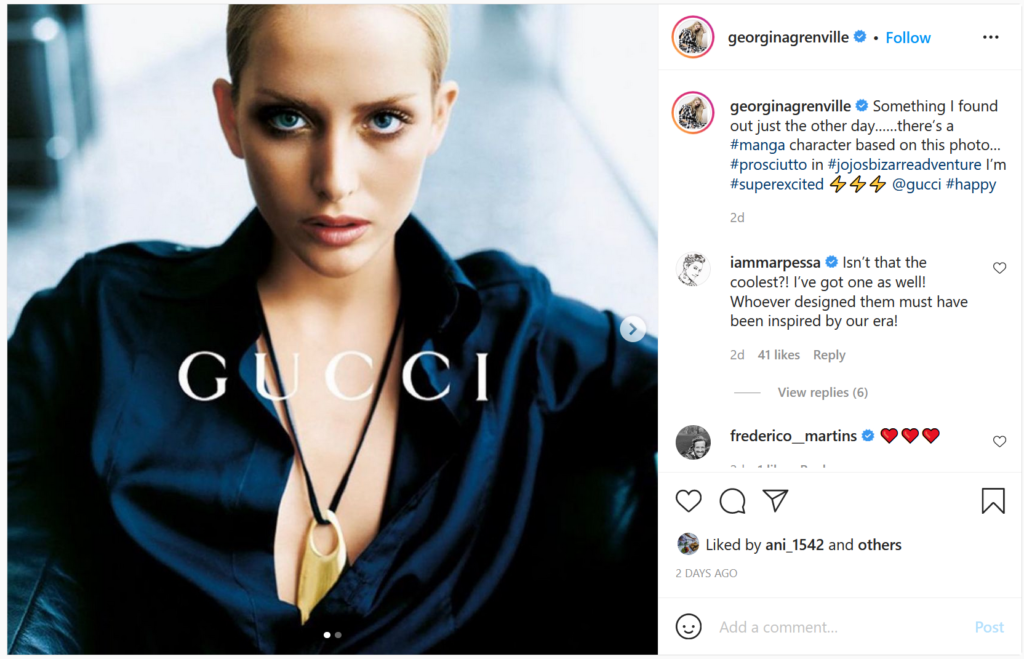 "Something I found out just the other day……there's a #manga character based on this photo… #prosciutto in #jojosbizarreadventure I'm #superexcited ⚡️⚡️⚡️ @gucci #happy"
Georgina Grenville was one of the first models of Gucci by Tom Ford. She did campaigns for Versace, Christian Dior, Valentino, and Armani Exchange. Grenville also appeared on the covers of several magazines including Vogue, Harper's Bazaar, Elle, L'Officiel, Cosmopolitan, and Allure.
Marpessa Hennink – Bruno Bucciarati
In reply to her post, Dutch fashion model Marpessa Hennink stated that she also has a character based on one of her photos. "Isn't that the coolest?! I've got one as well! Whoever designed them must have been inspired by our era!" replied Hennink.
Hennink was referring to the character Bruno Bucciarati, a main ally who also appears in the fifth part. Bucciarati's ability, Sticky Fingers, allows him to create zippers on any surface. Bucciarati made his debut in chapter 443, which was published in Weekly Shonen Jump Issue #3/4 in 1996.
Hennink appeared with this hairstyle in Versace's Fall/Winter 1992 Ready-To-Wear Fashion Show. Although Bucciarati's hair doesn't match exactly as he also has bangs, Hennink and Bucciarati both have similar hair clips on the sides of their hair.
Marpessa Hennink has been featured in several international editions of Vogue, as well as other magazines such as Elle, Glamour, Time, Vanity Fair, Marie Claire, L'Officiel, Harpers & Queen, and PHOTO.
Hirohiko Araki's Influences
JoJo's Bizarre Adventure was written by Japanese manga artist Hirohiko Araki. It has been in serialization for nearly 35 years since January 1987. It's divided into eight parts, with the ninth part just announced. Newcomers to the series should check out this guide on the viewing order.
Araki frequently displays his interests in his manga and illustrations. Whether it's music, films, fashion, novels, or other manga, Araki's works are filled to the brim with references and callbacks to his inspirations. More details about Araki's style and influences is covered on his wiki page.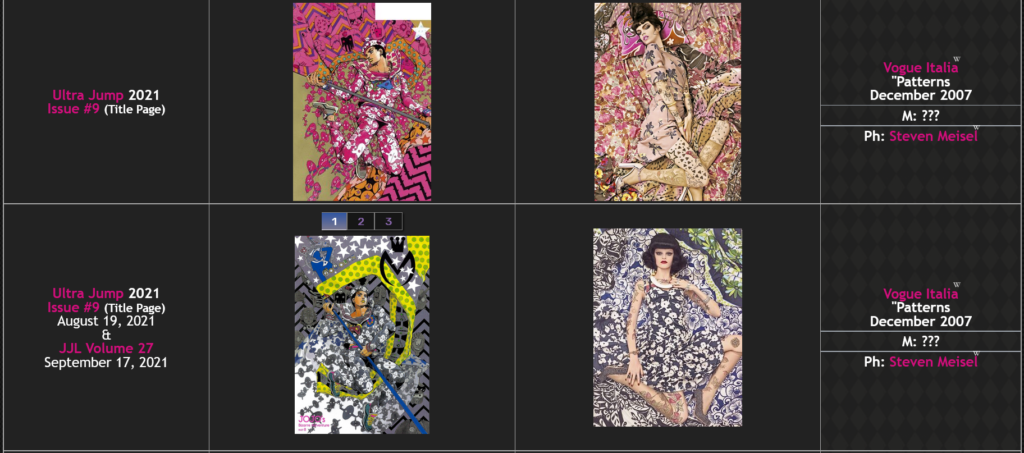 For those interested in seeing more of Araki's references, see the reference gallery and follow @JJBARefGallery on Twitter. The reference gallery on the wiki is a continuously expanding archive that compiles visual references used throughout JoJo and Araki's other works, whether it's poses, fashions, or aesthetics. While the majority of references have not been officially confirmed, there are a couple which Araki has stated or shown in various interviews.