On July 21, 2022, XFLAG posted their second update on the collaboration between the anime JoJo's Bizarre Adventure: Stone Ocean and their mobile game Monster Strike which will begin on Friday, July 15, 2022. The update announced a new unit featuring Emporio Alnino, Weather Report, and Narciso Anasui inside Burning Down the House. Players in Japan will be able to acquire the Stone Ocean characters until August 2, 2022.
Monster Strike is a mobile game where players must collect and enhance monsters/characters to place them in battles. The game was first launched in 2013 for iOS and Android and features puzzle gameplay and online multiplayer. The game is known for releasing crossover content with famous franchises, including Final Fantasy and Star Wars. This year they previously announced collaborations with the anime series Spy x Family, Detective Conan, and Demon Slayer. In August 2017, Monster Strike shut down the servers for the English version of their game.
New "Phone Call" Booth
By spending 5 Dollars to make a phone call with your mother at G.D. st. Prison, players will be rewarded with the "Ghost Mansion Trio, Emporio, Weather & Anasui" collaboration character.
Once a phone call has been made, players will have to wait 24 hours before being able to make another. You can reduce the wait time by paying an additional 10 Dollars (15 Dollars in total). Phone calls can only be made from July 22, 2022, to August 2, 2022.
| Character | Rarity | Affinity |
| --- | --- | --- |
| Ghost Mansion Trio, Emporio, Weather & Anasui | ★6 | Wood |
"Ora Ora Rush" Quest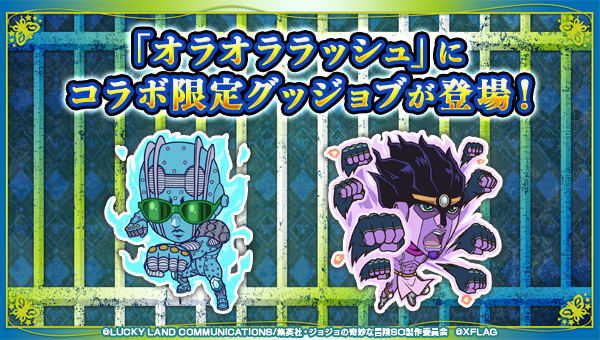 During the collaboration, players will also be able to earn "Ora Points" as a log-in bonus or by clearing the "Ora Ora Rush" collaboration quest. The quest can only be played once per day by lobby hosts and multiple times a day by guests. The more players in your match, the more Ora Points you earn. Ora Ora Points can be used to get stickers and titles, and can only be earned from July 23, 2022, to August 2, 2022.
Source: Monster Strike