Medicos Entertainment published images of the products that they will be exhibiting in their booth at Jump Festa 2023. Products from JoJo's Bizarre Adventure: Stone Ocean, My Hero Academia, Gintama, and Haikyu!! will be sold. They initially announced the booth on October 21, 2022.
Stone Ocean products include BIG acrylic stands, an acrylic diorama, a clear file set, an acrylic keychain collection, can badges, rubber strap keychains, a tapestry, t-shirts, hoodies, and a sticker set. They will also have various exhibits with life-sized characters on display for taking photos.
Products for Sale
All of the products feature Jolyne Cujoh, Ermes Costello, Foo Fighters, Weather Report, Narciso Anasui, Jotaro Kujo, and Enrico Pucci.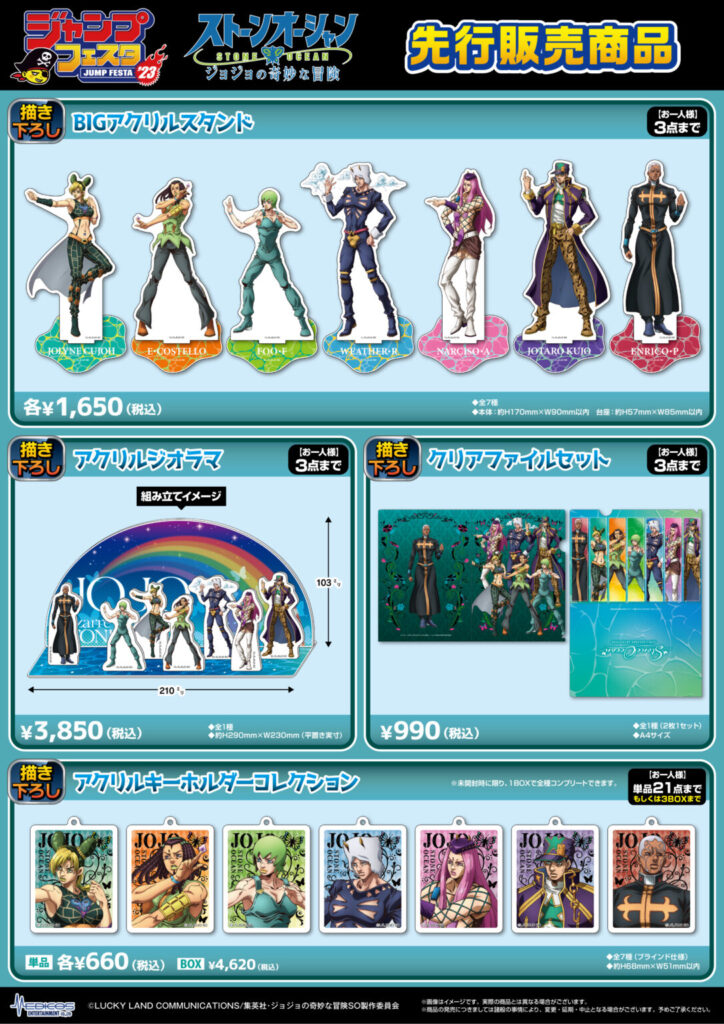 BIG Acrylic Stands (¥1650)
Acrylic Diorama (¥3850)
Clear File Set (¥990)
Acrylic Keychain Collection (¥660 or ¥4620 for full box)
Can Badge Collection (¥440 or ¥3080 for full box)
Screenshot Can Badge Collection (¥440 or ¥3080 for full box)
B2 Tapestry (¥3850)
Rubber Strap Collection Vol. 2 (¥660 or ¥3960 for full box)

Bonus Emporio Alnino if box is purchased

Long sleeve T-Shirt: OP 2 version (¥4950)
Motif Hoodie (¥7040)
Motif T-Shirt (¥3850)
Sticker Set (¥880)
Bonus Clear Cards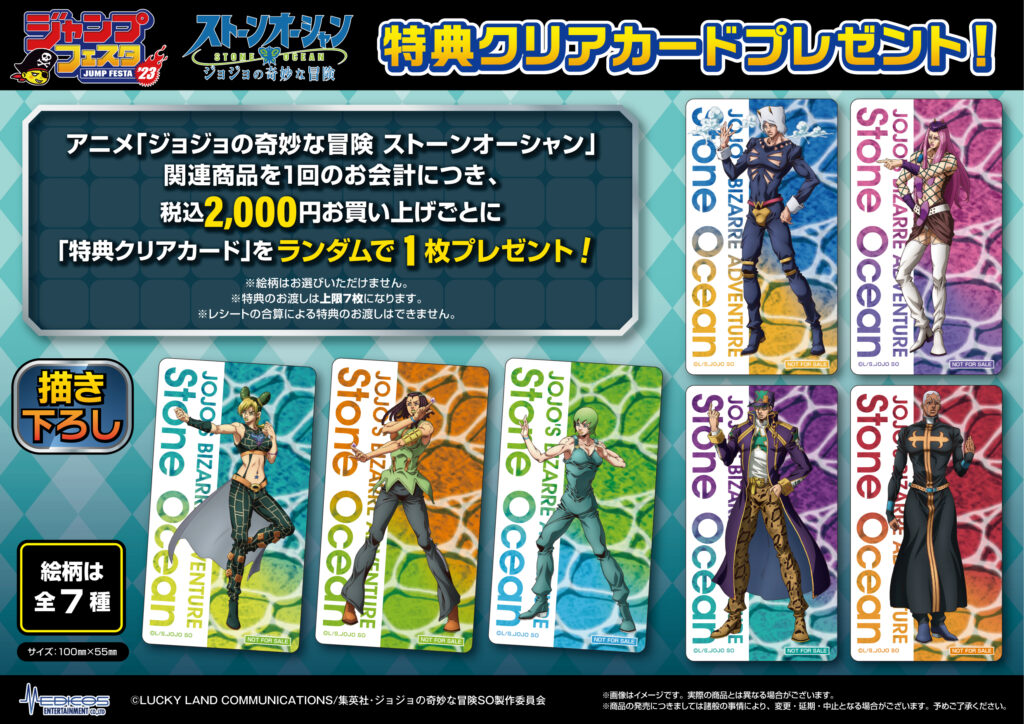 For every purchase of 2,000 yen including tax, you will receive a random "Bonus Clear Card" for each item related to Stone Ocean. You cannot choose which character will be on it, and up to 7 will be given.
Various Exhibits
Outside the Booth
Outside of the booth, there is an exterior wall display that is about 5m long with the key visual of the third batch and posters of the new character art.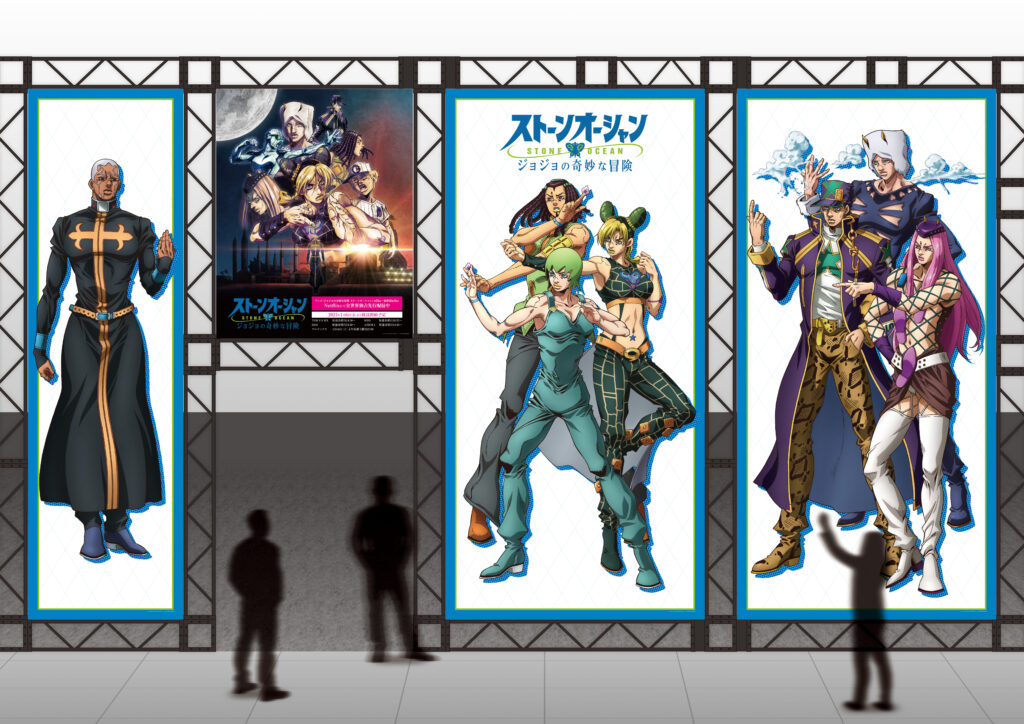 Inside the Booth
A life-size panel display using the newly drawn illustrations of Jolyne, Ermes, F.F., Weather Report, Anasui, and Jotaro confronting Pucci.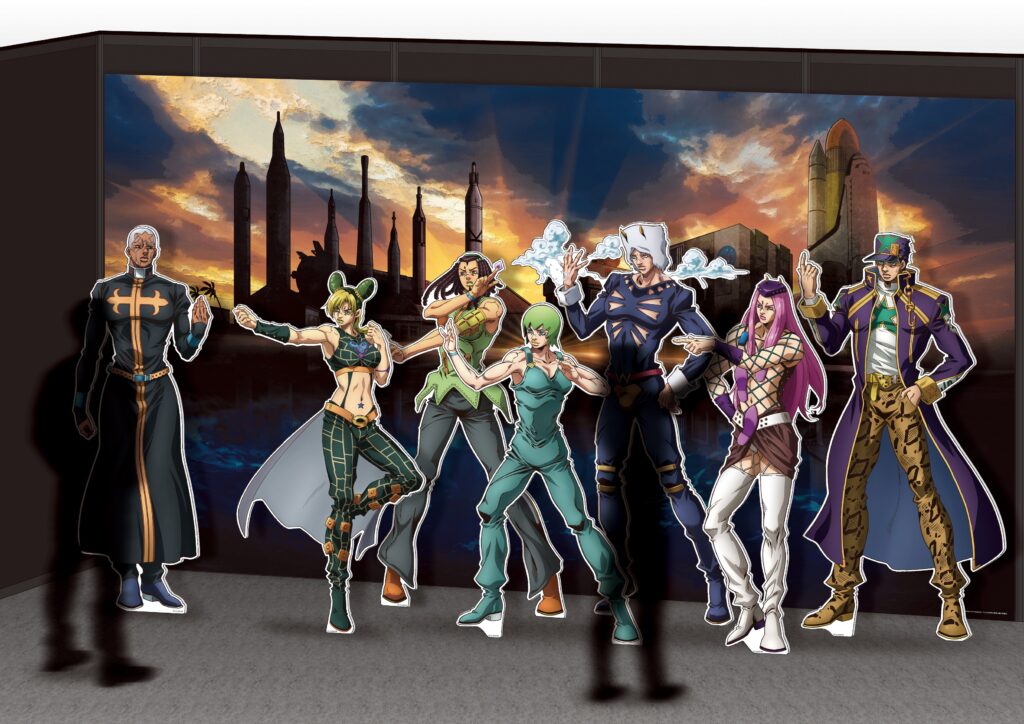 Enter the Foo Fighters
A reproduction of the electric chair location where Kenzou and F.F. fought to the death. Flash photography makes Dragon's Dream appear.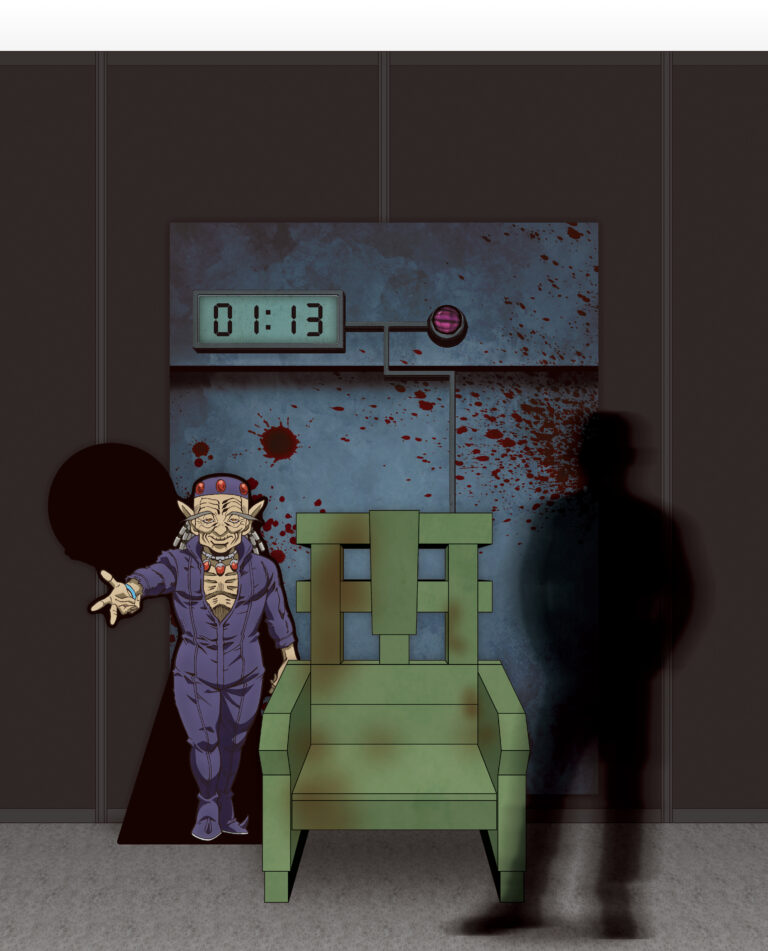 The True Identity of "Whitesnake" is…
Depending on where you look, a Stand will appear behind Father Pucci!
In addition, they also have an exhibit where visitors can experience episodes 13 to 24 of the JoJo's Bizarre Adventure: Stone Ocean anime.
Source: Medicos
About Jump Festa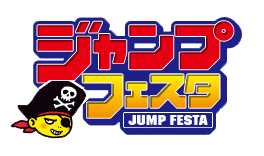 Jump Festa is an annual exposition in Japan that celebrates various manga and anime from Shueisha's Jump magazines (Weekly Shonen Jump, Jump Square, V Jump, Saikyo Jump, and Shonen Jump+). It began in 1999 and always takes place for two days in December.
Last year's Jump Festa sold a Tohth bag, an Iggy stuffed animal, a Jolyne T-shirt, and a Toru T-shirt at their goods store.
Jump Festa 2023 is taking place at Makuhari Messe in Chiba Prefecture on December 17 and December 18, 2022. The Medicos Entertainment booth will be at Exhibition Hall 6.