In commemoration of the tenth anniversary for JoJo's Bizarre Adventure's anime adaptation, the main cast of Battle Tendency celebrated by reminiscing on the series.
The official website for the JoJo anime's 10th anniversary posted comments from Tomokazu Sugita (Joseph Joestar), Takuya Sato (Caesar A. Zeppeli), Atsuko Tanaka (Lisa Lisa), Atsushi Imaruoka (Rudol von Stroheim), and Kazuhiko Inoue (Kars).
The website previously posted Phantom Blood voice actor comments on November 24, 2022.
Comments
Tomokazu Sugita as Joseph Joestar
Every time I'm asked to comment on JoJo's Bizarre Adventure, young Japanese folks always say I "sound bored of it."
Next you're gonna say… "Then prove that you're living in good faith, asshole!"
Nah, there's still no need to say anything. Ripple (Hamon) breathing occurs naturally in my body. That will never change. I also like Walkmans.
Takuya Sato as Caesar A. Zeppeli
It's the 10th anniversary! Mamma mia~ Congratulations!
I still remember the studio as if it were yesterday, full of cool and hot enthusiasm in the morning. It's thanks to JOJO, the passionate cast, and the passionate staff, that I was able to live as him.
I was never alone. I'm proud to have played Caesar.
Atsuko Tanaka as Lisa Lisa
Congratulations on the JoJo's Bizarre Adventure anime's 10th anniversary.
We were all dubbing together at that time, so I remember that together with Joseph (played by Sugita-kun) and Caesar (played by Takuya Sato-kun), we faced off against the super powerful Pillar Men, who also had unique actors.
I have heard that the anime has completed up to Part 6 so far, but I hope that this bizarre adventure will continue further.
Atsushi Imaruoka as Rudol von Stroheim
Congrrrratulations on the JoJo's Bizarre Adventure anime's 10th anniversaryyyyyy!!!
JoJo will continue to grow more and more exciting as it passes its 10th yeaaaaar!!!
THANK YOU JOJOOOOOOOO!!!
JoJo's Bizarre Adventure is the greatest in the wooooorld!!!
To Be Continuuuuuued!!!
Kazuhiko Inoue as Kars
Congratulations on the 10th anniversary of JoJo's Bizarre Adventure!
Ever since I started playing as Kars, many people have called me "Karshiko-sama" (a pun on Kazuhiko).
JoJo's popularity is really amazing. I'm always amazed at how passionate the fans are. I'm glad that I was able to be involved with this work. I truly, truly give my heartfelt congratulations.
Source: 10th Anniversary Website
[Translated by
Vish
]
About Battle Tendency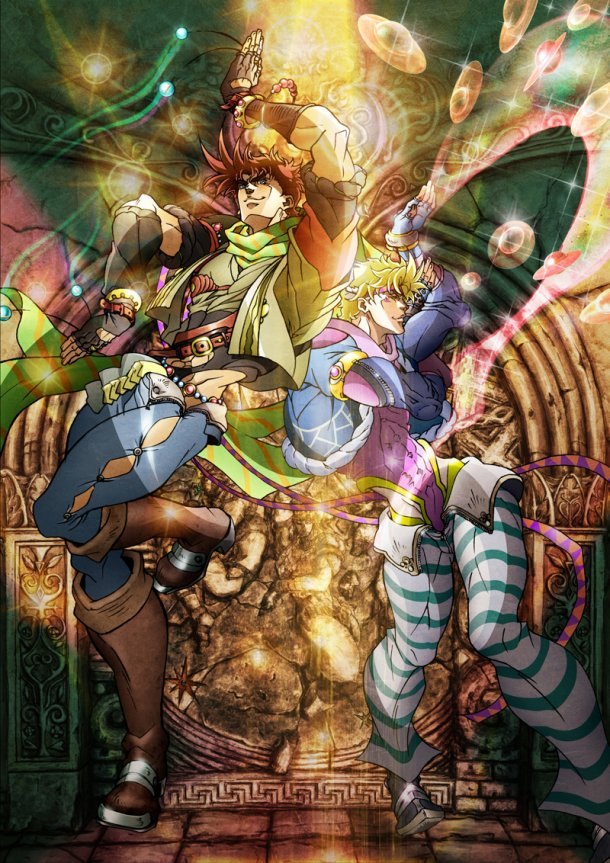 Battle Tendency is the second part of the JoJo's Bizarre Adventure series. Shueisha serialized the manga in Weekly Shonen Jump from November 1987 to March 1989.
Taking place in 1938-1939, the story follows the misadventures of Joseph Joestar, grandson of Jonathan. Joseph's journey involves mastering his innate Ripple abilities in order to combat hostile, ancient superbeings named the Pillar Men, creators of the Stone Mask, that plot to achieve their final evolutions.
An anime adaptation of JoJo's Bizarre Adventure released starting from October 2012. Season 1 covers Battle Tendency in episodes 10 to 26.