In commemoration of the tenth anniversary for JoJo's Bizarre Adventure's anime adaptation, the main cast of Stardust Crusaders celebrated by reminiscing on the series. The official website for the JoJo anime's 10th anniversary posted their comments on January 6, 2023.
The cast who commented includes Daisuke Ono (Jotaro Kujo), Daisuke Hirakawa (Noriaki Kakyoin), Fuminori Komatsu (Jean Pierre Polnareff), Kenta Miyake (Muhammad Avdol), and Misato Fukuen (Iggy).
The website previously posted Phantom Blood voice actor comments on November 24, 2022. They posted Battle Tendency cast comments on December 9, 2022.
Comments
Daisuke Ono as Jotaro Kujo
Congratulations on the anime's 10th anniversary.
"Being able to touch a person's heart is a wonderful thing."
These words resonate with me once again.
I will pass on this ode to humanity from here to the future.
Daisuke Hirakawa as Noriaki Kakyoin
Those days have left such a strong impression on me that I can recall them too vividly to simply just call them "memories".
I felt like I was on a real journey with my friends.
It is also a work that opened my eyes once again as to what it means to be prepared to take on a role.
I'm grateful to everyone involved in this work.
Congratulations on the 10th anniversary of the JoJo's Bizarre Adventure anime!
Fuminori Komatsu as Jean Pierre Polnareff
Happy 10th anniversary!
Coming across Polnareff and being able to play as him is something I treasure above anything else.
To everyone involved in the creation of the JoJo's Bizarre Adventure anime and to everyone who supports the series with their "JoJo love"…
Bravo! Oh… bravo!!
Kenta Miyake as Muhammad Avdol
The JoJo's Bizarre Adventure anime's 10th anniversary…
I don't think I've ever been so pleased.
The spectacular history that began with the bizarre, heroic, and adventurous encounter between Jonathan Joestar and DIO has now become a legend that will be passed down forever with its "new Stand ability", known as the TV series. I don't think it's an exaggeration to say that.
Once again, congratulations on the 10th anniversary!!
Misato Fukuen as Iggy
Happy 10th anniversary!
JoJo continues to be loved by many people.
I'm grateful from the bottom of my heart to have played a part in that history.
Although it's been a long time since Stardust Crusaders, I can still vividly remember the passionate recording sessions. We had a lot of fun…
The time we spent traveling together in Egypt is my treasure.
Source: 10th Anniversary Website
About Stardust Crusaders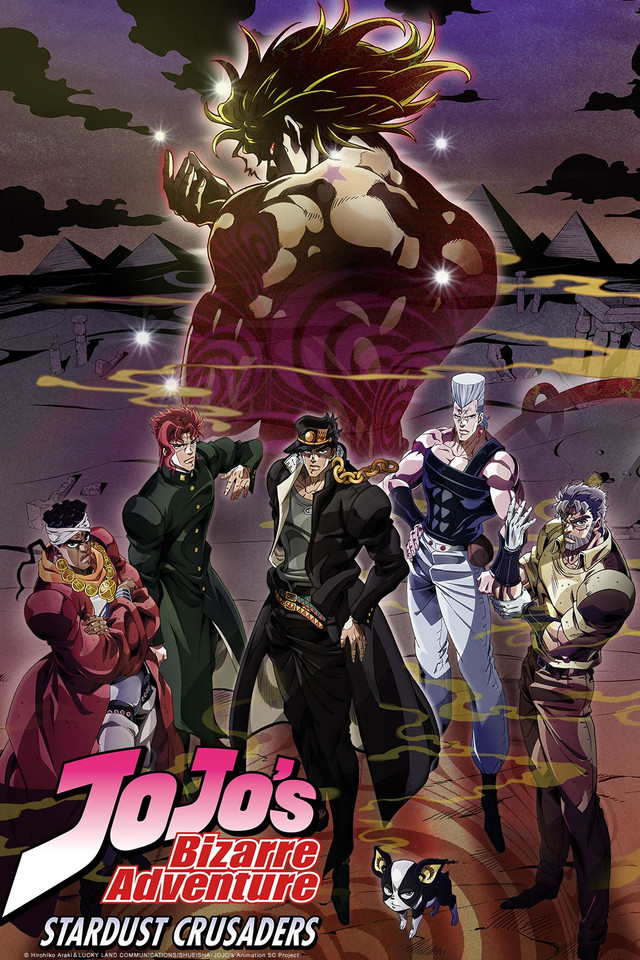 Stardust Crusaders
is the third part of the
JoJo's Bizarre Adventure
series. Shueisha serialized the manga in Weekly Shonen Jump from March 1989 to April 1992.
From 1988 to 1989, the story follows Jotaro Kujo and his friends as they journey from Tokyo to Cairo to save his mother's life by defeating his family's resurrected archenemy, DIO.
An anime adaptation of JoJo's Bizarre Adventure released starting from October 2012. Season 2 covers Stardust Crusaders in 48 episodes.