On October 12, 2023, XFLAG announced their second collaboration with JoJo's Bizarre Adventure, particularly Stardust Crusaders, and their mobile game Monster Strike. The event will begin on Sunday, October 15, 2023, and end on November 2, 2023.
Their first collaboration with JoJo was a Stone Ocean event in July 2022. Those Part 6 gacha units and some quests will reappear during this collaboration. The previous Jolyne, Part 6 Jotaro, and Weather Report units can now undergo Transcension: Kai, meaning they will further evolve into stronger units with new art. The Part 6 Jotaro units are also having their names changed to include "SO".
Limited Gacha Characters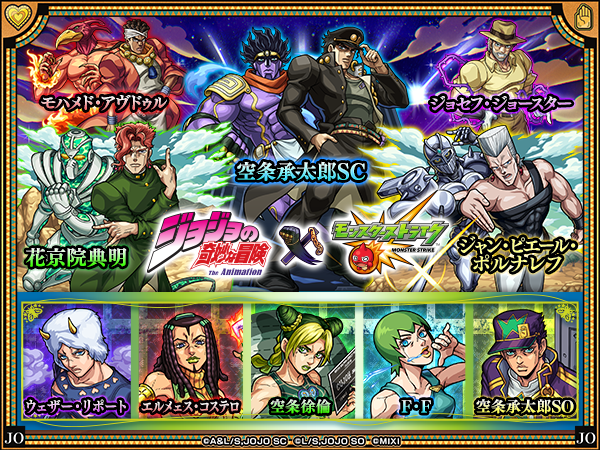 Five collaboration characters from the Stardust Crusaders anime and five characters from the first collaboration with the Stone Ocean anime (Jolyne Cujoh, Ermes Costello, Foo Fighters, Weather Report and Jotaro Kujo) will be available in a limited gacha pool from October 15, 2023 to November 2, 2023. The chances of unlocking these collaboration characters as team members will be greatly increased.
Second Collaboration Characters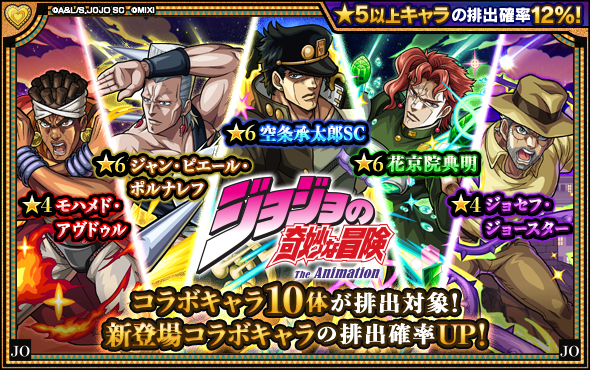 | Character | Rarity | Affinity |
| --- | --- | --- |
| Muhammad Avdol | ★4 | Fire |
| Joseph Joestar | ★4 | Dark |
| Jotaro Kujo (Part 3) | ★6 | Water |
| Noriaki Kakyoin | ★6 | Wood |
| Jean Pierre Polnareff | ★6 | Light |
First Collaboration Characters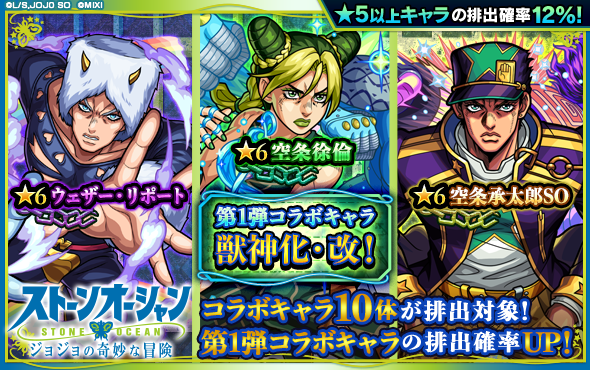 | Character | Rarity | Affinity |
| --- | --- | --- |
| Ermes Costello | ★4 | Fire |
| F.F. | ★4 | Water |
| Jolyne Cujoh | ★6 | Wood |
| Jotaro Kujo (Part 6) | ★6 | Light |
| Weather Report | ★6 | Dark |
Good Job Stickers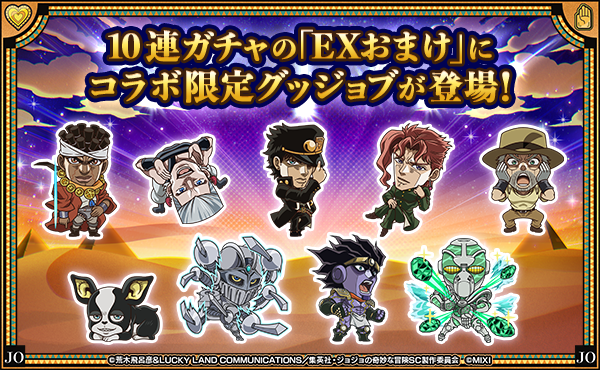 Those who draw a 10-pull gacha in the collaboration will randomly receive one limited Good Job sticker as an EX Bonus. There are 9 types in total, and players can only receive one of each. If all of the bonuses are obtained, the player will receive different items instead on their next 10-pull.
6-Star Character Introduction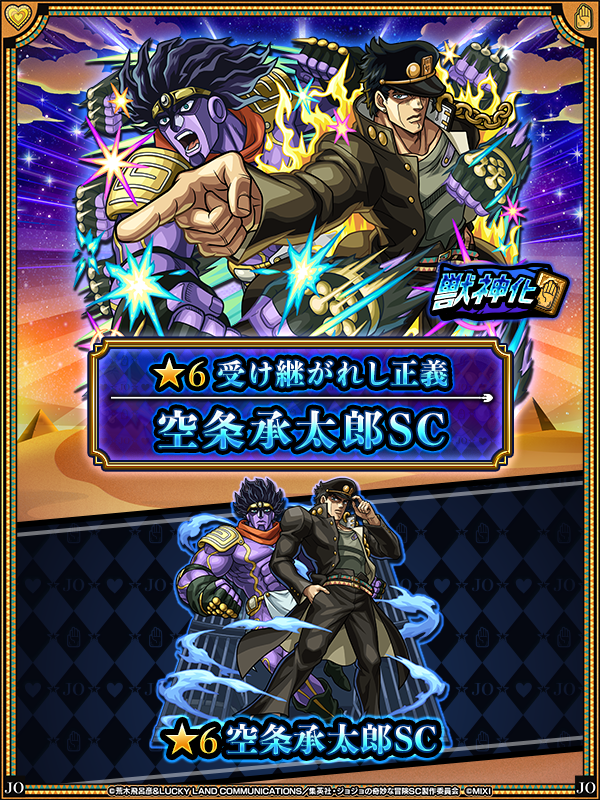 4-Star Character Introduction
Transcension: Kai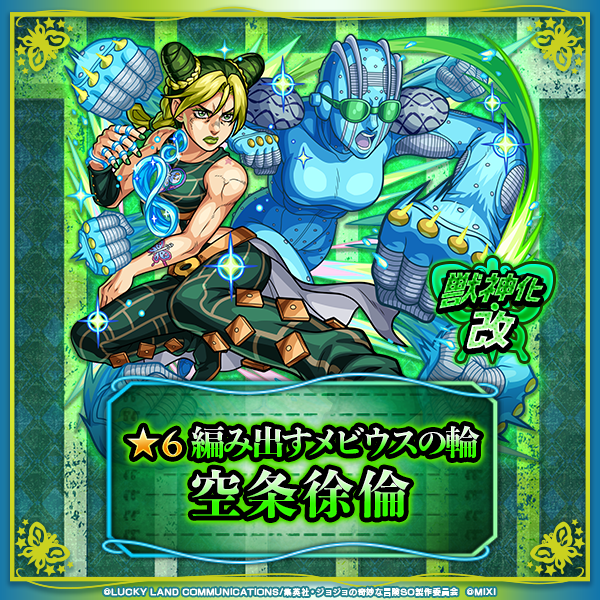 Limited Starter Pack
By purchasing the JoJo's Bizarre Adventure: Stardust Crusaders Collaboration Starter Pack, players can also get an exclusive "Proud Spirited Dog Iggy" (★6 Transcension). This character is limited to one per person and will also only be available from October 15, 2023, to November 2, 2023.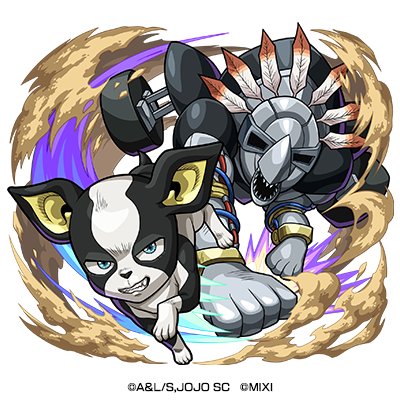 The previous limited starter pack, "Joestar Family – Jolyne and Jotaro", will also be purchasable again during the collaboration period.
Limited Quest Events
The collaboration will also feature five limited quest events against antagonists from the anime. These include Telence T. D'Arby, Pet Shop, Oingo and Boingo, Anubis with Khan, and Mariah.
| Character | Rarity | Affinity |
| --- | --- | --- |
| Telence T. D'Arby | ★5 | Fire |
| Pet Shop | ★5 | Water |
| Oingo & Boingo | ★5 | Wood |
| Anubis | ★4 | Light |
| Mariah | ★4 | Dark |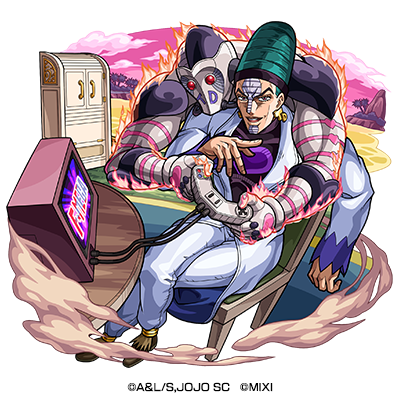 "Vanilla Ice" Super Ultimate Quest
Vanilla Ice is a 5 star Dark unit obtainable from clearing the Super Ultimate Quest. He evolves into the 6 star "One Lurking Within the Dark Void, Vanilla Ice".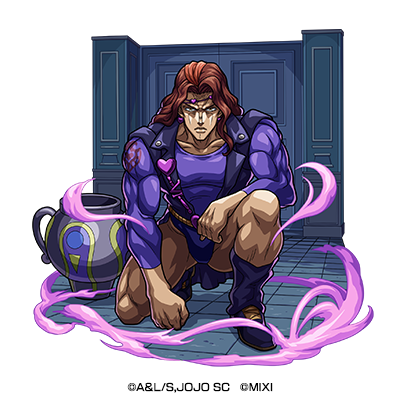 Guardian Beast Star Platinum

By completing the "Hierophant Green" quest, players can receive the Guardian Beast unit Star Platinum. The "Foo Fighters" quest with the Stone Free Guardian Beast will also return.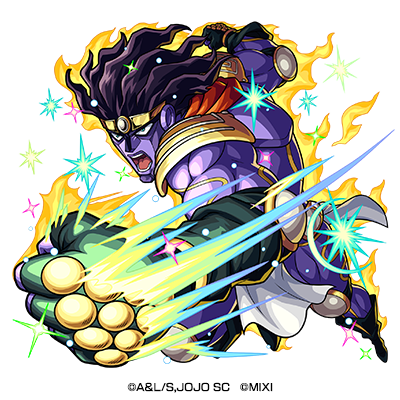 Iggy Coffee Gum Minigame
There's a minigame where players can raise Iggy's favorability by giving him coffee gum. Depending on the favorability level and the number of times he's been given coffee gum, players can get rewards.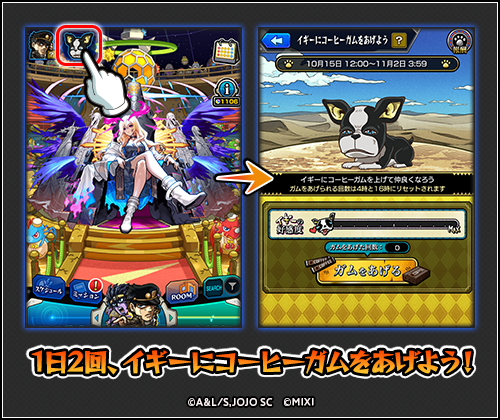 Coffee gum can be given to Iggy up to 2 times per day. Players will receive random items as rewards, including the six star "Bizarre Team Up, Jotaro Kujo (Part 3) & Iggy" unit.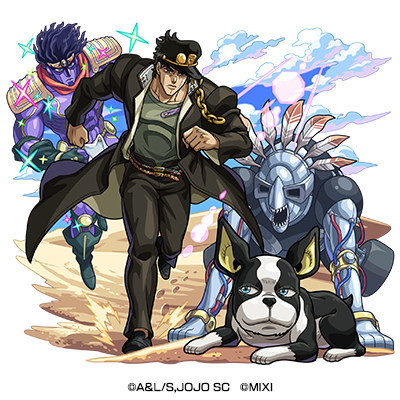 When favorability reaches MAX, players get 'Jotaro's Medal'.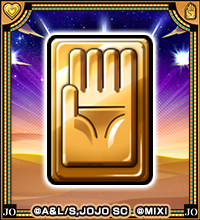 Source: Official Website
About Monster Strike
Monster Strike is a mobile game where players must collect and enhance monsters/characters to place them in battles. The game was first launched in 2013 for iOS and Android and features puzzle gameplay and online multiplayer. In August 2017, Monster Strike shut down the servers for the English version of their game.
The game is known for releasing crossover content with famous franchises, including Final Fantasy and Star Wars. Last year, they had collaborations with the anime series Spy x Family, Detective Conan, and Chainsaw Man. This year, they collaborated with Kaguya-sama: Love Is War, Demon Slayer, Attack on Titan, Sword Art Online, and Kingdom.