The ninth episode of JoJo's Bizarre Adventure: Stone Ocean aired on TV today in Japan along with a commercial of JOJO magazine after the opening theme played. JOJO magazine is a new mook (portmanteau of "magazine" and "book") which will be releasing on March 19, 2022. It was created for JoJo's Bizarre Adventure's 35th anniversary and was announced on December 27, 2021.
The commercial highlights the magazine's contents and notably shows a preview of several panels from the new Thus Spoke Kishibe Rohan one-shot included in the book.
Commercial
Takahiro Sakurai, voice actor of Rohan Kishibe, voices the commercial. Shueisha also uploaded a separate version voiced by Kenta Miyake, voice actor of Muhammad Avdol.
At the start of the commercial, sentences emerge from the magazine in a mix of Japanese and English. These are as follows:
"Visual Image JoJo's Bizarre Adventure – Way of 35 years Protagonist' Part" (sic)
"Parent and Child Cast Special Talk! Fairouz Ai × Daisuke Ono"
"JOJO'S GAME LET'S PLAY Last Survivor"
"JOJO the Animation Special Feature"
"Hirohiko Araki's Characters"
"Fashion and Mode"
"Issey Takahashi Interview"
Out of this list, the bold ones are new details which haven't been previously announced.
The grammar in the first sentence doesn't make much sense in English, but it will presumably be a few pages or a poster showing the series' protagonists based on the screenshots below. One of the images displays a group shot of the protagonists which Araki drew in 2011 for the 25th anniversary.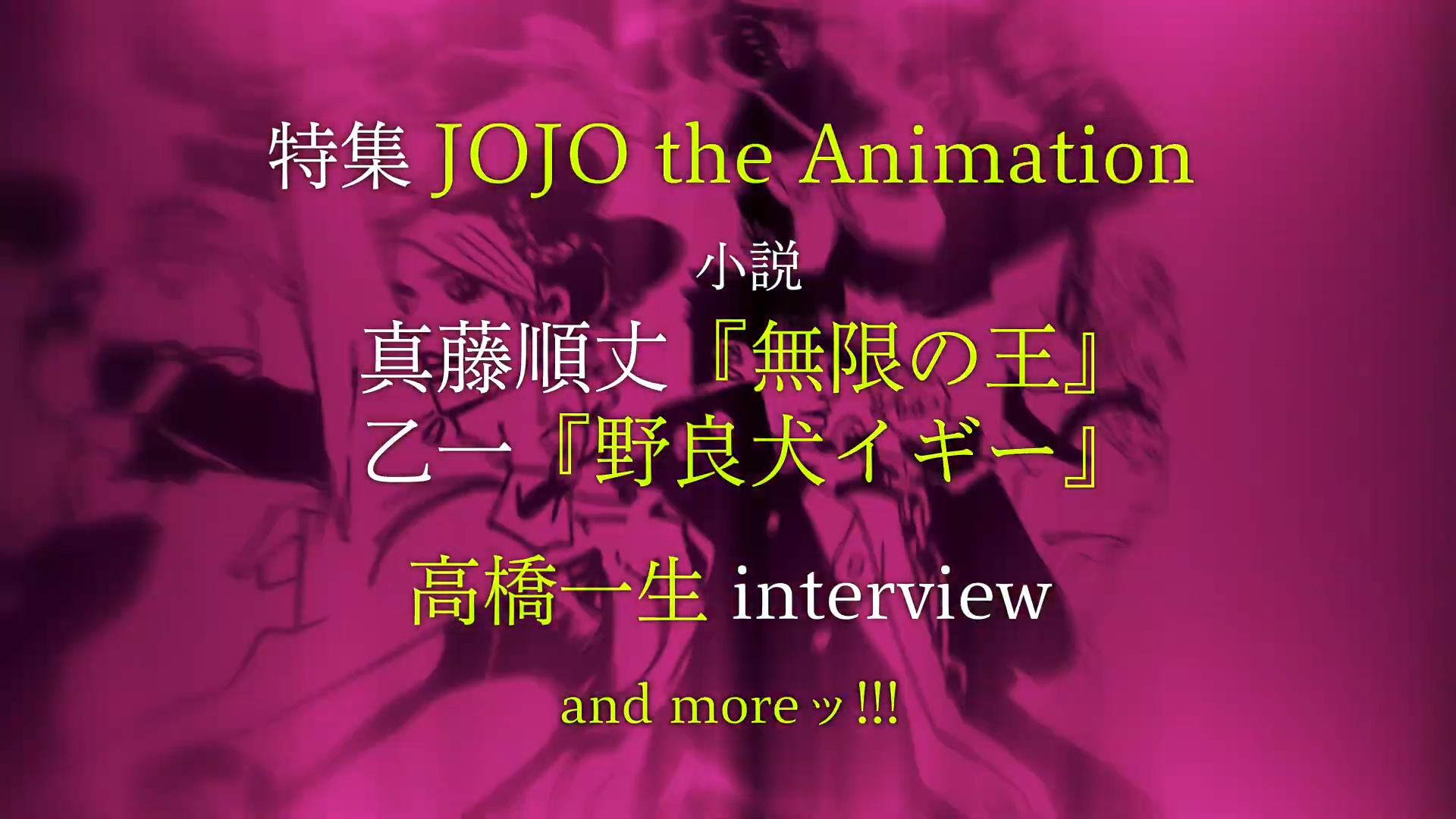 Next, there will be some pages highlighting Bandai Namco's arcade game JoJo's Bizarre Adventure: Last Survivor.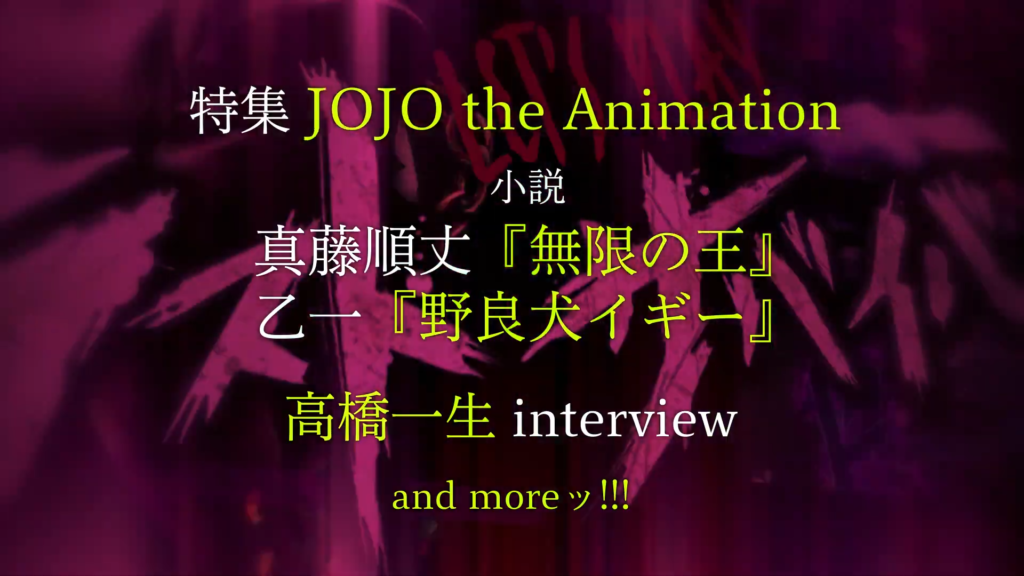 "Hirohiko Araki's Characters" is vague, but could be pages discussing Araki's characters. The commercial features pages of JoJo villains in the background with Kars and DIO visible.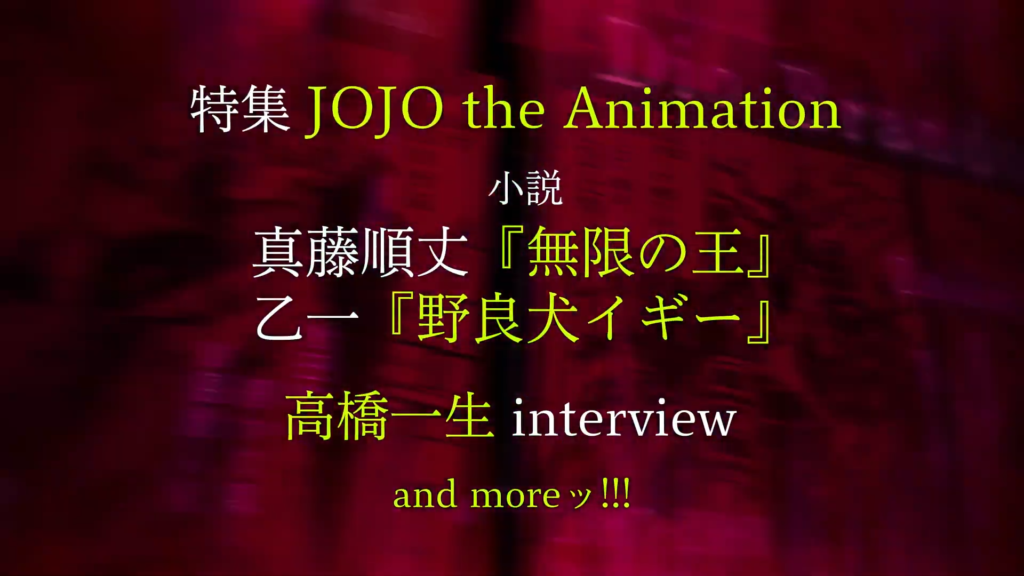 Finally, there will be pages about fashion and mode. Mode is a Japanese fashion concept, focusing on usually monochrome or black outfits.
Thus Spoke Kishibe Rohan – Episode 10: Hot Summer Martha
Thus Spoke Kishibe Rohan – Episode 10: Hot Summer Martha is the latest addition to the Thus Spoke Kishibe Rohan spin-off series by Hirohiko Araki. It is a 71-page one-shot included in the magazine.
Firstly, the preview shows Rohan walking a dog named Bakin.
Next of note is the return of Kyoka Izumi, the manga editor of Rohan in Episode 5: Millionaire Village. Although she was only in one chapter of the manga until now, Kyoka is a main character in the live action TV drama who appears in every episode.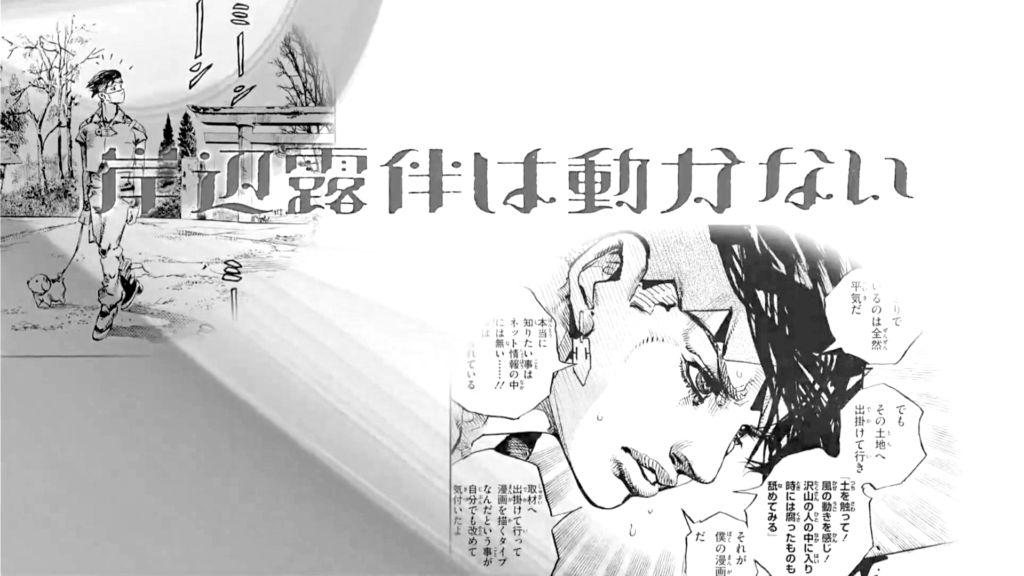 Later panels show Rohan investigating some rocks, with the last panel showing him looking surprised. There appears to be a rabbit girl in this panel, looking similarly to the Moon Rabbit from Episode 4: The Harvest Moon.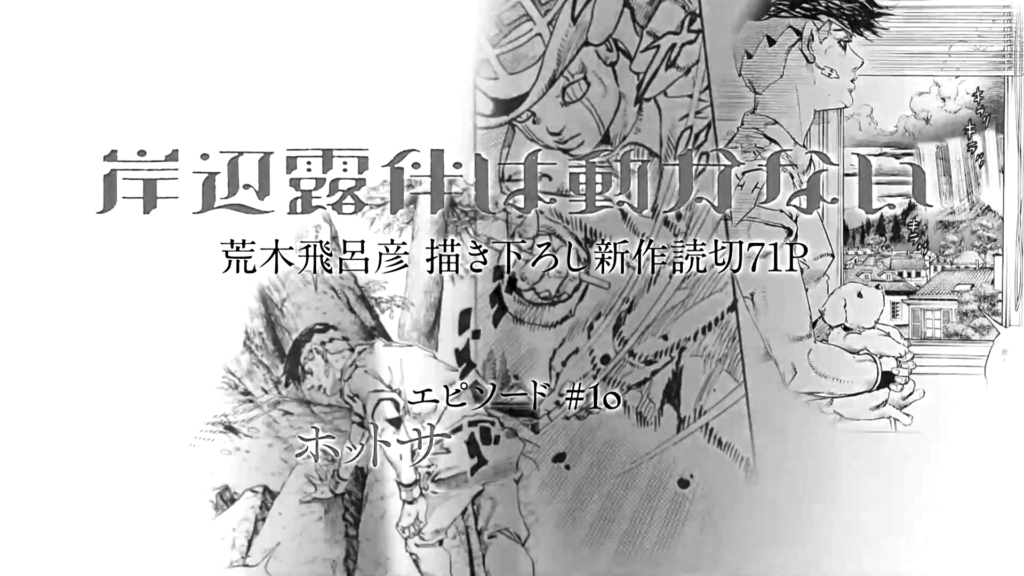 The commercial also reveals what the two stickers look like. One of them features Jotaro and Jolyne from the cover design, while the other has new Rohan art.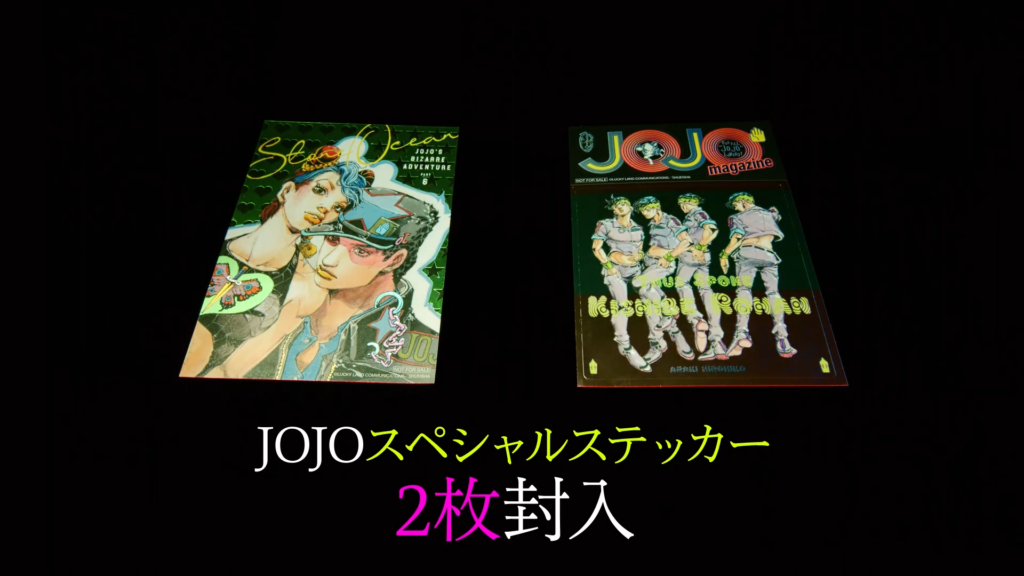 About JOJO magazine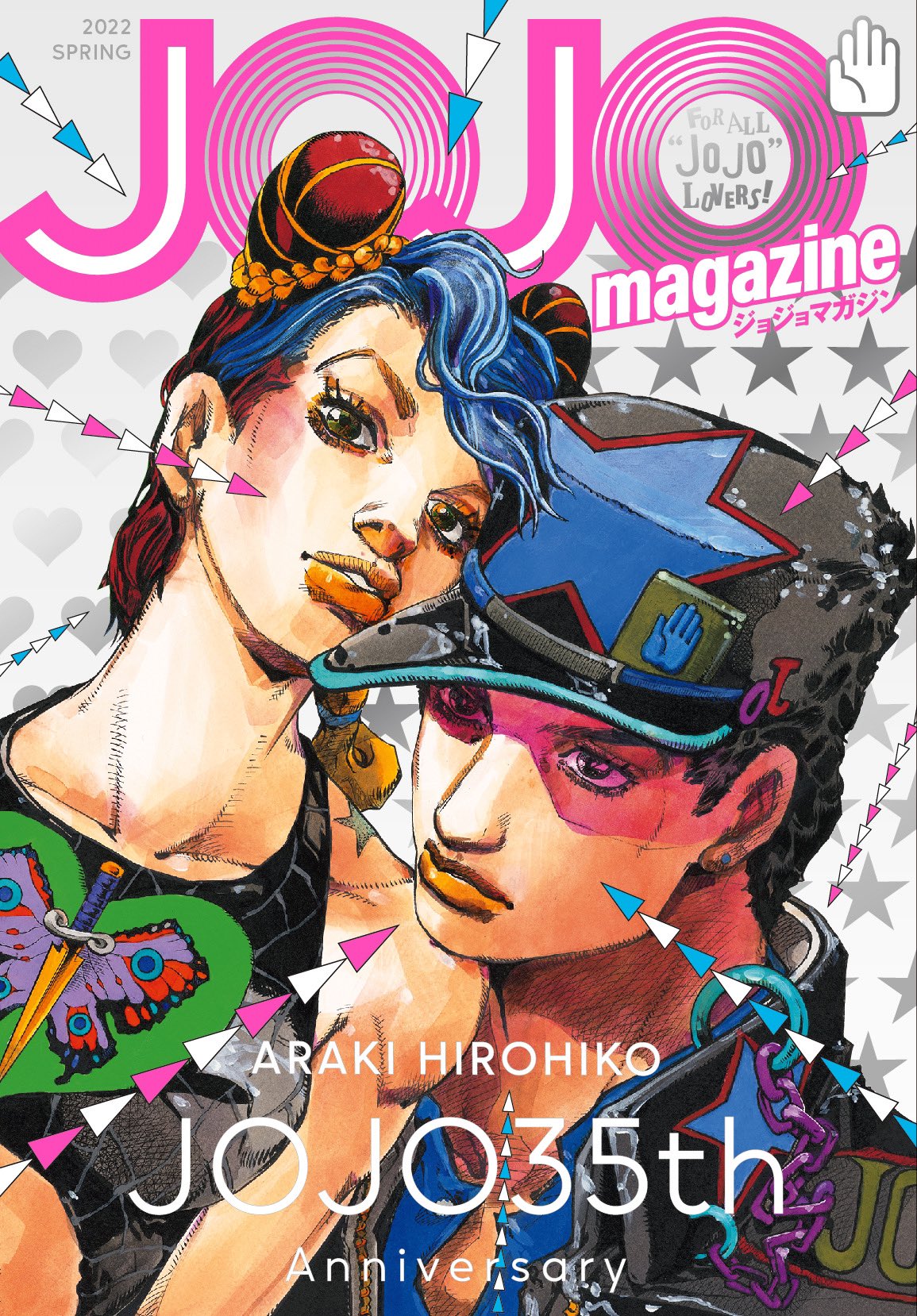 Cover: Jolyne Cujoh and Jotaro Kujo drawn by Hirohiko Araki
Price: ¥1,650 (including tax)
Pages: 232
B5 Size / Soft Cover / Digital Version
Extra: JOJO Special Stickers 2-Pack