Bandai Namco and CyberConnect2's JoJo's Bizarre Adventure: All Star Battle game is re-releasing in early Fall this year. Sony announced the game on their State of Play stream today on March 9, 2022. It will come out on PlayStation 5, PlayStation 4, Nintendo Switch, Steam, XBox Series X|S, and XBox One.
All Star Battle R is a one-on-one 2.5D fighting game with 3D cel-shaded characters. It brings together 50 characters from the eight parts of the series. Thus, there are nine more compared to the original game. CyberConnect2 overhauled the original game's battle system with adjustments to the fighting tempo. Hitstops and jump dashes are some new additions.  Furthermore, the game includes new audio recordings from the anime voice actors. The graphics were updated to suit the art style of the anime.
The trailer also reveals that CyberConnect2 added a support character system, similar to their Naruto Storm and Demon Slayer video games.
All Star Battle R Trailer
New Characters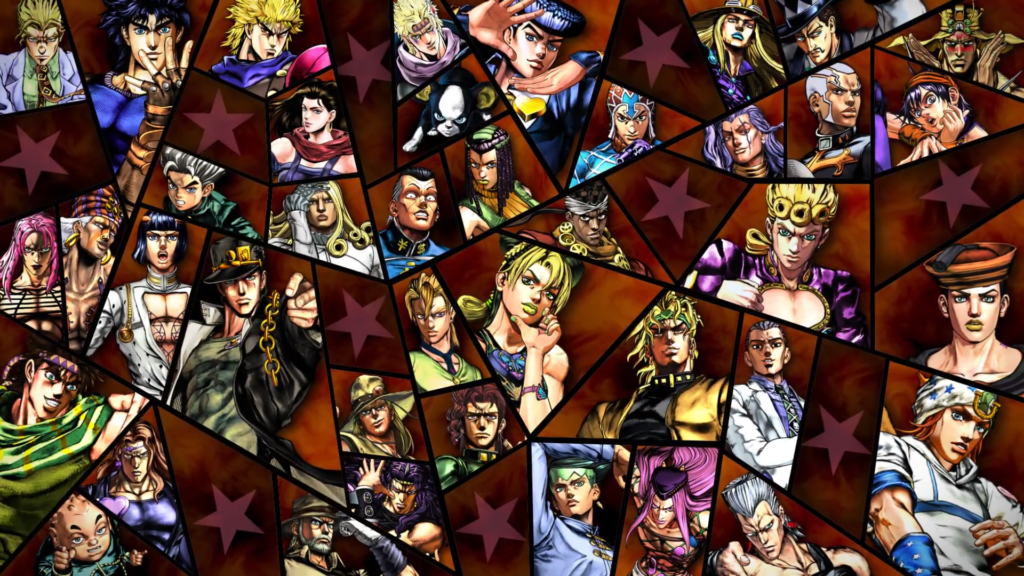 Everyone from All Star Battle will be returning, although this trailer doesn't show Ikuro Hashizawa from Baoh the Visitor.
Trish Una and Prosciutto from the fifth part, Golden Wind, are two out of the ten new characters, confirmed in screenshots from the official site below. In the first screenshot, DIO is fighting Trish. The second screenshot shows that the fifth battle was against Prosciutto.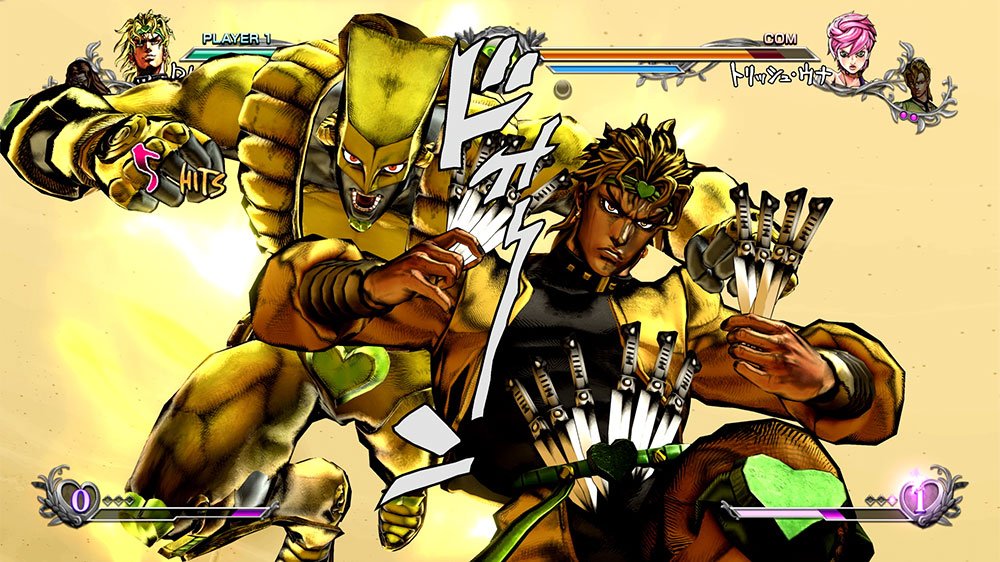 The game re-uses some renders from JoJo's Bizarre Adventure: Eyes of Heaven for certain characters, such as Caesar Zeppeli, Lisa Lisa, and Trish.
New Mode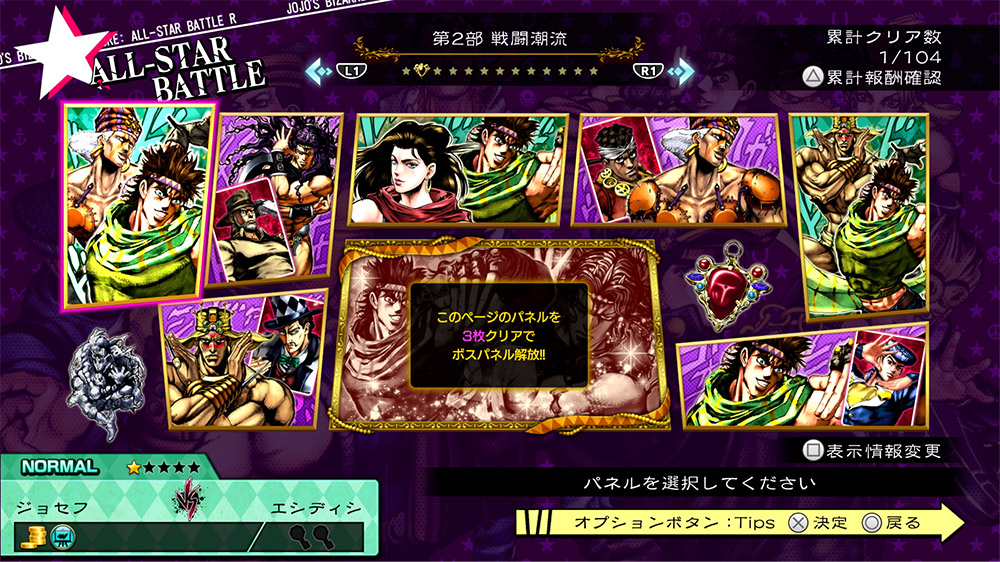 The game adds a new "All Star Battle" mode allowing players to enjoy "Normal Battles", adapting fights from the original manga and anime, as well as "Extra Battles" in which they can enjoy various dream fights. The player can play through over 100 pre-arranged fights in this game mode.
All dialogue is original, and special costumes and other rewards are obtained by clearing the battles. Thus, this mode replaces the story and campaign modes from the original game.
Stages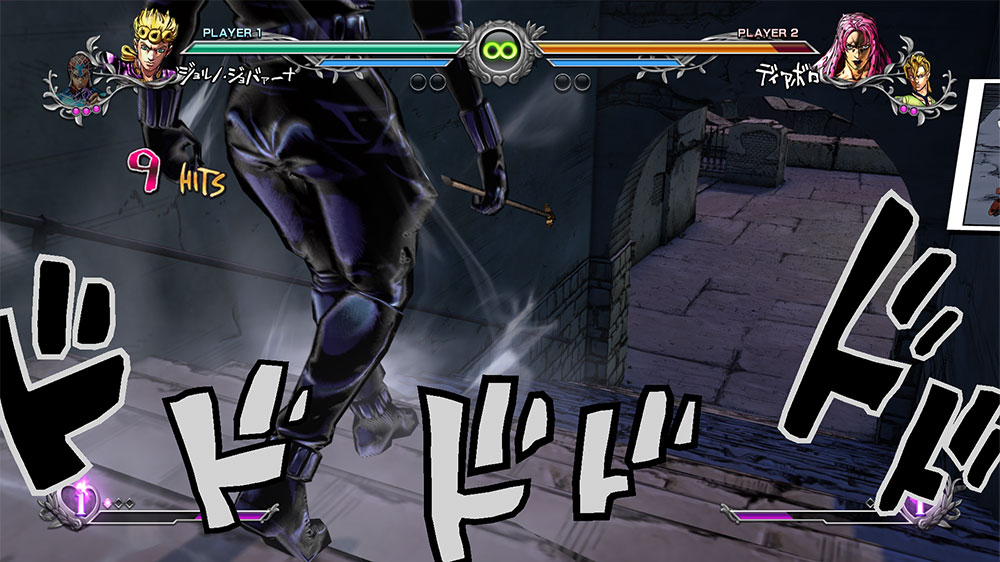 All twelve stages from the original game are returning.
The trailer reveals additional stages, with some of them being from Eyes of Heaven. For example, there is the Cairo Bridge from Stardust Crusaders, Boyoyoing Cape from Diamond is Unbreakable, the Colosseum from Golden Wind, and the Rocky Mountain Village from Steel Ball Run. Stage gimmicks from All Star Battle and Eyes of Heaven also return.
A completely new addition is the Green Dolphin Street Prison Farm from Stone Ocean.
Game Design Adjustments
Improved game speed: Shortened the time it takes to launch an attack, resulting in speedier battles compared to the previous work.
Added Hitstops: Hitstop is a fighting game term; when you strike the opponent, both parties momentarily freeze, emphasizing the power of impact. The player's hits and guards implement this, making the game feel smoother and more tactical.
Added Input Buffers: Relaxed the number of input frames available before the next action. Thus, players can control characters as desired.
Special move commands can be input even with simple commands: Command input can now be omitted (if trying to use ↓↘→ then ↓→ is okay), making it easier to activate special moves.
Game design adjustments: Changed the behaviors and powers of some techniques. The power of Great Heat Attacks (GHA) changes depending on the amount of gauges accumulated and how many gauges are consumed (assuming two gauges are 100% powerful, 2.5 gauges are 120% powerful, and 3 gauges are 150% powerful).
Source: Official Site (English), Japanese Site
About JoJo's Bizarre Adventure: All Star Battle
The original game released on August 29, 2013 in Japan as a PlayStation 3 exclusive in commemoration of JoJo's Bizarre Adventure's 25th anniversary. It released on April 25, 2014 in Europe and four days after that in North America. In early 2018, Europe's PSN store removed the game and its DLC. There were 41 characters in total, with 32 available in-game and 9 as DLC characters.