In commemoration of the tenth anniversary for JoJo's Bizarre Adventure's anime adaptation, the main cast of Diamond is Unbreakable celebrated by reminiscing on the series. The official website for the JoJo anime's 10th anniversary posted their comments on February 25, 2023.
The voice actors who commented include Yuki Ono (Josuke Higashikata), Yuki Kaji (Koichi Hirose), Wataru Takagi (Okuyasu Nijimura), and Toshiyuki Morikawa (Yoshikage Kira).
The website previously posted Phantom Blood voice actor comments on November 24, 2022. They posted Battle Tendency cast comments on December 9, 2022 and Stardust Crusaders comments on January 6, 2023.
Comments
Yuki Ono as Josuke Higashikata
I still remember the days of battling in Morioh as if they were yesterday. All sorts of things really happened since then, but I still treasure the passionate days I spent in that town. Once again, I'm proud to have played a part in JoJo's history.
The anime's 10th anniversary! This is great!!!
Yuki Kaji as Koichi Hirose
Congratulations on the 10th anniversary of the anime!
The post-recording for JoJo has a one-of-a-kind atmosphere. The passion and high tension of the series made everyone sweat and our voices hoarse. In that studio, I strongly felt the respect and love for the original work.
The experience of being able to voice Koichi-kun has become a great asset in my life as a voice actor. From now on, I hope that JoJo's Bizarre Adventure will continue to be loved for many, many years to come!
Wataru Takagi as Okuyasu Nijimura
Congratulations on the anime's 10th anniversary.
I remember how much I enjoyed the world of JoJo while recording, such as going to an Italian restaurant with Yuki Ono to deepen our friendship since it was our first time recording together, and having a toast with Tomoyuki Shimura after the recording of Big Bro Keicho's last moments.
I can picture Okuyasu still happily living with his father and friends in Morioh Town.
Toshiyuki Morikawa as Yoshikage Kira
Congratulations on the 10th anniversary of the JoJo's Bizarre Adventure anime!
Being the one responsible for playing such an intense character like Yoshikage Kira has not faded away in my voice acting career, but shines brightly even now.
My body gets aroused every time I hear the word "JoJo" (laughs).
Ah, I would love to see the real Mona Lisa at the Louvre someday.
Source: 10th Anniversary Website
About Diamond is Unbreakable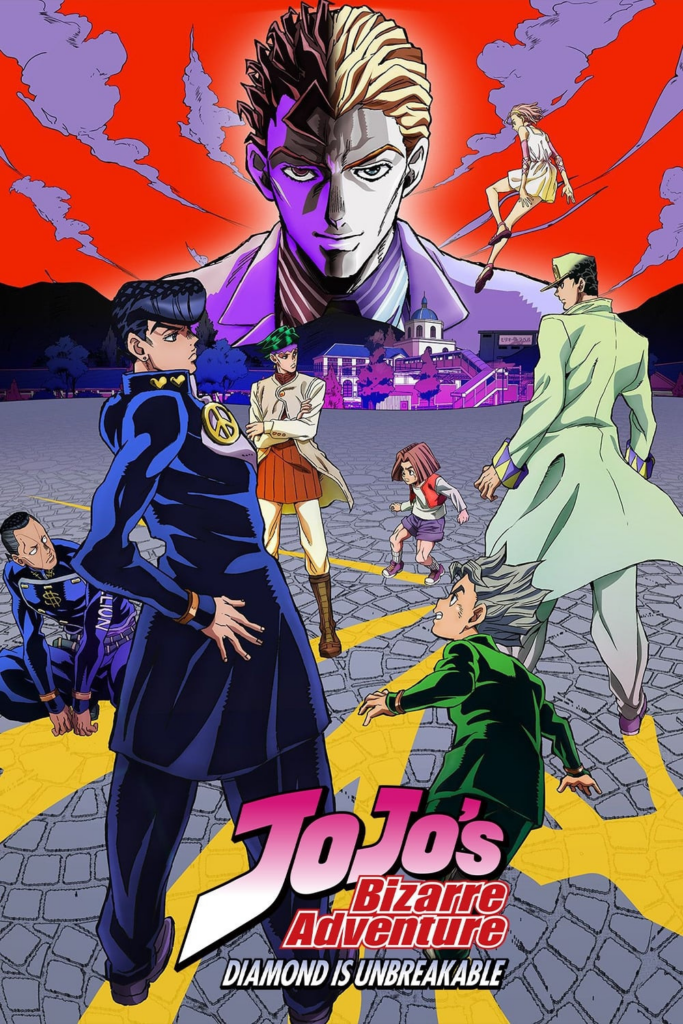 Diamond is Unbreakable
is the fourth part of the
JoJo's Bizarre Adventure
series. Shueisha serialized the manga in Weekly Shonen Jump from May 1992 to December 1995.
In 1999, the Arrow, manifesting latent Stand abilities, travels throughout Morioh, Japan. Meanwhile, high school student Josuke Higashikata, the illegitimate son of Joseph Joestar, seeks out the culprits of a series of homicides along with his friends and Jotaro Kujo.
An anime adaptation of JoJo's Bizarre Adventure released starting from October 2012. Season 3 began in 2016, covering Diamond is Unbreakable in 39 episodes.