In commemoration of the tenth anniversary for JoJo's Bizarre Adventure's anime adaptation, the main cast of Golden Wind celebrated by reminiscing on the series. The official website for the JoJo anime's 10th anniversary posted their comments on March 17, 2023.
The voice actors who commented include Kensho Ono (Giorno Giovanna), Yuichi Nakamura (Bruno Bucciarati), Kosuke Toriumi (Guido Mista), Daiki Yamashita (Narancia Ghirga), Junichi Suwabe (Leone Abbacchio), Junya Enoki (Pannacotta Fugo), and Katsuyuki Konishi (Diavolo).
The website previously posted Phantom Blood voice actor comments on November 24, 2022, Battle Tendency cast comments on December 9, 2022, Stardust Crusaders comments on January 6, 2023, and Diamond is Unbreakable comments on February 25, 2023.
Comments
Kensho Ono as Giorno Giovanna
Congratulations on the 10th anniversary of the JoJo's Bizarre Adventure anime.
Although it seemed long, we were able to overcome the intense and short time because of our fellow comrades who fought alongside us. I look forward to seeing the future JoJos inherit the fate and spirit that began with Jonathan Joestar and continued with Team Bucciarati and Stone Ocean.
"Resolve"!! It means clearing a path forward through the darkened wilderness!
Yuichi Nakamura as Bruno Bucciarati
Congratulations on the 10th anniversary of the JoJo TV animation series.
I remember being really happy and surprised when it was decided that I would voice Bucciarati, a character I loved since first encountering the original JoJo.
I'm looking forward to seeing "all" JoJo parts animated in the future!
Are you ready for this? I know I am.
Kosuke Toriumi as Guido Mista
Congratulations on the 10th anniversary of the JoJo's Bizarre Adventure anime.
I'm really happy to be involved in a work that I've known since I was a kid. The recording site was a wonderful place where the staff and cast members, who all had a deep attachment to the project, gathered, and I could feel the passion and love they had for creating a great work.
Once again, congratulations! Yeeeeehawwwww!
Daiki Yamashita as Narancia Ghirga
Ever since I played the role of Narancia, I always reminisce whenever I eat Italian food, especially spaghetti and pizza. I remember the fun days I spent with my friends… those were the bright golden days. And I try to remember the deliciousness for his sake too. That's how irreplaceably special Narancia and JoJo have become to me!
Narancia's calmness when cornered and his passionate power to break through the walls in front of him give me courage. Life is full of walls, but still, I will overcome them!!
I'll soar over them!! Aerosmith!!!!! Vola, Vola, Volaaaa!!!
Junichi Suwabe as Leone Abbacchio
Congratulations on the 10th anniversary!
The fact that the JoJo's Bizarre Adventure anime has reached this point is… a complete victory.
The original work is still continuing and the world of JoJo is expanding even further. I want to see more and more of it in the animeeee! As a lifelong fan since the weekly serialization first began, I'm looking forward to seeing the future developments.
Junya Enoki as Pannacotta Fugo
Congratulations on the 10th anniversary of the JoJo's Bizarre Adventure anime!
It's surprising to think that it's already been 5 years since Golden Wind was broadcast in 2018. The days spent with everyone in Passione were very enjoyable, and I have fond memories of the dinner parties we held after each recording session. I hope that more and more of the JoJo series will continue to be adapted into visual formats in the future!
Katsuyuki Konishi as Diavolo
Congratulations on the 10th anniversary of the JoJo's Bizarre Adventure anime!
Thank you for making the world of JoJo, which we all love so much, into a wonderful anime. And thank you for casting me!!! Woohoo!!!
I hope the fantastic JoJo anime continues in the future. To all the viewers, please continue to support us in the future as well.
Source: 10th Anniversary Website
About Golden Wind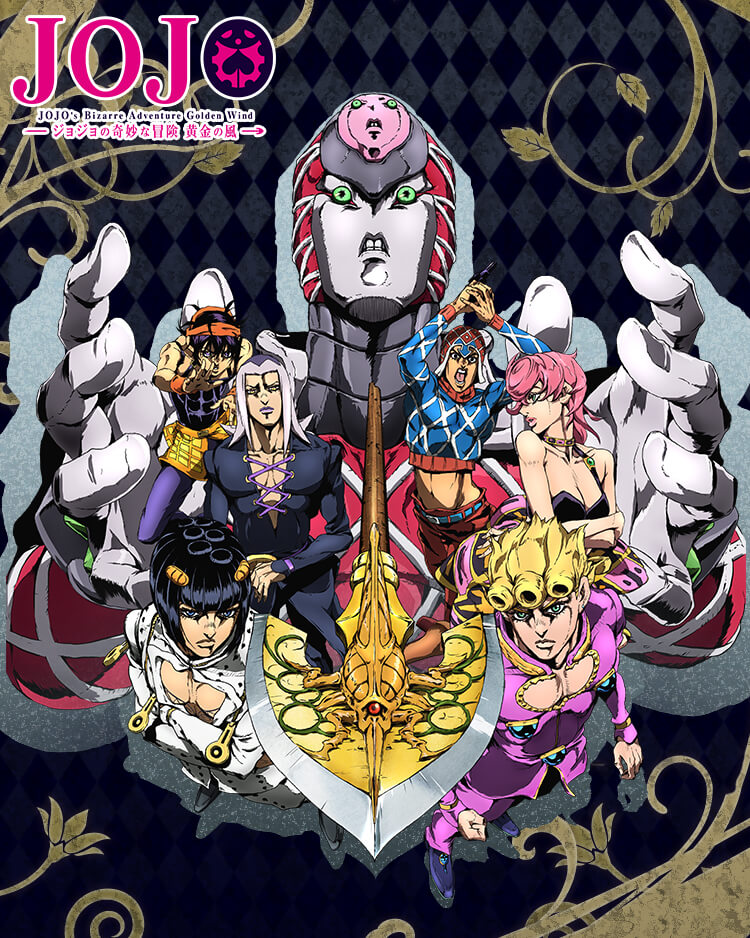 Golden Wind
(also known as
Vento Aureo
) is the fifth part of the
JoJo's Bizarre Adventure
series. Shueisha serialized the manga in Weekly Shonen Jump from December 1995 to April 1999.
Set in 2001 Italy, the story follows Giorno Giovanna and his dream to rise within the Neapolitan mafia and defeat the boss of Passione, the most powerful and influential gang, in order to become a "Gang-Star". With the aid of a capo and his men, and fueled by his own resolve, Giorno sets out to fulfill his goal of absolving the mafia of its corruption.
An anime adaptation of JoJo's Bizarre Adventure released starting from October 2012. Season 4 began in 2018, covering Golden Wind in 39 episodes.